Greg's Grab Bag – Jerry Garcia Band and Phish
---
Jerry Garcia Band – Garcia Live Vol. One: March 1st 1980 – Capitol Theatre
Unlike the steady stream of archival recordings released by the Grateful Dead on an annual basis, it has been more than three years since Jerry Garcia's estate issued any archival recordings from its vault.  Thankfully, that dry spell comes to end with the excellent new GarciaLive, Vol. 1: March 1st 1980 – Capitol Theatre.
The first in what promises to be a multi-release series, this three-disc set presents, in their entirety, the two shows played by the Jerry Garcia Band at the Capitol Theatre in Passaic, NJ in March 1, 1980.  Both the early and late shows were captured for broadcast by WNEW using a mobile 24-track recording rig and those original recordings have been mixed and mastered using modern technology, producing some truly impressive results.
The Jerry Garcia Band featured a floating lineup over the years with many players coming and going.  The lineup for these shows included Ozzie Ahlers on keyboards and vocals, Johnny De Foncesca on drums and longtime Garcia collaborator John Kahn on bass.  The chemistry between these players is palpable, so much so that it comes as a surprise to learn that they had only been performing as a unit for a few months when this recording was made.
There's a certain kind of magic evident between Garcia and Ahlers throughout this recording.  The spacy keyboard feature from "How Sweet It Is" leads nicely into Garcia's guitar solo, while on "Sitting Here In Limbo," the initial guitar solo segment opens the door for Ahlers' textured keyboard showcase before coming back around to a truncated and jam-closing second guitar feature.
A guest appearance by master lyricist Robert Hunter is another highlight.  Garcia's songwriting partner joins the band to sing two of his own compositions – the hard-rocking "Tiger Rose" and the folky/roots rocky "Promontory Rider."
This first GarciaLive installment fires on all cylinders – the sound quality is fantastic, the setlist is diverse and the playing is top-notch.  This is definitely a great way to kick off a new series.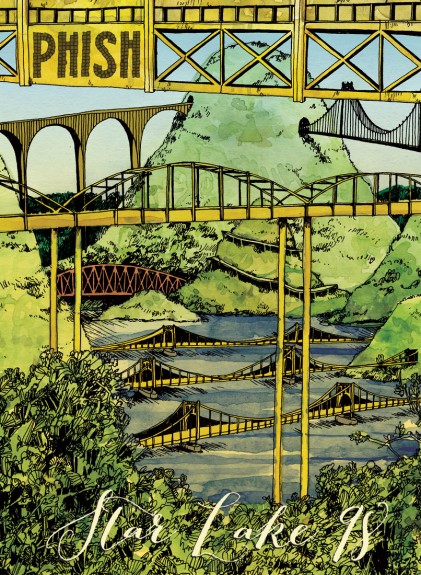 Phish – Star Lake 98
There is a brand new Phish DVD pulled from deep within the band's extensive live archives that is a must-have for fans of Phish and the jam band genre.  The two-disc Star Lake 98 set chronicles a complete concert performance at Star Lake Amphitheatre outside of Pittsburgh, PA from August 11, 1998.  Although the video footage on this set, which was captured by three cameras for a live feed to video boards throughout the venue before being stored on VHS tapes, doesn't hold a candle to other live Phish DVD releases, this set is still noteworthy for both the amazing audio quality and the historical importance.
1997 is considered Phish's very best year for live performances by many fans, so needless to say, 1998 had some big shoes to fill.  Following a break from the road in the early part of the year and an impromptu four-night run in New York and Rhode Island known as The Island Tour, Phish hit a few European cities for a series of club shows over the course of a week before returning stateside for a month-long summer tour.  The Star Lake show, presented in its entirety here, was the second-to-last performance of that tour.  In spite of the hectic travel schedule leading up to this show, the band is in fine form throughout.
First set highlights include the band's first and only performance of Bob Marley's "Trench Town Rock," a rare rendition of Little Feat's "Time Loves A Hero," a fast-paced and memorable "Reba" and "Bittersweet Motel," which drew an audible crowd reaction thanks to mentions of both Pittsburgh and nearby Erie.  The second set's shining star is a 30+ minute rendition of "Runaway Jim," which soars to such heights that some consider it the standard by which all other performances of the song are judged.
Based on the description above, you might get the impression that this is one of the best Phish shows from 1998, but that's really not the case.  Star Lake 98 captures a typical night for a band in its prime and only begins to hint at Phish's late-'90s prowess.  Regardless, don't pass up a chance to catch the band's only full-show DVD release from such a vital and important year.
Until next time, enjoy the music!
---