From Hank to Townes: Musical Mysteries of New Year's Day
Posted On December 28, 2018
---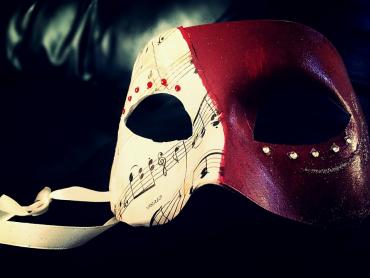 I didn't plan to submit a column on this topic, but then again I rarely know what will spill out of my slightly scorched and damaged brain cells until I fire up the old 11" MacBook Air, turn up the music, and let my fingers fly. It was actually Christmas Day that seemed most likely to be up for discussion, since I noticed that so many musicians have died on that date through the years. Vic Chesnutt, Eartha Kitt, bluesman Robert Ward, James Brown, Bryan "Snoopy" MacClean from the band Love, Damita Jo, Dean Martin, and Johnny Ace, who shot himself in the head. On the plus side, it's also a pretty good day for being born: Jimmy Buffett, Merry Clayton, Barbara Mandrell, Dido, Chris Kenner, Tony Martin, and, way back in 1907, Cab Calloway.
Just for kicks I did a fast forward to the first day of the year and lo and behold if there weren't quite a few musical oddities on New Year's Day. For example, in 1773 the hymn that became known as "Amazing Grace"was first used to accompany a sermon led by John Newton in the town of Olney in England. It's the birthday of bandleader Xavier Cugat – that'll take you back, especially if y'all can remember his wife Charo, who was 41 years younger than him and a regular guest on the Merv Griffin Show – and also Joe McDonald from Country Joe and The Fish.
Things turn dark in 1953 when at age 29 Hiram King "Hank" Williams died right after midnight on New Year's Day of a heart attack in the backseat of a Cadillac, likely brought on by a lethal cocktail of pills and alcohol. He was transported back to Montgomery, Alabama, in a silver coffin, placed onstage at the municipal auditorium, and it's estimated that somewhere between 15,000 and 25,000 mourners passed through. His last single, released in November before his death, was "I'll Never Get Out Of This World Alive."
Carl Perkins put out "Blue Suede Shoes" three years later on the same date, and in 1959 Bill Haley and The Comets' "Rock Around The Clock" soared to number one after it was used in the film Blackboard Jungle. This is the second time the song topped the charts, and although the record business used fuzzy math back then – and probably still does – it's said it sold over 25 million singles. In that same year, Johnny Cash made his first of several trips to San Quentin prison to perform and was seen by a 19-year-old Merle Haggard, who was serving time for grand theft auto and armed robbery.
On Jan. 1, 1962, The Beatles auditioned for Dick Rowe, head of A&R for Decca Records. He turned them down in what is considered one of the biggest mistakes in music industry history, selecting instead another band who also tried out that day, Brian Poole and the Tremeloes. BBC-TV debuted Top Of The Pops in 1964 with the Rolling Stones, Dusty Springfield, Dave Clark Five, The Hollies, and Swinging Blue Jeans. In the United States, in 1965, The Beatles had three albums in Billboard Magazine's top ten from Capitol Records.
On the first of January in 1967, the Hell's Angels put on a concert in Golden Gate Park in San Francisco. Called the "New Years Wail," it featured Big Brother and The Holding Company and the Grateful Dead. In 1975, Stevie Nicks and Lindsey Buckingham joined Fleetwood Mac, Nirvana signed a one-year deal with Sub Pop in 1989, and the following year radio station WKRL in Clearwater, Florida, played Led Zeppelin's "Stairway to Heaven" over and over for 24 hours.
Townes Van Zandt died on the morning of Jan. 1, 1997, at 52 years old of a fatal heart attack. The son of a prominent oil family, he endured poverty for much of his life and suffered from mental illness, addiction, and alcoholism. He drifted around from his home state of Texas to Tennessee and Colorado. In a New York Timesarticle published in May 2009, they wrote that "on good nights he seemed to disappear into chronicles of existential joy and agony" and "on bad nights he would fall off his stool onstage, too drunk or high to get through a set."
In the article Steve Earle, who released a tribute to his mentor titled simply Townes, said "I met him at his absolute peak artistically. He had a really horrible reputation because of his behavior, but I also knew that he had made a decision to write songs at a certain level, that how good the songs were was primarily important to him. I committed to making art whether I ever got rich or not by Townes's example."
When Earle himself was sliding deep into his own addiction problems, Townes came to visit and Earle recalls he told him "I must be in trouble if they're sending you."
Many of my past columns, articles, and essays can be accessed at my own site, therealeasyed.com. I also aggregate news and videos on both Flipboard and Facebook as The Real Easy Ed: Americana and Roots Music Daily. My Twitter handle is @therealeasyed and my email address is easyed@therealeasyed.com.
* * * * * *
Your subscription helps keep independent roots music coverage alive! Subscribe to No Depression now and join a community of roots music fans from around the world.
---