FOUNDERS' KEEPERS: Slaid Cleaves, The Baseball Project, and More
---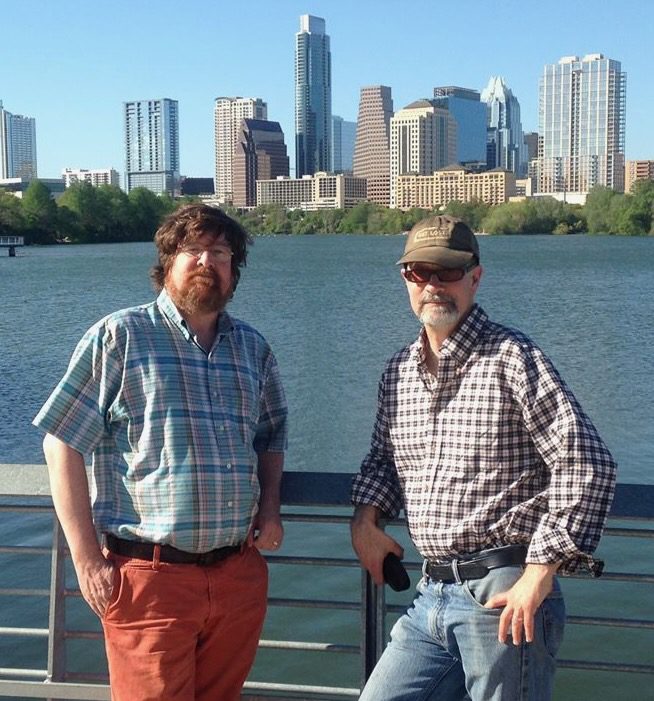 No Depression founding editors Peter Blackstock (left) and Grant Alden in 2015
EDITOR'S NOTE: Peter Blackstock and Grant Alden launched No Depression as a print magazine covering alt-country (whatever that is) in 1995, steering it through 75 issues until 2008. While they're no longer part of the staff, they're still very much part of the family, and we trust their ears now just as we did all those years ago. In our new Founders' Keepers column, Blackstock and Alden will take turns highlighting some roots music releases they believe deserve your attention. First up, some keepers from Blackstock.
Slaid Cleaves – Together Through the Dark
More than 30 years and a dozen albums since he arose from Austin via Maine, Cleaves quietly continues to elevate Americana music with songs that reach deep into the human condition. "Familiar themes of struggle and resilience will be a surprise to no one," Slaid offered when sending out the self-released record earlier this year. True enough, but he writes so well that his new takes on those evergreen themes continue to result in songs that similarly stand the test of time. The haunting "how'd you end up here" refrain on "Double Shift Tuesday" details the dying dreams of the down and out. "Terlingua Chili Queen" captures the West Texas ghost town's allure to those who want to leave the big city behind. Best of all is "Put the Shovel Down," a cautionary tale for those who can't get out of holes they dug themselves. Scrappy Jud Newcomb's production keeps the music grounded in classic folk, rock, country, and blues.
The Baseball Project – Grand Salami Time!
Batting cleanup in the Baseball Project catalog is this 15-song set that marks a welcome return for music's greatest sports-themed supergroup after a nine-year gap. Hard to believe it took them four albums to write about 1979's infamous Disco Demolition Night in Chicago's Comiskey Park, but Steve Wynn does it up right here, with drummer Linda Pitmon laying down a disco-apocalyptic groove. Other memorable Wynn tracks address "The Yips" and a "Fantasy Baseball Widow," while co-leader Scott McCaughey shines on the keep-baseball-weird anthem "Screwball" and the delightfully punkish "New Oh in Town," which connects 1960s-'70s Japanese home run king Sadahuru Oh to present-day Angels pitcher-slugger Shohei Ohtani. Bassist Mike Mills digs into the dark underworld of sophisticated spitballers on the bluesy, spoken-sung "Stuff" ("just like Brylcreem, a little dab'll do ya"). Mills' R.E.M. mate Peter Buck teamed with McCaughey to write the standout bookends: "The Voice of Baseball," a salute to legendary Dodgers announcer Vin Scully, caps the record, while the album-opening title track immortalizes Seattle announcer Dave Neihaus' classic call: "Get out the rye bread and the mustard, Grandma, it's grand salami time!"
Eliza Gilkyson – Home
Though she was born in Los Angeles and has often lived in Austin during her half-century career as a singer-songwriter, Gilkyson seems perhaps most at home in New Mexico, where she raised a family in the 1960s and '70s. She recently returned there, and it's easy to hear her album-closing cover of Karla Bonoff's beautiful classic "Home," which follows nine Gilkyson originals, as an ode to the Land of Enchantment. Elsewhere, she welcomes duet partners Robert Earl Keen (on the looking-back love song "How Deep") and Mary Chapin Carpenter (on the song-about-songwriting "Sparrow"). By far the album's most ambitious track is "Man in the Bottle," which weaves together snippets of songs written by her late father Terry Gilkyson with a cast of contributors that includes her brother, former Lone Justice and X guitarist Tony Gilkyson, as well as legendary composer Van Dyke Parks, who'd worked with her father decades ago. Musically, Gilkyson plays it close to her acoustic folk roots here, with producer Don Richmond wisely keeping the arrangements uncluttered and the lyrics front-and-center.
The Salt Collective – Life
American indie-pop expats Ken Stringfellow and Anton Barbeau encountered French band Salt as Stringfellow was producing a posthumous record for the late Game Theory leader Scott Miller, who'd worked with Salt's members. For this "Collective" album, they enlisted producer Chris Stamey (who sings lead on several tracks) to head up an impressive cast that includes Juliana Hatfield, Matthew Sweet, Peter Holsapple, Mitch Easter, Pat Sansone, Richard Lloyd, Susan Cowsill, and Nada Surf's Matthew Caws. That many names could produce too-many-cooks chaos, but Life is remarkably tight and focused, bristling with power-pop energy through a dozen tracks.
Belle Sounds – Four Fathoms Deep [EP]
The shorthand is that Belle Sounds is Austin's Fleetwood Mac, built around two very talented women singer-songwriters plus an inventive guitarist and studio wizard. But that doesn't really explain the singular sound they've carved out as a top-notch synth-pop band in a town better-known for Americana and blues. The five originals here are written by Noelle Hampton, who also produced the EP, with support from keyboardist/backing vocalist Emily Shirley, guitarist/keyboardist André Moran, and the rhythm section of bassist Gregory Hagen and drummer Danny Piccuirro. A closing cover of Talk Talk's "Life's What You Make It" pales in comparison to Hampton's own compositions, which underscores how compelling her songwriting is. Though they've been putting out records for a decade, they're mostly unknown outside Austin. But if they keep making music as good as Four Fathoms Deep, that really needs to change.
The Contenders – The Contenders (out July 28)
Following the recent revival of reissues that have given South Carolina trio Uncle Walt's Band overdue notice for their unique folk-jazz sound comes this 1978 spinoff project that teamed UWB's Walter Hyatt and Champ Hood with North Carolinians Tommy Goldsmith and Steve Runkle of the Pritchard Avenue Band. They all got to know each other in mid-'70s Nashville, where PAB and UWB were friendly rivals. The result is somewhat like an electrified version of Uncle Walt's, with Illinois import Jimbeau Walsh added on drums. The 11 songs on the original release have been remixed "with the songs sounding the way they always should have," Goldsmith writes in his informative liner notes. A bonus track, "Getaway," adds fresh contributions from a handful of key figures including pianist Marcia Ball, who was one of UWB's biggest fans, and Champ's son Warren Hood on fiddle. Hyatt died in Florida's ValuJet plane crash in 1996; Runkle and Hood died of cancer in 2001. But the songs live on.
---