Emily Scott Robinson Finds Her Creative Edge on 'American Siren'
Posted On October 26, 2021
---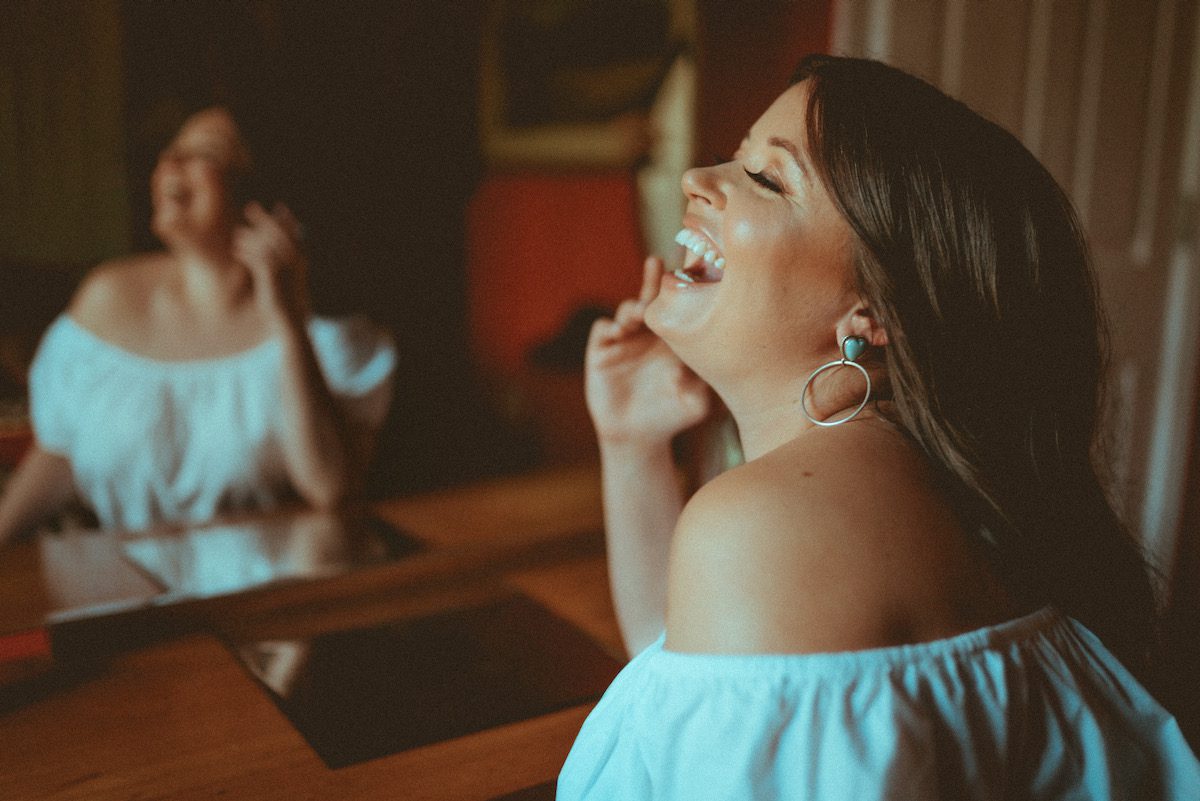 Photo by Cal & Aly
Emily Scott Robinson recorded her new album in a church and filled its songs with religious imagery, but American Siren is a far cry from a gospel record.
There's "If Trouble Comes a-Lookin," in which a priest has a one-night stand in Little Rock and ends up bumming around Europe, "where all of his ideas of God will happily unravel." There's "Let 'em Burn," where a woman on the brink of leaving her husband asks, "What if desire is a gift and not a sin?" There's "Things You Learn the Hard Way," in which Robinson advises, "Don't get married in a church called Mother of Our Sorrows."
"It was a lot of fun to play with those ideas, having grown up in the South and grown up in the church, really deep into explorations of Christianity, and religion, and contemplative prayer," says Robinson, who hails from Greensboro, North Carolina. "I flirted with all of that myself when I was younger. Growing up soaked in all of that, it was pretty natural that it would come out in the songs."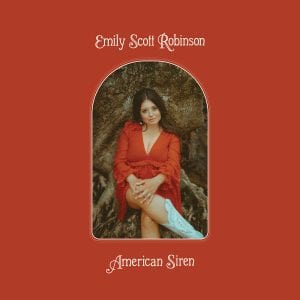 Her third album, American Siren, follows Traveling Mercies (ND review), which landed on several best-of-2019 album lists and earned Robinson a spot as one of Rolling Stone's "10 New Country and Americana Artists You Need to Know." The new album is her first for Oh Boy Records, the label founded by the late John Prine. "If you're a songwriter, he's like the godfather of great songwriting," says Robinson, who discovered Prine's music in college.
Jody Whelan, Oh Boy's operations manager and Prine's adopted son, contacted Robinson after hearing her 2020 standalone single, "The Time for Flowers," a bittersweet song about grief and recovery. He sent her a message on Instagram telling her how much the song meant to his mother and him after Prine's death from COVID-19. "He basically said, 'Hey, we're big fans of your music — we'd love to work together if you'd ever like to work together,'" Robinson says. She and Whelan arranged the standard pandemic-era video chat and found common ground in shared values. "They call it 'The Oh Boy Way,'" with an emphasis on supporting songs and connecting artists with their fans, Robinson says.
Soon afterward she became the latest in a line of recent signings to the label, which is also home to Kelsey Waldon and Tré Burt. Robinson made sure her contract gave her complete creative control, and she says Oh Boy was supportive but "wonderfully and beautifully hands off" throughout the process of creating and releasing American Siren. She demonstrated her independence with a wildly successful Kickstarter campaign to fund the album, getting $43,823 in pledges from 504 backers in less than 24 hours. "I was overwhelmed by the generosity of my fans," Robinson says.
The Right People and Place
The pandemic forced a break from touring and gave her plenty of time to write new songs. For 4 1/2 years she lived out of an RV and traveled across America with her husband, Rouslan Haracherev, a native of Bulgaria who moved to North Carolina as a young teenager. They were already in the process of moving back to their last fixed address, Telluride, Colorado, when the pandemic hit. "It always felt like home," Robinson says.
She and a couple of songwriter friends, Abigail Dowd and Amanda Botur, started sending each other a song a week for several weeks, offering support and feedback. Dowd, who lives in Greensboro, is one of Robinson's closest friends. "I got to hear some of these songs right after they were birthed," Dowd says. "I remember 'The Time for Flowers' was one of the songs that she wrote in that six-week period."
Robinson tapped Jason Richmond to produce American Siren after admiring his work on Dowd's latest album, Beautiful Day. Richmond's other credits cover a broad swath of contemporary Americana and bluegrass music, including work on records by The Avett Brothers, Steep Canyon Rangers, and Dom Flemons. Robinson told him she wanted someone to help her push the boundaries: "I want to be a little bit more expansive and experimental instrumentally, and I want somebody to pull me out of my straight-up country singer-songwriter box."
Robinson made Traveling Mercies in Nashville, but decided to come home to North Carolina to cut American Siren. One factor was her decision to record her bluegrass adaptation of "Old North State," the official North Carolina toast. "It's a beautiful poem that was written in the 1890s that is in public domain now," Robinson says. "I put it to a bluegrass song, and I really wanted it on this album. I was like, 'OK, well, I cannot record the North Carolina state toast song in Nashville — that's just not OK. I've gotta do it with North Carolina players.'" She and Richmond agreed on Echo Mountain in Asheville, a studio housed in a former church. "Every studio has sort of a feeling," Richmond says. "Being in that space was absolutely the right thing for this record."
They assembled a crew of musicians that included Austin McCall on percussion, Duncan Wickel on fiddle and cello, Allyn Love on pedal steel, and Ethan Jodziewicz on bass. Robinson booked the studio for five days in April, just as people were starting to get vaccinated for COVID-19. "I was fully vaccinated because I had been teaching songwriting to middle schoolers at a school in Colorado," she says. "We had to mask up in the studio. It was a tenuous thing. We were all sort of emerging from this dark pandemic into the spring sunshine of Asheville." Cameos by other artists were recorded at Echo Mountain and at subsequent overdub sessions in Durham, including Graham Sharp and Mike Guggino from Steep Canyon Rangers, Joseph Terrell of Mipso, and Lizzy Ross of Violet Bell.
The Kickstarter campaigned exceeded its goal, and Robinson used the extra money to fund videos and an album-release concert, spend an extra day in the studio, and pay the musicians more. "As exhausting as it is to record an album, and as much as it takes out of you, I feel like she shared that part of herself to make sure that everybody was taken care of, and sort of nurtured, which I really think came through in the energy of that album," says Dowd, who sang harmony and helped out behind the scenes, including picking up lunch for everyone each day of recording.
'Pretty American'
American Siren has a sparser, more atmospheric feel than Traveling Mercies. Like its predecessor, it showcases Robinson's arresting voice, memorable melodies, and storytelling lyrics. Like Dolly Parton, Robinson sings in a crystalline soprano. And like Parton, her voice sometimes has a little-girl quality that conveys grown-woman ideas. One of the most acclaimed songs on Traveling Mercies was "The Dress," an autobiographical track about a date rape. (The song ranked 13th on Rolling Stone's "Top 25 Country and Americana Songs of 2019.")
Robinson tackles another painful personal subject in "Hometown Hero," about the suicide of her cousin, James O. Twist, a veteran of the war in Afghanistan. Like Prine's "Sam Stone" from half a century ago, it paints a harrowing portrait of a veteran who has lost his will to live.
"Your kids are gonna grow up asking about you," she sings. "How you could love someone and leave them, and how both things could be true?" Twist was one of Robinson's biggest boosters, but he struggled with life after he returned home, as did many members of his platoon. "It's also a universal story, and it was just one I knew I needed to tell," Robinson says. The platoon's activities were tainted by the war crimes of Clint Lorance, who ordered the murders of civilians during a brief stint as commander of the unit — dubbed "The Cursed Platoon" by the Washington Post.
Other songs have a lighter mood. "Cheap Seats," the most upbeat song on the album, was inspired by Robinson seeing Prine in concert. Her obstructed-view seat behind a column at the Ryman Auditorium in Nashville didn't impede the thrill of finally catching one of her heroes in a show that included a duet with Bonnie Raitt on "Angel from Montgomery."
"Lightning in a Bottle" is a sweet, sensual look back at the end of Robinson's teen years: "I grew up that night / Breathless, heart pounding in my chest / I placed your hand upon my breast / And surrendered to the rest."
She struggled with an up-tempo version of the song through the recording sessions until the final day, when she realized it needed a different feel. "Duncan played the cello and I sang, and it really felt like, 'Oh, OK, now I know what this song is about," Robinson says. "This is not a happy song; this is a bittersweet song. It's nostalgic — it's sweet but also sad."
For Richmond, one of the most memorable moments came when they recorded "Every Day in Faith," a torpid, organ-drenched tune about overcoming adversity. "It was one of those moments where everybody hit something, and we all went, 'That was it,'" Richmond says. "There was no question whether that was the take or not. I think the whole session was a really creative time."
For Robinson, the chances they took come through even on the most conventional-sounding songs. "Be on that creative edge," she says. "That's what feels good, and that gives songs an energy that's built into their DNA. People don't necessarily know that they're feeling that, but they feel it."
The album title stems from a theme woven throughout the record, from the call of death in "Hometown Hero" to the call of home in "Old North State," Robinson says. "It just seemed to knit it all together really beautifully, and the stories feel pretty American to me in terms of culture, morality, religion — grounding the songs in a place, in a geography. That's why it's called American Siren."
---