Easy Ed's Favorite Musical DISCoveries of 2018
Posted On November 23, 2018
---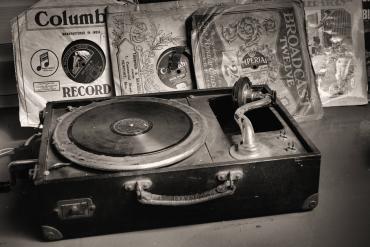 You see what I did up there in the title, right? Uppercase D-I-S-C in order to accentuate that this column is going to be all about my travels throughout the world in a quest to find hidden and long forgotten places of pleasure, often called record stores. Getting down on my hands and knees, pushing through cobwebs and kicking away a dead rodent or two in order to find those elusive hidden musical artifacts that I take home, place on my turntable while pouring myself two fingers of a fine whiskey, and then let the sweet sounds baptize my body and soothe my searing soul.
So that didn't happen. I'm on the wagon, haven't stepped on a winged vessel for over six years, and my turntable awaits my oldest son's ability to rent a van, enlist a helper, and transport it to Brooklyn, where such things are cherished. I surf in the stream.
Please don't feel deceived, as I plan to convey my annual un-Americana companion as I always do close to Turkey Day. I'm always ahead of the onslaught that you'll soon be seeing from the pundits and pollsters on what the best and greatest is, but none follow my own unique rules and criteria. It's actually pretty simple: release dates are irrelevant since I only care about new things I've found regardless of the vintage, I relentlessly ignore the marketing hype that hits my inbox, the only vote that counts is mine, and … I think that's it.
There Is Nothing Like Jason Isbell and an Acoustic Guitar
This should hardly be a surprise, as Isbell has been consistently putting out incredible music from back in his days with the Drive-By Truckers, followed by his first solo album in 2007 and those that followed with his band The 400 Unit, named for the psychiatric ward of Eliza Coffee Memorial Hospital in Florence, Alabama. His wife, Amanda Shires, manager Traci Thomas, and Ryan Adams assisted in getting Isbell into treatment for alcohol and cocaine addiction in early 2012 and he now speaks openly about it. He's intelligent, street smart, has a sharp wit, runs one of the best Twitter accounts you'll ever follow, he was married to Shires by musician Todd Snider, is a fanatic fan of the beleaguered Atlanta Braves — and I'll stand on Steve Earle's coffee table and tell you he is currently the best songwriter we've seen since Dylan's most prolific period, whenever that was. While I prefer him alone with his acoustic, this year I've gone back into his catalog from the past ten years, and if you're a Jason-come-lately, you'd be well served to do the same.
This Is the Dawning of the Age of Geriatrics
The other night I went to see Bob Weir and The Wolf Brothers here in NYC, and as I stepped off the subway and headed up Broadway toward the theater, it was if somebody freeze-dried 1967. People of a certain age were decked out in tie dye or wearing faded concert tees across large stomachs, and as I made my way to the loge I saw one poor soul suffering from an overdose of stool softeners. But the music? First rate and as rockin' and rollin' as you might not have expected, but Bobby stretched out on his guitar and sang like I've never heard him before. It was truly a wonder to behold.
Along with John Prine, who will likely top every person's end of the year poll, there has been an avalanche of older musicians who've either gone out on tour for the first time in years or written and recorded some great music. Examples would include Willie and Dylan, who never seem to stop touring, the Sweetheart of The Rodeo show which allowed Roger McGuinn and Chris Hillman to show that they still have the chops, and Steve Earle, Lucinda Williams, and Dwight Yoakam criss-crossed the country. Paul McCartney has his first number one album in 36 years, and Diana Ross is killing it in Vegas. Paul Simon went around the world one last time, and I think by now you get the idea: It's better to burn out than to fade away.
The Year That Americana Music Died
:
Not that anybody, but a few, cares about such things, but when was the last time you looked at Billboard magazine's Americana/Folk chart? A few years ago everyone made a big fuss that not only did "our music" warrant a Grammy award (never televised, of course, and who can forget Linda Chorney?), but we also got our own official chart. As I wrote this Simon and Garfunkel's Greatest Hitsis number nine, followed by Ed Sheeran, John Mayer, Jack Johnson, John Denver, James Taylor, and Jim Croce. Sure, Chris Stapleton occupies both the number one and three spots, but if this is the best we have to show for it — schlock pop and geriatric redux — I'm outta here.
These are the musicians who came out with some kick-ass music this year, in no particular order, and, for at least this week, aren't on the Americana chart: Dave Alvin and Jimmie Dale Gilmore, Malcolm Holcombe, Lindi Ortega, St. Paul and The Broken Bones, Lula Wiles, I See Hawks In L.A., Laura Veirs, Milk Carton Kids, The Rails, Eliza Gilkyson, Mary Gauthier, The Jayhawks, Modern Mal, Clay Parker and Jodi James, Brandi Carlile, Shemekia Copeland, The Earls of Leicester, Pharis and Jason Romero, Tim Easton, Ry Cooder, Sarah Shook and The Disarmers, The Mammals, John Hiatt, Ed Romanoff, Jules Shear, Hayes Carll, Whitey Morgan, Rosanne Cash, and Colter Wall, to name but a few.
And now the real craziness: Of the top ten albums on this week's chart from the Americana Music Association, not even one made it on Billboard's chart. Thank god for Dale Watson's Ameripolitan music association or whatever he calls it … they're gettin' it right.
Why Ska and Rocksteady Have Gotten My Attention
I haven't inhaled for over 23 years, have no hair left even if I wanted to grow it out, and never went to Jamaica. But for reasons unknown even to me, this was the year I began to get absorbed into the roots of reggae. Blame it on a small radio station in NYC with the call letters WVIP that spends much of the day hawking vitamin supplements and selling help for your damaged credit reports. But every so often they break out the music, and it's worth the wait. I'm a white boy who can't even begin to explain it, but here are a few albums that shouldn't be too hard to find if you want to dip your toes into the water. Start with Lee "Scratch" Perry and Friends – The Black Ark Years, Everything Crash: The Best of The Ethiopians and then The Story of Rocksteady: 1966-1968.
Video Killed the Radio Star
When was the last time you pulled out your old Low Anthem albums? It's amazing how great this band is, and after opening on the Lucinda Williams' tour last year, they recorded and released The Salt Doll Went To Measure the Depth of the Sea. Best album title of the year and just a wonderful group of writers and players.
Anybody who has been paying attention these past ten years knows that I keep going back to Marissa Nadler, the Boston-based singer-songwriter-guitarist-artist who can sing about ex-Byrd Gene Clark, cover a Townes Van Zandt song, and just as easily open for a death metal band in a small club in Germany at three in the morning. When her new album For My Crimes was recently released, it coincided with this nice mention from Richard Thompson in The Quietist:
"My youngest son, Jack, introduced me to Marissa Nadler. Her music is really strange, lovely stuff. I think it's a little bit linked to shoegazing, or that sound, although I don't know a lot about that. I find it very mesmerising and very dreamy, especially the way she harmonises with herself. I'm also never quite sure what she's talking about – there's lots of ambiguity in her lyrics, which I like. Songs and stories don't always have to be straight."
King of The Road: Tribute to Roger Miller is a two-disc album showcasing the songwriting of Miller through artists that span all corners, from Ringo Starr to Asleep At The Wheel, Lyle Lovett to Loretta Lynn. It's a bit uneven and sadly they really missed the mark on "Husbands and Wives," one of my favorites. Instead of using the great Jules Shear version above (video from Sherry Wallace), they teamed a mismatched Jamey Johnson with Emmylou Harris and murdered it. Despite that, you can cull a number of great performances here if you pick and choose.
And That's All There Is Folks … It's Cartoon Time
Many of my past columns, articles, and essays can be accessed at my own site, therealeasyed.com. I also aggregate news and videos on both Flipboardand Facebook as The Real Easy Ed: Americana and Roots Music Daily. My Twitter handle is @therealeasyed and my email address is easyed@therealeasyed.com.
---