EASY ED'S BROADSIDE: Roots Music in The Roaring Twenties
Posted On December 20, 2019
---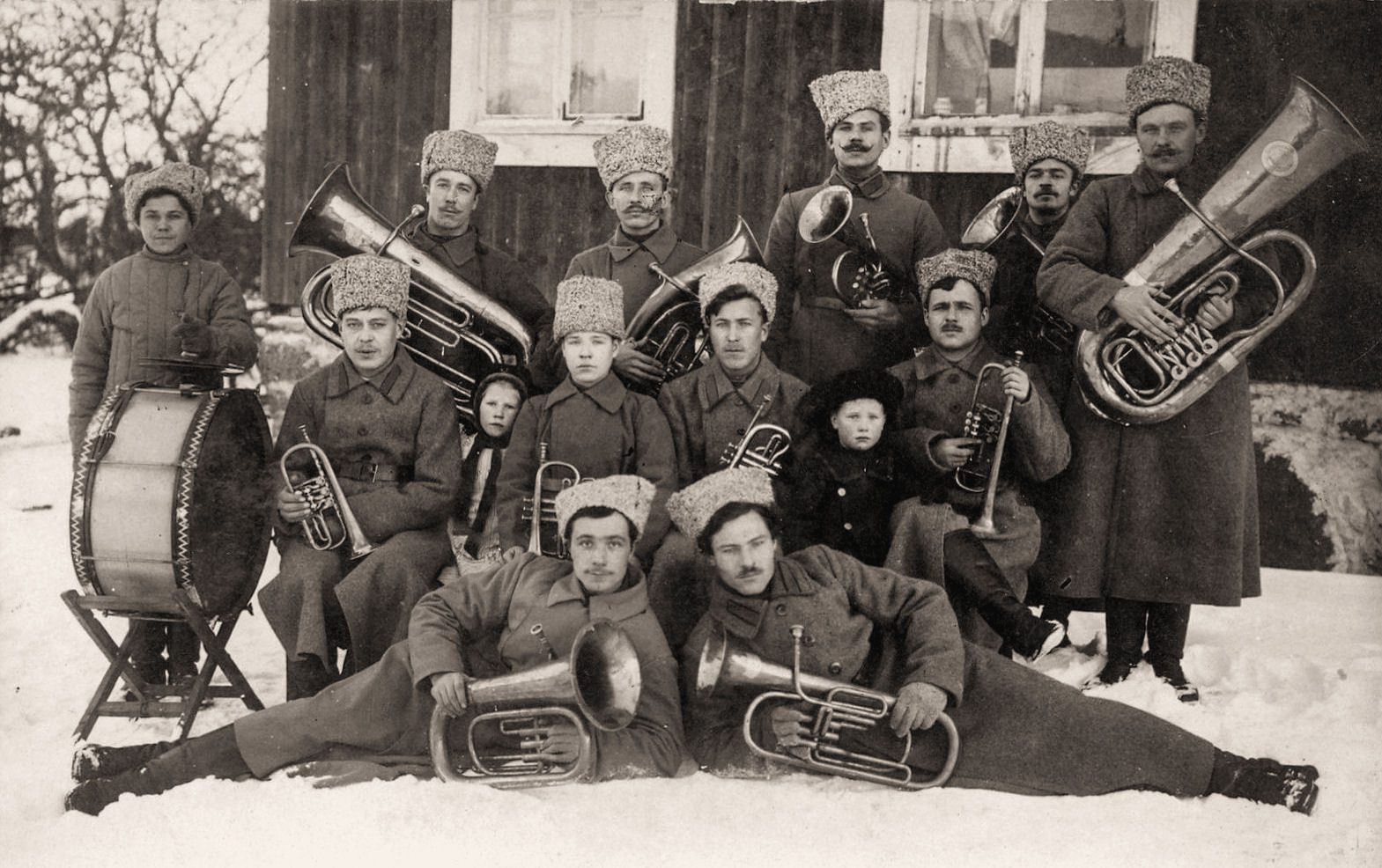 Unknown band, public domain, Wikimedia Commons
Have no fear: This week I'm not planning to dip my toes into politics. Since y'all know I love the Dixie Chicks, that pretty much says it all. Judging by the Twitter trending competition of #DemocratsAreDestroyingAmerica versus #HappyImpeachmas, it just goes to show that America is split right down the middle, give or take two million people. But that's not the path I'm choosing to walk this week because I've got the Roaring Twenties on my mind.
At the beginning of the decade, live music along with wild dancing was the entertainment that defined the times. In a short time, the introduction of affordable radios and record players for the home sparked the first wave of bringing regional American music to the masses. As each year rolled by, more and more people were exposed to music they'd never experienced before such as jug and string bands, hot jazz, blues, early country … cornerstones of roots music.
Fiddlin' John Carson's recording of "The Little Old Log Cabin in the Lane" was recorded in 1923, and although historically it's interesting to listen to, it's one of my least favorite songs of that era. I don't much like his singing voice nor his famous fiddlin', but I can hear a little bit of the Irish and Scottish in it, and the building blocks of something new to come. It was a widespread success, and this record was the beginning of what was called hillbilly music. Too bad the moonshine-makin' bastard was a Ku Klux Klan supporter and an anti-Semite. From his song "There Ain't No Bugs on Me":
 Monkeys swing by the end o' thar tail an' jump from tree to tree
Thar may be monkey in some o' you guys, but thar ain't no monkey in me. 
Ain't it great that we have the ability to watch this 1928 clip of Jimmie Rodgers? I love this song, and although Rodgers was known for his work with the railroads, I think of him as the first of a long line of singing cowboys. He also offered up the integrated "Blue Yodel No. 9," recorded in 1930, featuring Louis Armstrong and his wife Lil Hardin. If you still own a VHS player, you might enjoy picking up Times Ain't Like They Used to Be: Early Rural & Popular American Music 1928-35. Not too hard to find.
Although way back in 1912 W.C. Handy published "Memphis Blues," it was not a blues song at all. The first one was titled "Crazy Blues" and recorded in 1920 by Mamie Smith. A vaudeville and cabaret artist who eventually recorded 60 songs in three years for the Okeh label, Smith retired from performing and recording in 1931. The clip above is a reworking of "Crazy Blues" from the film Paradise in Harlem, which was released in 1939. She did several films in the early 1940s, died penniless in 1946, and buried in an unmarked grave. A monument was erected in her honor at Frederick Douglass Cemetery in Staten Island, New York, on Sept. 20, 2013.
Sylvester Weaver, from Louisville, Kentucky, was the first male to record several instrumental blues songs in October 1923. But the above song was likely the first male blues vocal, recorded the same month and year in Atlanta. The singer is Ed Andrews, who recorded three songs and appears to have vanished. He played a 12-string guitar and it's thought by some he might have been blind.
I'm not going to get into the debate of who recorded the first jazz record, but the Original Dixieland Jass Band (later changed to "Jazz") are strong contenders. Their 1917 Victor Talking Machine Company recording of "Livery Stable Blues" was backed with "Dixie Jass One-Step." The above song was from May 1921, and it's the W.C. Handy classic "St. Louis Blues." The band was five white dudes from Chicago, so not exactly what their name might conjure up.
I'm closing this one out by going back to the aforementioned Times Ain't Like They Used to Be, and sharing some of the clips they've posted online. There's something here for everyone. If nothing else, perhaps music can unite us for a brief period before all the political shouting hurts our ears.
---
Many of my past columns, articles, and essays can be accessed here and at my own site, therealeasyed.com. I also aggregate news and videos on both Flipboard and Facebook as The Real Easy Ed: Americana and Roots Music Daily. My Twitter handle is @therealeasyed and my email address is easyed@therealeasyed.com
---