Donna the Buffalo and Other New, Overlooked, and Neglected Roots Albums of 2018
Posted On November 20, 2018
---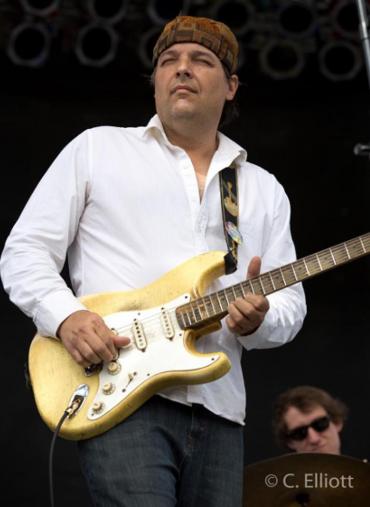 As my last guide to roots releases of the year, I want to catch up on some notable ones that have fallen through the cracks, been somewhat overlooked, or perhaps even been a bit misunderstood. They deserve a wider audience, each in its own way having something significant to say.
This being Thanksgiving week, we should also give thanks for the many artists who enable us to connect to one another in a myriad of meaningful ways. In sharing our traditions and values, our communities and the country as a whole become more invigorating places to live, work, and raise our families. Isn't that what it's all about?
Donna the Buffalo – Dance in the Streets
While Donna the Buffalo may be better known as the quintessential live roots band, with a loyal following second only to that of the Dead, they also have made a series of superb albums. The latest, their eighth, takes their live groove and adds some studio patina to their distinctive sound. Noticeably, Mark Raudabaugh's hypnotic drumming and David McCracken's chant-like organ are often in the forefront. Together they serve, perhaps unexpectedly, to highlight the songwriting talents and, even more than usual, underscore the vibrancy of Jeb Puryear and Tara Nevins' lead vocals. Such is the paradox of a band with a social consciousness that, like the album's title, demands that you to get up and dance, dancing itself being a form of resistance. It's akin to the Nikki Giovanni poem "Revolutionary Dreams," whose thesis can be described as: "Dreaming natural dreams is an act of revolution."
Being a longtime member of the Herd myself, I've heard these 12 songs performed live numerous times. So these recorded versions have been honed, squeezed, and festival-tested. The highlight is certainly is "Killing a Man," which takes lines from the movie Unforgiven (1992), scripted by David Webb Peoples. With a memorable bluesy guitar lead-in, Puryear explores the lives of those "blue-eyed sons" who thought they were acting honorably, but instead "joined the ranks of the unforgiven" by killing other men: "It's a helluva thing, killing a man, taking everything he's got and everything's he's gonna have." Then to be cynically thanked by politicians' "icy reflections." Just as those visions will haunt them the rest of their lives, you'll be absorbing, and dancing to, this record for quite some time.
Paul Kelly – Nature
Kelly will simply not sit still. The legendary Aussie singer-songwriter not only pretty much single-handedly opened the doors for the Aussies who followed but also set a high bar in the process. His new album takes poems by Walt Whitman, Dylan Thomas, and Sylvia Plath, as well as his own, and lets them take flight to his own music. Sometimes poems set to music can be a laborious listening experience, but having listened to them numerous times, I've found them to be anything but. They are as strong as anything Kelly has done in his 40-year career.
In a note Kelly told me that the poems are links to "the natural world — trees, birds, animals, plants, dust, desert, water, and human nature's small place in that world, full of moons, rain, rocks, rivers, seas, smells, and lovers." As with his fellow pioneer Colin Hay, Kelly has nothing to prove. Yet he keeps on keeping on with what moves him. And we are all the richer for it.
Andrew Adkins – Who I Am
Adkins is without a doubt the embodiment of the current state of roots music in West Virginia, as well as being its most profound songwriter. Written in the first person, the title track finds Adkins laying it all on the line as the album opener. It's the plight of many Appalachians who have returned from fighting wars they were ill-prepared for. It also serves as an opening salvo of the album's theme: against-all-odds tales of those who continue to live in the hills and hollows where they were born, complete with hopes, regrets, innumerable losses, and shattered dreams.
Backed by many of the state's award-winning musicians, Adkins, whether in a rocker or a spiritual, looks at the cold, hard facts of life in the mountains. Just as Bruce Springsteen explored the pathos of New Jersey's backstreets, Adkins travels the country roads of southern West Virginia. In other words, this ain't John Denver.
Kristina Murray – Southern Ambrosia
The rise of Margo Price shows to many what has been there all along: There are many younger, substantive singer-songwriters working in the "country" field who have a whole lot more to say, and are saying it on their own terms. A prime example is Murray, whose new album (her second) also mines some of the same themes as Brandy Clark, and at times brings an Allman Brosthers touch to it.
As with the Adkins album, the opening track, "Made in America," presents life in modern America that's a far cry from peaches and cream, presaging the shape of things to come. "Slow Kill" is about those living so far out on the edge that they don't know they're already dead. But she also has the tenacity to go inward with "Tell Me," perhaps the most heartbreaking barroom ballad you'll hear this year. If you caught one of her live sets during AmericanaFest, you'll know how good this album is. If you didn't, do yourself a big favor: Get it.
Linda Thompson Presents – My Mother Doesn't Know I'm on Stage
While Thompson is well known as the grande dame of English folk music, here she presents the English music hall tradition, which extended into the 20th century to an American music audience. With guests such as her son Teddy and friends such as Colin Firth, Martha Wainwright, and the always inspiring Justin Vivian Bond (formerly one-half of Kiki & Herb, the cabaret act to end all cabaret acts), they perform songs from the era. The album evokes a bygone era of the saloons and public houses where people could go to dance, sing, drink, smoke, and joke and let the cares of the world fall away for a while.
But this is not some jaunt down memory lane, as I thought it might be. What I had only seen in old movies came alive. Call it Britain-icana, the roots of so much English folk and roots music. If you make one blind buy this year, make it this one. It's a joyous occasion.
Hymn For Her – Pop-N-Downers
When I first put this record on I thought I must have put on the wrong one. I certainly was not expecting the late Beatles-esque "Blue Balloons" that opens the album. Once I got my head around it, I became quite taken with this album, which takes a left-hand turn into areas where rock, pop, Celtic, and Tropicalia dwell. Prime example is "November," a jaunty number with lyrics like "There's a secret on your lips when you smile / I put it there, yeah it gets me every time" that makes it feel like it should be a radio staple. Every song, it seems, defies expectations. Just when you think you know where it's going, it takes you somewhere else. You get the distinct impression that Lucy Tight and Wayne Waxing could, and should, play anything they want.
I know that the album has gotten a full ND review, but this underappreciated roots duo deserves some more attention. By the way, the album's title should not be taken literally; rather, it's a play on words.
Now, please scroll though the photos below. We have a new contributor this week, James Paul Mitchell, who is an obvious fan of Kristina Murray.
---