Dom Flemons to Bring Bluegrass History to Life With 'Shultz's Dream' Performance
Posted On September 29, 2022
---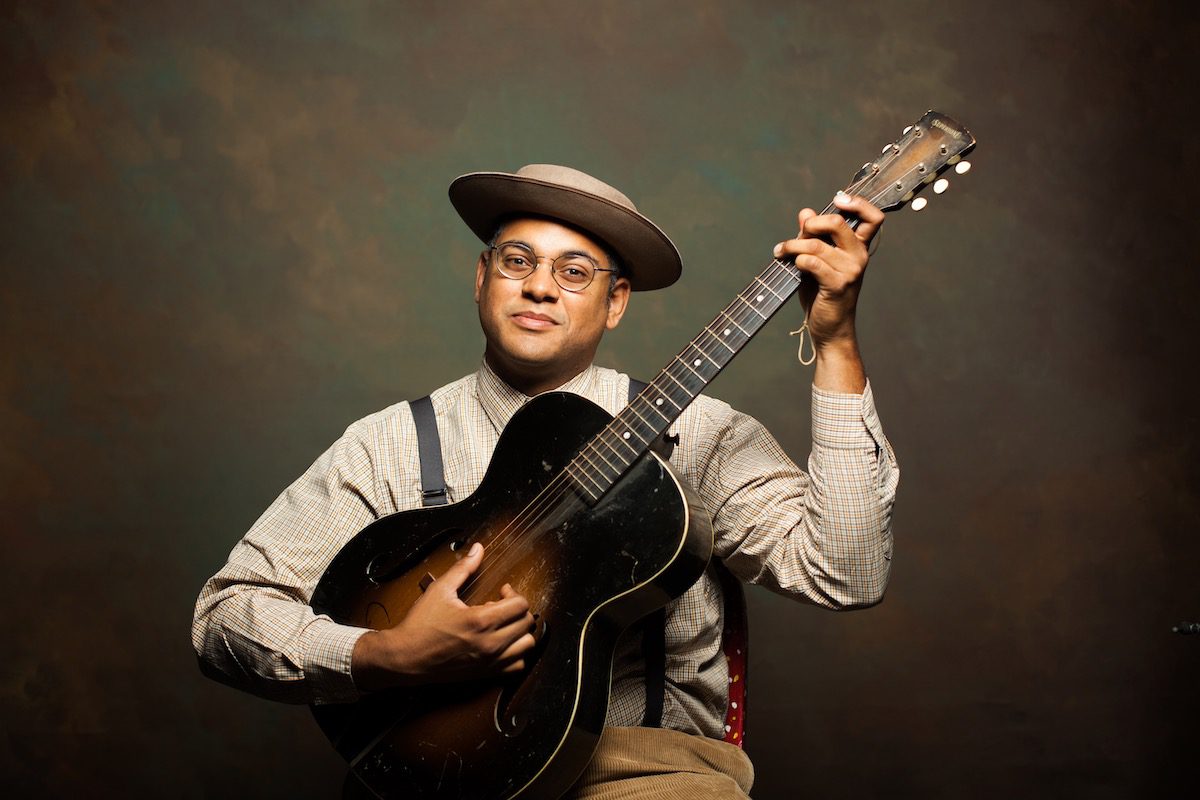 Dom Flemons (photo by Timothy Duffy)
Even for the most forward-leaning artists performing this weekend at the International Bluegrass Music Association's Bluegrass Live! festival in Raleigh, North Carolina, the past echoes through the music.
The most familiar narrative about that past is that it was male and white. But as scholars, artists, and fans have begun looking a little harder, a fuller picture has emerged. Bill Monroe's title as the Father of Bluegrass remains undisputed, but the sound he pioneered wouldn't have existed without Arnold Shultz.
Shultz was a Black fiddle and guitar player who was born near Monroe's hometown of Rosine, Kentucky, but lived for a time in New Orleans, where jazz and other styles influenced his playing. Back in Kentucky, he gave Monroe his first gig, and many thereafter, playing for local dances. (They knew each other through Monroe's Uncle Pen, the subject of one of Monroe's most famous songs.) Monroe picked up Shultz's thumb-picking style, which became a bedrock of bluegrass.
Not much is known about Shultz's life, or even his death, rumored to have come via poison at the hands of a jealous white musician in 1931. We don't know what tunes he may have composed, or even how he sounded, as no recordings have been found.
But through his vast knowledge of musical history and with help from some fellow contemporary Black musicians, Dom Flemons is working to bring Shultz's sound and story back to the story of bluegrass. On Saturday at IBMA Bluegrass Live!, Flemons will present a set titled "Shultz's Dream," funded by a grant from the IBMA Foundation's Arnold Shultz Fund, which supports participation in bluegrass by people of color.
Flemons, along with Dante' Pope, Brian Farrow (of Gangstagrass), Tray Wellington, and Shultz scholar and IBMA foundation member Dr. Richard Brown, will present tunes known to be circulating when Shultz and Monroe played together in the 1920s. The performance will be filmed to eventually bring Shultz's story to a wider audience.
Ahead of Saturday's set in Raleigh, we asked Flemons for a preview. The conversation below has been edited for length and clarity.
How did the Shultz's Dream set come to be?
This year's IBMA will be my first appearance at the conference even though I have been a presence on the old-time music for many years. When I was asked to do a presentation on the African American contributions to bluegrass, I could not help but think of Arnold Shultz as the perfect artist to display this very notion.
While he did not record on his own, the legend that has grown around Arnold Shultz over the years has impressed me. When I began to read about bluegrass pioneer Bill Monroe I was always intrigued by the notion that there was an African American who traveled from Kentucky to New Orleans learning new techniques that would change the face of Kentucky string music at the time. He did this by incorporating new sounds, chords, and musical scales that would enrich the music with aspects of what is now known as jazz and ragtime.
Through his influence, Shultz unknowingly planted the seed that created bluegrass. I say "unknowingly" because he was sadly killed by some jealous men at a square dance. Knowing Arnold loved his whiskey, they poisoned him, bringing on the demise of man whose musical innovations would become the stuff of legend and the bedrock of the music itself, which would become a well-loved and long-lasting musical genre that still lives on today, including via the IBMA.
Shultz did not invent bluegrass. He was not a bluegrass musician. Bluegrass was invented by the people he influenced. Bill and Charlie Monroe were young boys who met Arnold through their Uncle "Pen," a well-known musician in his own right. Pendleton Vandiver played music with Arnold Shultz and through that connection Bill and Charlie began to incorporate those innovative ideas of jazz, ragtime, and blues into their own rich heritage of Kentucky music in the Anglo-American tradition. Through a lot of jamming, song swapping, and meals shared, these musicians, Black and white, found a unique form of expression that would eventually become bluegrass.
Shultz's story has influenced me since I first read about him in Phoenix back in the early 2000s. In my whole career, I've made a point to arrange many songs showcasing a juxtaposition of stringband music and blues. Black country music is at the forefront of the current conversation of American roots music and I've curated a show of my arrangements of traditional and original songs that will showcase my impressions and experimentations into the sounds that might have sounded like the music Shultz played back in the turn of the 20th century.
Joining you for the set will be Brian Farrow from Gangstagrass, Dante' Pope, and Tray Wellington. Why did you want them to be involved?
It was important for me to bring together several promising young African American roots music performers who I feel can help me produce the sound and feeling of Shultz's Dream. Brian Farrow and Dante' Pope have worked with me before in a trio setting. Both of these gentlemen have toured with me extensively over the years and also contributed greatly to my successful Grammy-nominated album Dom Flemons Presents Black Cowboys.
Tray Wellington is a new face on the bandstand with me.  I have been watching Tray's musical journey grow since he first began making himself known on social media. Hearing his refreshing new take on bluegrass banjo has me excited to see where we can take some of the arrangements.
Can you give us a preview of what y'all will play?
Unfortunately, we do not know what Arnold Shultz sounded like because he never made recordings. Thankfully, in the early 1970s a reporter named Keith Lawrence decided to follow the legend of Arnold Shultz and began to interview his family members and friends to bring together as much of the story as could be found. I had the great fortune of being able to do an interview with Lawrence as well as Dr. Richard Brown, who through the Arnold Shultz Fund has partially funded the project.
When speaking with them both the first thing I found was that Arnold was a multi-instrumentalist. He played the fiddle and the guitar. While he dazzled Bill and Charlie Monroe with his fiddling style, Shultz was also leaving an impression on the musicians of his region with his innovative style of guitar playing, which he seems to have played both in thumb-lead fingerstyle as well as a single-note lead style. Like the Monroe Brothers, Shultz influenced Tex Atchison of the Kentucky Ramblers, a foundation group of the Western swing genre. Musicians like Kennedy Jones and Mose Rager would hear Shultz, and their protégées, Merle Travis and Chet Atkins, would go on to make a popularize a style eventually known as "Travis picking" which is still an extremely popular form of guitar in country music.
Keeping all of this in mind, I have always found it important to look back on the decade of stringband music that preceded the first recordings the Monroe brothers made in the mid-1930s. The musical exchange of ideas on the guitar, fiddle, and banjo has been going on since the 1890s. While in one regard, Shultz can be considered a rustic musician of Black Appalachian tradition, knowing his journey from Kentucky to New Orleans opens up a conversation that shows Shultz as a contemporary to musicians like the Mississippi Sheiks, a family band to begin to produce popular records, or Lonnie Johnson and Big Bill Broonzy, two blues musicians who began their careers as fiddlers and developed guitar styles that are still considered the pinnacle of early country blues guitar. These musicians dominated the early "race records" of the 1920s, and their songs were covered by the pioneers of bluegrass music.
I've chosen songs from the repertoires of Sonny Boy Williamson, Bill Monroe, and Roy Acuff, as well as the Badgett Sisters and Howard "Louie Bluie" Armstrong to tell this story. There will also be a few surprises as well.
I will also be premiering a new song at IBMA, "Shultz's Dream." Named for the group that will play at the conference, the song tells the story of Arnold Shultz and what I feel may have been one of his dreams. He was a community musician. He did not do it for the money. This was mostly because there was no money to be had. The music was made to share with others and that's how Shultz left his greatest influence. The art of sharing songs in bluegrass is one of the reasons it has remained popular so long. Each time we raise a tune, it sends Arnold Shultz home.
What did you learn about Arnold Shultz while researching this set? Do you have any insight into what he was like as a person and a player?
The most interesting information I found about Arnold Shultz is that his influence was both as a musician in his community and as an innovator of modern musical styles. The ragtime chords he added into the mix allowed for mountain music built on a single chord to evolve into something complex. While it seems like a small step, the only comparison I could make with modern music is the use of the piano in hip-hop. While most hip-hop has been built on singular drum beats that does not change chords, modern "melodic rap" is built on the underpinnings of piano chord changes under the rap. It inherently changes the sound and the approach to the music.
As the world of bluegrass continues to search for new ways to display the diversity of its history and its musical community, Shultz's influence is a perfect example of what can be possible when showcasing the roots of bluegrass through an African American lens.
What do you hope the audience comes away with after watching this set at IBMA?
I believe that we are just at the beginning of really important conversations when it comes to the representation of bluegrass music throughout its history. I am also a big fan of bluegrass and have been greatly influenced by the innovators on any number of albums, radio shows, and live performances all around the United States and the world. There's no reason for people to believe that the African American influences on bluegrass music are any way in conflict with the story everyone in this community already knows.
With Shultz's Dream, I want to remind audiences that traditional music bridges gaps and gives voice to the voiceless. With the selection of songs I have chosen for this group, I feel very confident that folks will have a great time and learn a little bit along the way.
The Shultz's Dream set is on Saturday, Oct. 1, at 7:05 p.m. in Raleigh's Memorial Auditorium at the Duke Energy Center for the Performing Arts.
---