Daptone Celebrates 20 Years of Bringing 'Something Special to Soul'
Posted On September 30, 2021
---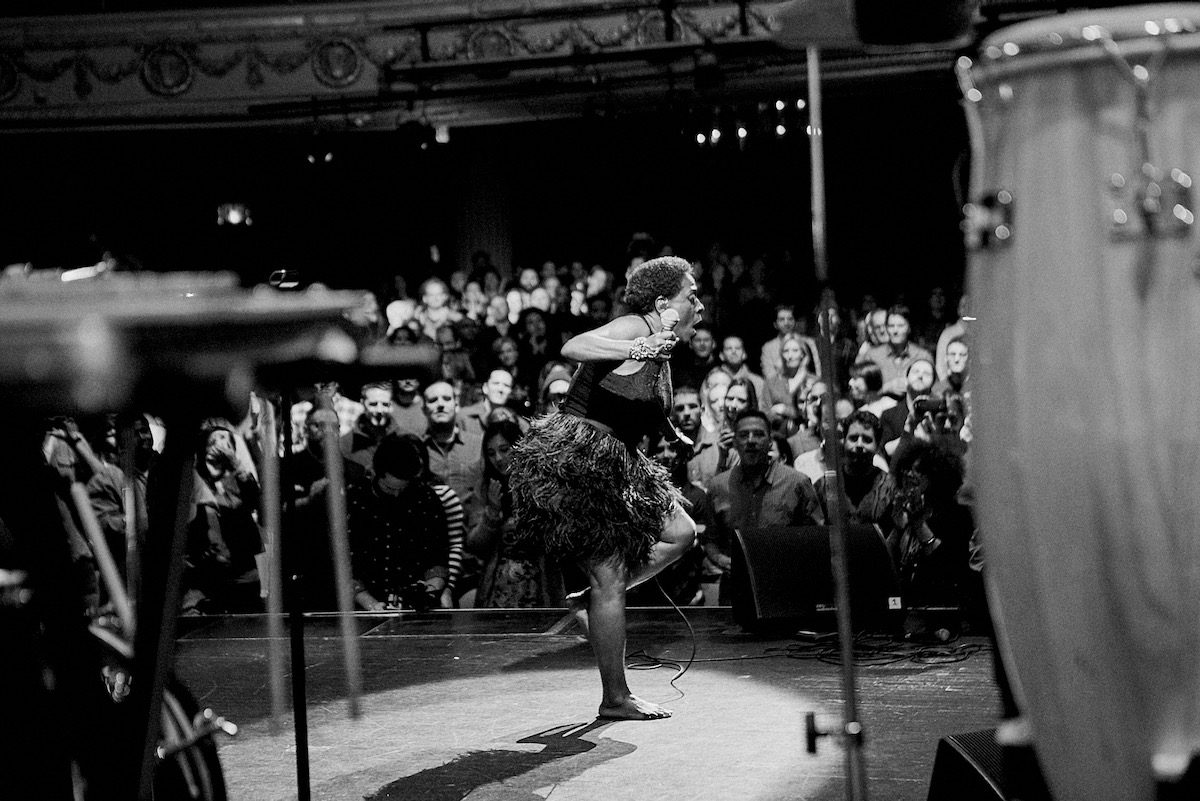 Sharon Jones onstage at the Apollo (Photo by Isaac Sterling)
This year marks the 20th anniversary of the first time Daptone Records started marching to the beat of its own funky drummer. To celebrate, the imprint on Friday is releasing its Super Soul Revue, a distillation of a three-night 2014 concert event at the famed Apollo Theater that featured performances by every act on the label at that time.
For saxophonist Neal Sugarman and bassist Gabriel Roth, Daptone's founders, releasing this album isn't just about celebrating the past 20 years or the legacies of their late, signature talents Sharon Jones and Charles Bradley. It's a conscious effort to give something meaningful to the fans and concertgoers that witnessed the Daptone live experience.
"We wanted to make a record for everyone who came to these shows or saw Sharon or Charles; this is a thank you to those people," says Roth. "We want people to remember what it was like to be there, like a photo album, and really be able to concentrate on the energy and those special moments."
"Digging into the live stuff, there's a certain energy because people were moved by the performances and it helped us sell a lot of records," Sugarman notes. "I don't know what a live record means in the music industry in 2021 or if people who never caught a show will stream the live record. It'll be a different experience for people who have."
Three Nights at the Apollo
The Daptone Super Soul Revue is a 32-track snapshot of that December 2014 three-night stand at the Apollo, a celebrated moment in the label's history.
In the past Roth had attempted the revue concept, where act after act performs in rapid succession with no intermission, with Daptone precursor Desco. But pulling it off under the Daptone umbrella and nine different groups was work on a much larger scale.
"With Desco, we would always try revues," he recalls. "We'd play a club like CBGBs and do a big Showtime Spectacular, with all these acts and no stopping.
"Sometimes you have 10, 15, 20 minutes between bands and it was important to us not do to that, to run it as one seamless show," he adds. "There were a lot moving pieces to the (Apollo) shows. It's just a lot of musicians. It was difficult, but fun, a lot of friends playing on each other's sets to keep it going."
Both Sugarman and Roth were well aware as they were putting it together that the Super Soul Revue was a special moment for Daptone. In order to properly document the moment, the decision was made early in the planning stages to create both an audio and visual record of the event.
"It was a pretty big deal in the moment; we definitely weren't taking it for granted," Sugarman says. "Doing a James Brown-style soul revue was always a dream for us. We had just been in Europe playing festivals and they paid really well, which created the opportunity for us to finally do it (in 2014). Our booking agent pitched the Apollo to us, and we were like, 'We gotta film and record this.'"
"It was a culmination of many years of work," affirms Roth. "After so many years of touring, having families and watching each other grow, at the time it did feel amazing. The record is a certain archive of a moment when these artists were in their strongest form."
The familial nature of the label and the overlap in musicians across each act were major factors in the revue's success. For instance, Thomas Brenneck played guitar for the sets by Menahan Street Band, Budos Band, and Charles Bradley. Roth and Sugarman were parts of the Sugarman 3 and the Dap-Kings, and members of Antibalas popped up in various acts throughout.
That camaraderie and the ability of a core group of artists creating together on scores of projects is the throughline that takes Daptone from its inception to the Super Soul Revue and into the present day.
'Making Records We Loved'
When launching it out of their Brooklyn space in 2001, Roth and Sugarman weren't thinking of Daptone as a forever project. Roth "didn't think it'd last two years." They were simply working from a common mission and ethos, but not much of a plan.
"We were like, 'Oh man, let's make records and bring something special to soul that it hasn't had in a long time,'" Sugarman recalls. "There was never a concept, everything just happened naturally. It was just all of us making records we loved.
"We obviously wear our influences on our sleeves, but it's always felt legit," he adds. "These are all experienced dudes, really good players who loved that music, were breathing it and living it. The hope was that we'd find an audience who loved it as much as we did."
That's it, no master plan or business strategy. Famous Dap-Kings collaborations with Amy Winehouse and Sturgill Simpson, Sharon Jones' cameo in the movie The Wolf of Wall Street, and Charles Bradley's appearance on the Netflix/Marvel series Luke Cage were just cool projects they and their fans would dig; they weren't part of some brand-leveraging scheme or a push to become part of a major label.
The desire to play honest, hard-hitting soul music on stage and in the studio helped build the Daptone aesthetic. Powerhouse vocalists Sharon Jones and Charles Bradley were the marquee talent for bringing it to audiences, and for the majority of the label's run that was enough to grow and sustain.
But Jones' passing in 2016 and Bradley's in 2017 created a void, one that Roth and Sugarman never even considered attempting to fill. Instead, they just relied on that commitment to a certain sound and quality to find a way forward.
"We just get in the basement with our friends and make music and that hasn't changed; we want to make cool records with our friends and try to have a direct relationship with our fans," says Roth. "There's this capitalist idea that success means growth, but we don't want to hire more people, we want to keep the same size and put a lot of pride and energy into concentrating on the artwork and making sure the music is amazing.
"When it came to what to do next, you'd be surprised how many people, agents came to us about replacing Sharon or Charles. That's not how it works; Sharon Jones, she's an institution," he continues. "Our plan was what it's always been, and Neal and I talk explicitly about it: if we don't have a really good record, we won't make one."
Sugarman concurs, adding that a Daptone release "is going to sound how we want, it's not going to be compromised."
In recent years, the pair have released an abundance of really good records. Budos Band and Antibalas have each dropped critically acclaimed LPs, projects from Orquesta Akokan and Cochemea are worthwhile endeavors into Latin and spiritual jazz, and Michael Rault has become the cornerstone of Daptone's garage rock offshoot, Wick Records. Recently Roth launched Penrose, a California-based imprint that hearkens back to the soul stylings of the early '60s. Between the level of current activity and the new Penrose projects, Roth and Sugarman are excited for the future of Daptone.
"There's this scene in California, these Mexican kids who are into the slow soul stuff. It feels real to me and reminds me of when we were first coming up," Sugarman enthuses. "It's exciting, and I'm looking forward to getting to the same place we got with Charles and Sharon with these artists. There's a real cool trajectory right now."
"In the next year or so, we have a lot of records, maybe more than ever," Roth says. "We didn't really have to stop and actually released a lot of stuff really quick. Sharon's catalog, Charles, Budos Band, they keep us in business. People stream their songs, and that gives us the income we need to record a Como Mamas or Thee Sacred Souls. There's a lot of talent on a smaller scale and they're driven and we love them."
The Right Time
Directed by filmmakers Jeff Broadway and Cory Baiey, the crowdfunded and Daptone-backed 2017 documentary Living on Soul offered viewers a behind-the-scenes look at the Super Soul Revue, the artists, and some of the performances. But Roth had been so focused on writing, producing, and issuing new material that the corresponding live album went on the backburner.
"It would always come up on the end of a staff call and I'd go, 'Oh yeah, we have to do that,' but I was always busy working on new music," he says. "Then all of a sudden the whole world hit pause and there were no more excuses. I had the chance to put the time in."
Amid the COVID-related shutdowns starting in March 2020, Roth listened back to the shows for the first time since they originally occurred. The playback was just as good as his and Sugarman's memories of the performances.
Given the timeline of when he started mixing and piecing together Super Soul Revue, it made sense to issue it in conjunction with the label's 20th anniversary. In the process, Sugarman and Roth could use the record to honor the fans and artists that made the past two decades possible.
"There was a lot of great music those nights that I forgot. If I didn't have that time to listen to it all, I don't think I ever would have finished," Roth says. "Now that it's been a few years since we lost Sharon, Charles, (organist) Cliff (Driver), and (gospel singer) Naomi (Shelton), it became important in a different way and preserves something for us and for the fans that made Daptone possible."
"I'm always used to playing a gig, listening back to it, and having everyone love it, but feel like I was garbage," says Sugarman. "But it felt great listening back after all these years, hearing people like Saun and Starr. It just reaffirms we were doing the right thing."
---