CROWDFUNDING RADAR: Projects from Chicago Farmer, Mexican Standoff, and a John Hartford Tribute
Posted On November 25, 2019
---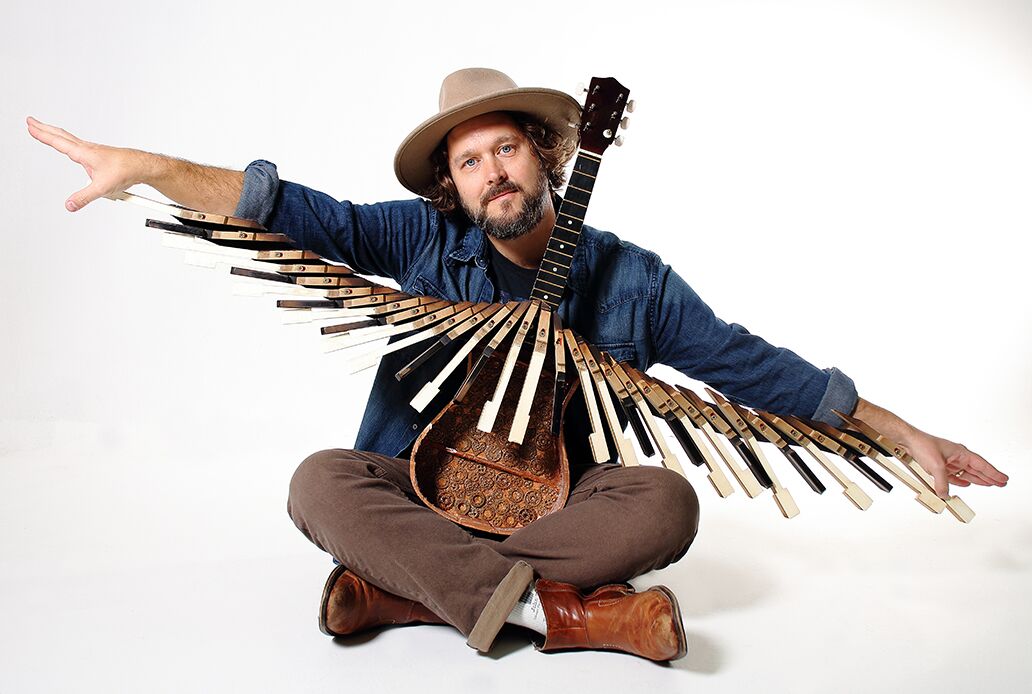 Chicago Farmer (photo by Bradley J. Scott)
Colder weather brings an abundance of choice on the major crowdfunding sites. Whether it's bands jumping off the summer tour circuit to hit the studio again or artists hoping to get in on the seasonal gift buying rush, November and December tend to be some of the busiest months for music crowdfunding. That's certainly the case this week, as I had more good options than I could fit in just one column. The three I'm presenting rose to the top not only because they were interesting in their own right, but also because they feature interesting guests, or in one case a group of artists paying tribute to one of roots music's most beloved figures.
Chicago Farmer – Flyover Country (click here to view project)
Cody "Chicago Farmer" Diekhoff has been traveling the highways plying his Midwestern folk melodies and heavy doses of Arlo Guthrie-style shaggy dog humor to ever increasing audiences. On Feb. 7, Chicago Farmer will release his sixth album, Flyover Country, featuring "10 songs of the overlooked and underappreciated." The album was recorded last year, so his Kickstarter campaign is more of a preorder link than an actual fundraiser (hence the $20 goal), aimed at funding album promotion. Joining Chicago Farmer for this album is Band of Heathens, who bring a fuller sound and more varied vocal harmonies than seen on Diekhoff's earlier work. Since this is preorder campaign, the backer rewards are limited to copies of the album, which you can get before the release date in the form of a signed CD, vinyl with download code, or both. 
The Mexican Standoff – Untitled Debut Album (click here to view project)
Multicultural and unabashedly political, Los Angeles' The Mexican Standoff is funding the release of their untitled debut album on Indiegogo and are aiming high, planning a collaboration with Tejano legend Flaco Jiménez in Texas and, while they're in the state, playing a show with local favorites Los Texmaniacs. While the band hasn't released any singles from the new album, a look back at their past work promises a mix of politically charged immigration commentary and humorous lyrics. Among the backer rewards for The Mexican Standoff's Indiegogo campaign are a preview song, ¨El Corrido de la Caravana," a "thank you kisses" card, tote bag, lessons in voice or various instruments from different band members, and, if you are in L.A., a quesadilla party with the band. 
Save the Tunes: The John Hartford Fiddle Tune Project (click here to view project)
There aren't many figures in roots music more revered than John Hartford, so it's no surprise that this unique tribute album has drawn a group of artists that includes Chris Eldridge, Noam Pikelny, Ronnie McCoury, Tim O'Brien, and Brittany Haas. This project, rather than featuring covers of Hartford's well-known hits, will pull from the new John Hartford's Mammoth Collection of Fiddle Tunes, a book of over 200 unpublished songs recovered from Hartford's archives. The album is being produced by one of Hartford's former bandmates, Matt Combs, and is overseen by his Hartford's daughter, Katie Harford Hogue. Backer rewards for this project include a John Hartford-themed postcard; the album on digital, CD, or vinyl; a copy of the book signed by the authors; facsimiles of the 3×5 "fiddle device cards" carried by Hartford for quick reference; and a private tour of the John Hartford archive guided by Hogue.
---