CROWDFUNDING RADAR: Campaigns With a Strong 'Why'
---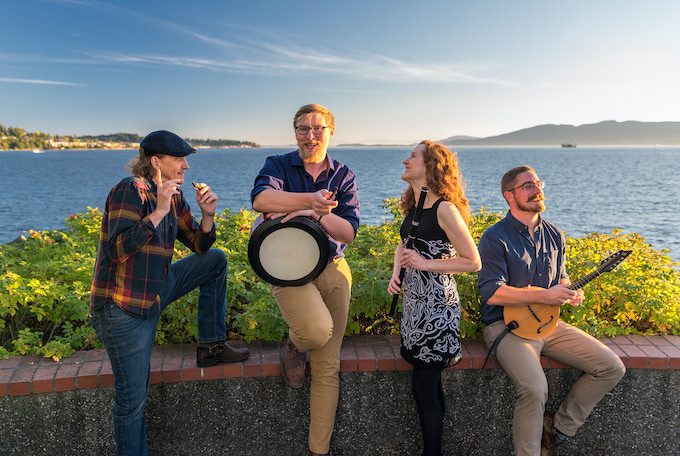 Gallowglass (photo by Dennis Kirkland)
A regular question asked of authors is "Why do you write?" It's a fair question. With the exception of a few well-known names, the pay per hour put into writing a novel, poem, or song certainly takes "for the money" out of the mix. In almost every interview in which I've seen that question posed, and in my own writing, the answer is the same: "Because I have to." Writers need to write. Sometimes it's as simple as getting an idea out of your head and onto paper. Sometimes it's the knowledge that, if you don't chase your dream, you'll spend the rest of your life wondering what if. This edition of Crowdfunding Radar highlights ambitious writers with their own answers to the question "Why do you write?"
Gallowglass – Debut Album (click here to view campaign)
Gallowglass' reason for crowdfunding their debut album is one you hear often among crowdfunders. After nine years of having to answer "not yet" to the question "Do you guys have a CD?", the band decided it was time to say "yes." Having secured producer Michael Thomas Connolly, an experienced traditional musician himself, the band is headed to the studio in April to record an album of re-imagined Celtic traditionals, some originals, and a slip jig version of Bob Dylan's "Girl From the North Country." To reach their $12,000 Kickstarter goal, Gallowglass has a range of backer perks available. You can get the album in digital or CD format, with an "early bird special" price for the first 15 backers of physical media. You can also get a pack of six vinyl cut Gallowglass mermaid stickers, a signed and numbered poster of the album's artwork, a personalized thank-you card, or a lesson from one of the band members.
Mama Said String Band – Seasons of Change (click here to view campaign)
Louisville-based Mama Said String Band has seen quite a bit of success regionally since forming in 2016, placing second in the John Hartford Memorial Festival Band Contest in 2018 and winning Best Album and Best Bluegrass Band at the Lexington Kentucky Music Awards in 2020 and 2022, respectively. In the last year, they got an even bigger break: a featured slot on PBS' Woodsongs Old-Time Radio Hour. To capitalize on that success, they've launched a $27,000 Kickstarter campaign to head to Nashville to record their new album, Seasons of Change, with producer Jonathan Goodwin at Dark Horse Recording. Through the campaign you can preorder the album in digital, CD, and vinyl editions. You can also get perks like a "Behind the Scenes" package of digital notes and photos from the band's past and present; merch like koozies, shirts, and stickers; or more personalized perks like a digital hangout, mini-golf, or bowling trip with the band.
Campbell/Jensen – Debut Album (click here to view campaign)
Ashley Campbell and Thor Jensen have both seen some success as solo artists. The daughter of roots legend Glen Campbell, Ashley spent years touring in her father's band while also releasing songs of her own. Jensen is a veteran of several bands that span genres from rock to jazz to Americana and that opened for artists like Shovels & Rope and Dr. Dog in that time. After coming together in 2021, Campbell and Jensen have used that wide genre range to craft a unique sound with a scaled-back "two voices and two instruments" approach. They're retreating to a cottage studio in Ireland for the album's recording and running an Indiegogo campaign with a flexible $25,000 goal to fund it. Backer perks include the album in CD and vinyl formats, an early listening party, a photo print from the studio, and a private livestreamed concert.
---