Chris Robinson Brotherhood at the Bing Crosby Theater, Spokane WA
Posted On December 6, 2018
---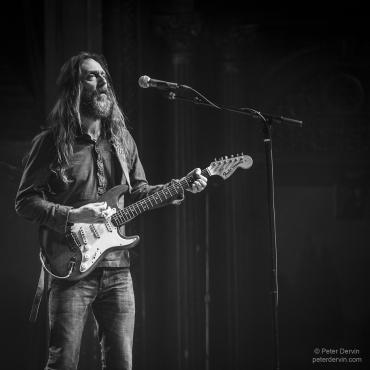 Chris Robinson of the Chris Robinson Brotherhood at "The Bing"
The Chris Robinson Brotherhood headed up to the Pacific Northwest with a run of shows where they played Spokane, Vancouver, Seattle, and Portland. I ventured over the Cascades to catch their gig at the legendary Bing Crosby Theatre in the heart of downtown Spokane for a little change of pace.
My evening started a little frantic, as I try to get around the venue to photograph the band from different locations during the first two songs, but once the photographing was done, I went up to the balcony to enjoy the music for the rest of the evening.
It was really enjoyable to be able to kick back and watch the Chris Robinson Brotherhood in action. This group is tight! Of all the different bands out there today, guitarist Neal Casal is one of the best in style with his expansive pickin'. Keyboardist Adam MacDougall rocks it to another universe with a variety of ivories at his finger tips. And the rhythm section of bassist Jeff Hill and drummer Tony Leone drive this steam engine with their solid playing.
Lead singer and rhythm guitarist Chris Robinson carried the lead vocals for this band throughout the entire evening. The interplay between Chris and Neal is a fun rock 'n'roll guitar journey with plenty instrumental flourishes.
Catching the Chris Robinson Brotherhood in an intimate venue like "The Bing" was a wonderful thrill. All the folks in attendance were into the music and excited to have them visit the Inland Northwest.
Complete set list available here via SetList.fm.
My complete photo gallery can be seen here.
---