Charlie Daniels – In the Pines
---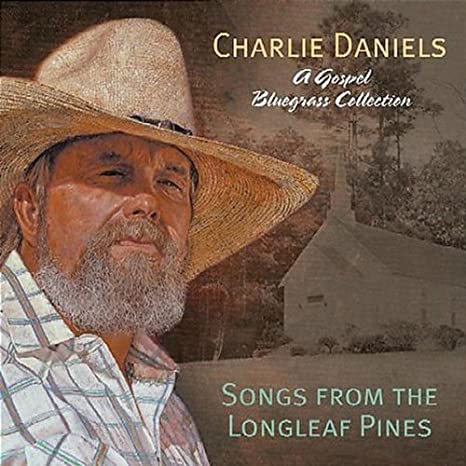 "…I take direction, I don't take dictation. And it's not for any reason other than that I just feel like I know what I'm doing better than anybody else knows what I'm doing."
On the back of the Charlie Daniels Band's Essential Super Hits, there's a picture of the Charlie known to almost everyone — burly, wearing a hat that threatens to rival Hoss Cartwright's in the size of its crown, and shredding the horsehair off his fiddle bow. The cover of his new album, Songs From The Longleaf Pines (Koch/Blue Hat), tells another side of the story. An illustration rather than a photograph, Daniels looks subdued, almost contemplative, in a more modest straw western hat and a plain checked shirt. And if the music isn't quite as restrained as the portrait might suggest, it's still bluegrass, it's still all gospel, and it reflects a side of Daniels that's even older than the aggressively-patriotic and country-rockin' ones which have been his stock in trade for years.
"The first real band I was ever in was a bluegrass band," says Daniels, who was born in Wilmington on the North Carolina coast in 1936. He was 15 and living in the central part of the state when a friend — Russell Palmer, the man to whom Longleaf Pines is dedicated — showed him his first chord on the guitar.
"I went to his house one day, and he had an old Stella guitar — it had a neck half the size of a fencepost, old strings, all that stuff," Daniels recalls with a laugh. "And he knew a couple of chords on it. I said, 'Man, you gotta teach me that.' You know, there are a lot of people these days who play music, guitars and stuff, but hardly anyone did back then. Just a very few people.
"So he showed me a D chord, and we started playing together. Then somebody showed up with a mandolin one day, so I had to get into that, and then I switched over and started playing fiddle. Bluegrass was pretty big down there, because Flatt & Scruggs spent a time on the radio at Raleigh, and they were very well thought of. And of course we used to listen to Bill Monroe, anybody like that. So Russell started playing five-string banjo, and eventually — probably around 1953 or 1954 — we put together a bluegrass band, and played any place they'd let us play."
Still, even in North Carolina the possibility of making a living playing bluegrass was impossibly remote in those days, and when Daniels did make the leap to a full-time gig a few years later, it was as a club musician in the beer joints of Jacksonville. He brushed up against bluegrass again for a while in the late 1960s and early 1970s — by then he'd moved to Nashville to work as a studio musician — when he was tapped to play twelve-string guitar on some of Flatt & Scruggs' last recording sessions, and then to back Scruggs and his sons in what would become the Earl Scruggs Revue.
After that, though, he turned to original music, creating the Charlie Daniels Band. Walking a line between country and southern rock that found occasional radio success ("The Devil Went Down To Georgia" was #1 country and #3 pop in 1979, earning a CMA award for Single of the Year), Daniels built and maintained a sizable and devoted audience. But though he was known for an energetic, good-time style with a healthy streak of good ol' country-boy orneriness, he had other things on his mind, too.
"Christian music — gospel music — has been a strong part of my heritage," he notes. "I come from a Christian family — I am a Christian — and I love the music. I wanted to do a gospel album for many years, but we were always on major labels. Major labels don't do that much anymore; they leave it to smaller companies like Sparrow, who have the expertise and the placement capabilities to promote gospel music.
"Well, Sparrow and Capitol are both owned by EMI, and when we were on Capitol, Sparrow got to looking over the roster to see if there was anybody that they wanted to do a gospel album, and they picked us. So I said, 'Yeah, I've been waiting.' And I immediately set about writing the songs for it."
Daniels' first gospel album, The Door, won the Gospel Music Association's Dove award for Country Album of the Year in 1995. A cut from its follow-up, Steel Witness, earned another Dove two years later. In 2001, Daniels released a collection of old favorites — "'Amazing Grace', and 'Life's Railway To Heaven', all the old songs we used to sing in church," he recounts. So when he was approached with the idea of making a bluegrass gospel album, the combination of his earliest and most recent experiences and predilections made his assent not only inevitable but enthusiastic.
"It's just kind of early life revisited," he says. "I felt very much at home when we did this thing."
Even the title, though it wasn't Daniels' idea, contributed to the backward look. "The state tree of North Carolina is the longleaf pine, and back when I was a kid, there were pristine growths of longleaf pine trees, which is just a much prettier tree than a shortleaf pine," he explains. "They don't plant them anymore because they grow so slow, so they're kind of a disappearing tree. But my dad was in the timber business, and so when I think about North Carolina, when I think about my youth — the early times, the formative years of my life — I think of the longleaf pines, and it just seemed liked a natural title."
---
---