Celebrating the Holidays with X
Posted On December 13, 2018
---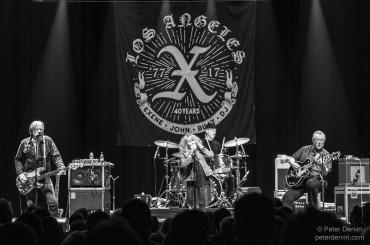 X, the punk rock legends from Los Angeles, have been celebrating with their fans for several years during the holiday season touring up and down the West Coast. Featuring the original lineup of John Doe, Exene Cervenka, Billy Zoom, and D.J. Bonebrake, after 41 years they continue to bring a rousing set of their best known songs from their first four albums, "Los Angeles," "Wild Gift," "Under The Big Black Sun," and "More Fun In The New World."
My X celebrations this holiday season started with their visit to the Showbox in Seattle on Nov. 27. Opening this evening was Elettrodomestico, featuring Jane Wiedlin of Go-Go's fame and her bandmate Pietro Straccia. This band performs an eclectic mix of new wave punk music. Wiedlin is as energetic as ever in both her electric guitar playing and her vocals. She is really quite the powerhouse on stage. Straccia is a new talent, originally from San Benedetto del Tronto, Italy, and now based in Reykjavik, Iceland. He brings his charismatic guitar playing and vocals to create a unique sound all their own. Check them out here: www.elettrodomesticoband.com
X, which formed in Los Angeles in 1977, came out of the early roots resurgence that gave us some other legendary bands like Los Lobos, The Blasters, Flesh Eaters, Go-Go's, The Plugz, and Top Jimmy & The Rhythm Pigs. All these bands really brought a uniqueness and diversity to the LA music scene at the time. Later members from these bands collaborated with members of X and The Blasters, becoming the roots band The Knitters, which kicked off what was then called cowpunk and then morphed into what we now call Americana or outlaw country.
As solo artists, both John Doe and Exene Cervenka have individually put out albums that have showcased their country folk roots. Cervenka in the late '80s and early '90s released a couple albums on Rhino Records that are two of my favorites. John Doe has continued to release some fantastic music on his albums from Yep Roc over the years. So the crossover from Americana and punk with X is certainly one rare relationship in both musical genres.
In Seattle, X proved once again that their brand of rock and roll is as good as ever. Cervenka has her own sense of charisma, while John Doe punches out the heavy bass lines, Billy Zoom dazzles with his electric guitar flourishes, and D.J. Bonebrake assaults the drums in syncopated rhythms. Their complete set list is here.
With the show at the Showbox being at the end of November, the next round would kick off December with a gig at The Novo in Los Angeles on Dec. 7. This time around Los Lobos was the opening band, which kinda brought the Americana Mexicana punk music mix right back to where it all started. Hometown favorites on the bill together was certainly going to make it a night to remember.
Los Lobos kicked it off with a full set featuring songs from over the years like "Don't Worry Baby," "Will The Wolf Survive," and "My Baby's Gone," and then played some faves from the KIKO album, including "Whisky Trail, "Wicked Rain," and "Kiko and the Lavender Moon." A couple highlights included a rousing tribute to Top Jimmy with "Pigfoot Shuffle" and The Blasters (Dave Alvin) classic "Marie Marie." Boy, did I have a rockin' good time.
X hit the stage with their rockabilly infused opener "Beyond and Back" and continued to power through with an amazing set of X classics. Their set didn't change that much from the Showbox gig, and frankly, I'm OK with that 'cause I dig everything they do. What I find so thrilling is the fact that after 40 years of hittin' the stage, both X and Los Lobos are simply the best at what they do.
You can close out 2018 with X and Los Lobos as they will be doing a pair of shows in Santa Ana and San Diego to wrap it up. Lucky for me, Los Lobos will be coming to Seattle to play a residency at the Triple Door in the first week of January to kick off 2019.
---