'Carry Me Home' Album Features Final Pairing of Levon Helm and Mavis Staples
---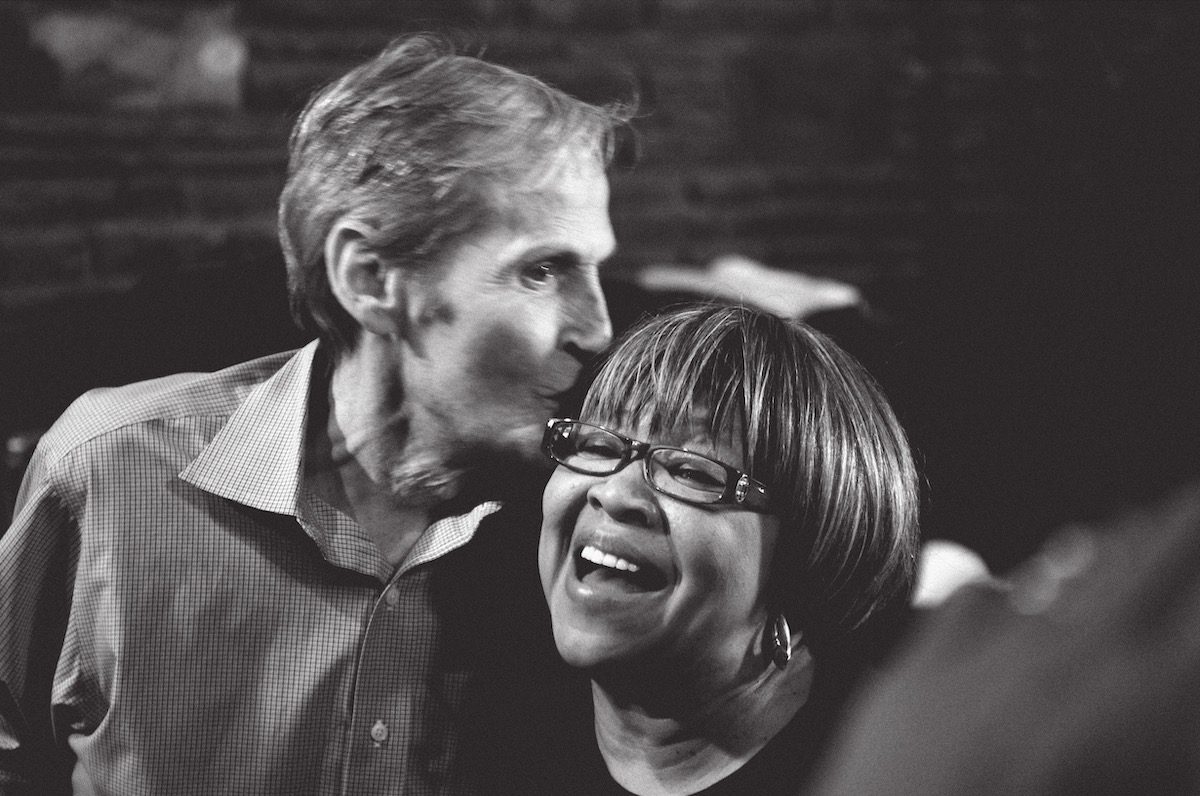 Levon Helm and Mavis Staples at Levon Helm Studios in 2011. (Photo by Greg McKean)
In 2011, Mavis Staples stepped into Levon Helm Studios in Woodstock, New York (better known as The Barn) for a Midnight Ramble performance that would end up being her last with Helm, who died the following year.
That performance will become public with the release of Carry Me Home, a recording of that performance, on May 20. The release, via ANTI- Records, represents some of Helm's final recordings before his death.
"It never crossed my mind that it might be the last time we'd see each other," Staples says in a press release announcing the album. "He was so full of life and so happy that week. He was the same old Levon I'd always known, just a beautiful spirit inside and out."
Carry Me Home will feature 12 songs, many made famous by others, including Nina Simone, Bob Dylan, and The Rolling Stones. It ends, of course, with "The Weight," by The Band, which they performed backed by The Staple Singers in the film The Last Waltz. (The Staple Singers also recorded a studio version for their 1968 LP Soul Folk in Action.)
To celebrate the album's release and honor Helm's memory, Staples and Amy Helm will be performing with The Midnight Ramble Band around the release day in Brooklyn and Accord, NY They'll also be on tour together for the following dates:
May
20 – Brooklyn, NY – Brooklyn Academy of Music
21 – Accord, NY – Dirt Farmer Festival at Arrowood Farms
June
7 – Brussels, Belgium – Ancienne Belgique
8 – Paris, France – La Cigale
13 – Stroud, UK – Subscription Rooms
14 – Edinburgh, UK – Usher Hall
16 – London, UK – Union Chapel
17 – London, UK – Union Chapel
Here's the video that accompanied the announcement, "You Got to Move," which features performance footage as well as clips of Staples and Helm rehearsing together. And you can check out the track listing below.
Track Listing
1. This Is My Country
2. Trouble in My Mind
3. Farther Along
4. Hand Writing on the Wall
5. I Wish I Knew How It Would Feel to Be Free
6. Move Along Train
7. This May Be the Last Time
8. When I Go Away
9. Wide River to Cross
10. You Got to Move
11. You Got to Serve Somebody
12. The Weight
---