British Band Quill Is a Most Unlikely Ensemble
---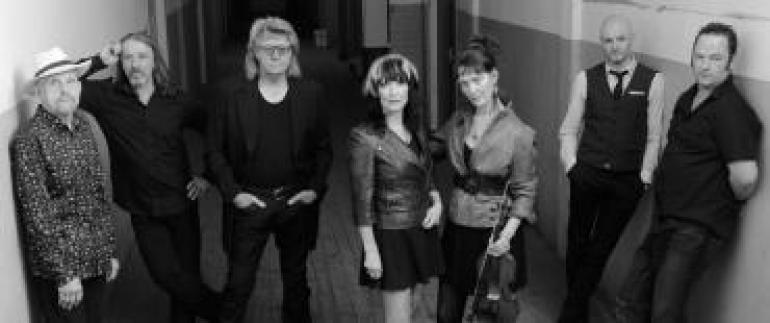 Quill's story is an unlikely tale, to say the least. This self-described British country/folk/rock collective currently includes at least two members with unusual credentials: Brian Tateler was once a member of the metal band Diamond Head, and drummer Bev Bevan's resume includes founding membership in ELO and a stint in Black Sabbath. Theirs are hardly the kind of backgrounds that would seem in-sync with the ethereal tones Quill has been known for over the course of their first nine albums.
On the other hand, the band's new effort, wistfully titled Brush with the Moon, marks a turning point for the group, especially as it's been envisioned by singer Joy Strachan-Brain, whose late bass player husband Ben passed away before recording began. "One of Ben's passions was writing songs," she notes on the album's back cover. "With the help of Quill, ex-members, family and friends, we have completed ten tracks, using Ben's vocals from his demos… The album has truly been a labor of love."
While that may sound like an unusual tack, it does bring to mind the audio tricks Jeff Lynne used when creating the Beatles reunion recordings some 20 years ago. Lynne used John Lennon's pre-recorded vocals over backing tracks that were freshly recorded by Paul, George, and Ringo for the Fab Four's first new material in 25 years.
Nevertheless, Strachan-Brain is the one who takes center stage throughout most of the album. Brush with the Moon covers a variety of touchstones essential to modern Americana – a forlorn lament to the American Indians' harsh treatment by the white man ("Nine Mile Camp"), the love of idyllic environs ("England"), hints of nostalgia ("Schoolyard"), and unfettered romance ("Quicksilver"). But it also resonates in a broader sort of way, with lush vocals, shimmering instrumentation, and lyrics that boast a decidedly cerebral mindset.
The participation of Bevan in particular – who, with Jeff Lynne and Roy Wood, helped launch two of the most intriguing progressive bands in British rock history, the Move and the Electric Light Orchestra – may be the very thing that brings the band some well-deserved recognition.
Bevan first became acquainted with Strachan-Brain when he was asked to put together a British touring ensemble dubbed Stand up and Rock, and hired her as the vocalist. "Over the years I have always been an admirer of Quill," Bevan commented in the press release distributed by his record label. "I was particularly a fan of Joy, who I considered to be the best female singer around the Midlands area … About a year ago I joined Quill as percussionist. Being a drummer, I have always also liked playing percussion instruments too, and have done so in the studio with The Move, ELO, Black Sabbath, and Jose Feliciano. It's great to be doing it live on stage now."
Bevan goes on to note that the band's line-up has shifted slightly since he joined the group, and that the music is leaning more towards country than ever before. He claims he and Strachan-Brain have also begun writing songs together and that they may be recording another album later this year.
---