BONUS TRACKS: Wilco Takes the Wheel for 'Carpool Karaoke'
Posted On December 16, 2022
---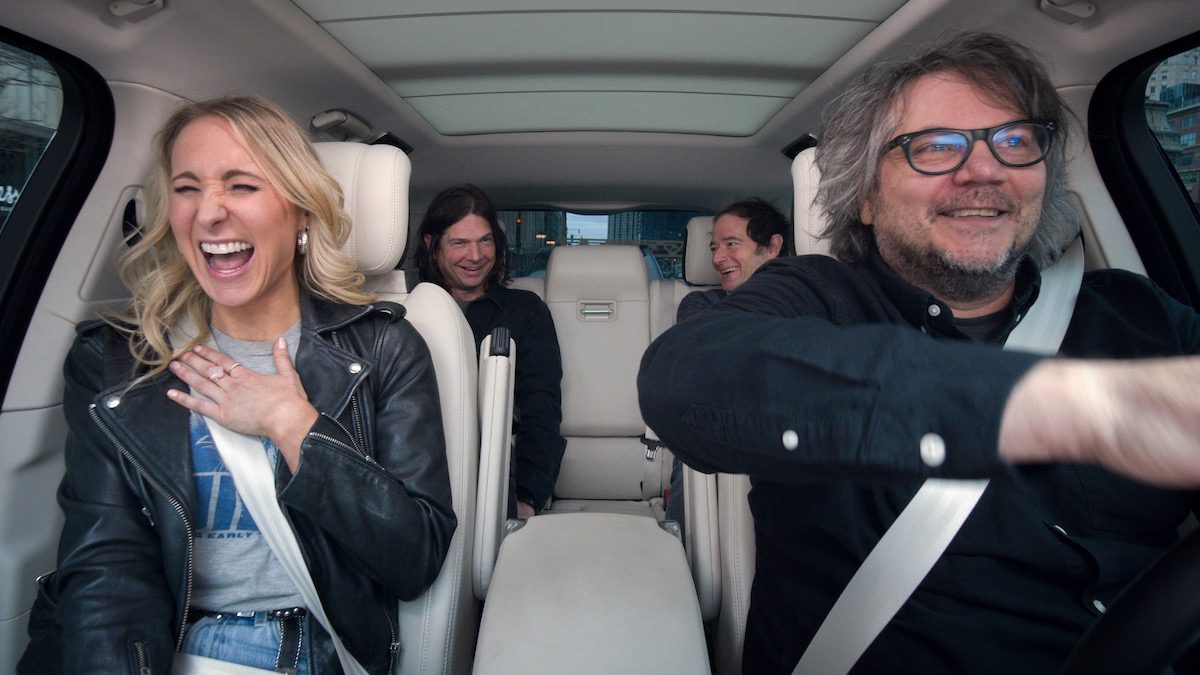 Nikki Glaser and Wilco's Jeff Tweedy, Glenn Kotche, and John Stirratt in a new episode of Apple TV's "Carpool Karaoke." (Photo via Apple TV)
The Apple TV series Carpool Karaoke, which pairs celebrities for a ride peppered with songs, conversation, and always some surprises, dropped its fifth season last weekend, including an episode with members of Wilco and comedian Nikki Glaser filmed in Chicago. With Jeff Tweedy at the wheel (yes, people in the show are really driving!), Glaser sings along with some of her favorite Wilco tunes with drummer Glenn Kotche and bassist John Stirratt adding accompaniment and commentary from the backseat. Get the story behind the episode — which also features a cameo from Mavis Staples and a recreation of the iconic parade scene from Ferris Bueller's Day Off — in this article from Billboard.
If you want to do karaoke with your own friends, whether or not they are in a car or in Wilco, Apple Music is making that possible right from your iPhone or iPad. Apple Music Sing, rolling out this month, provides synced lyrics as well as settings to let you drop out the recorded vocals on a song, perform as a duet, and more — to any song with lyrics loaded into Apple Music's data. The feature requires the iOS 16.2 operating system and an Apple Music subscription. Read more about it in this review from CNET and start warming your voice up now.
Philadelphia public radio station WXPN has partnered with The Black Opry to offer the Black Opry Residency to support five emerging Black musicians in Americana with workshops, mentoring, professional development, and performances over the course of a week next March. Applications are open to artists with at least 3 years of professional performing and recording experience who do not have a label contract. Applications for the residency, which receives funding from the Pew Center for Arts & Heritage, are available here and are due by Dec. 21. Learn more about the Black Opry Residency here.
WHAT WE'RE LISTENING TO
Here's a sampling of the songs, albums, bands, and sounds No Depression staffers have been into this week:
Jade Bird – "White Winter Hymnal" (Fleet Foxes cover)
Seamus Egan and Moira Smiley featuring Kaia Kater – "Watch the Stars"
The Mother Hips – "Codine," a Buffy Sainte-Marie cover from their new album, When We Disappear, coming in January
Miko Marks & The Resurrectors – "Long As I Can See the Light" (Creedence Clearwater Revival cover)
Butch Walker, Elizabeth Cook, and Katie Pruitt – "Walkin' Back to Georgia" (Jim Croce cover; proceeds benefit the Georgia Music Foundation)
Beabadoobee – "Lovesong"
Kassi Valazza – "Early Morning Rising"
Tift Merritt – Bramble Rose
Little Jimmy Dickens – "I'm Little But I'm Loud"
Anxious – Little Green House
Proper. – The Great American Novel
Daniel Villarreal – Panama 77
Hermanos Gutierrez – El Bueno y El Malo
Old 97's – "I Don't Know What Christmas Is (But Christmastime Is Here)" from The Guardians of the Galaxy Holiday Special
---