BONUS TRACKS: The iPod's Last Song, the White House Record Collection, and More
---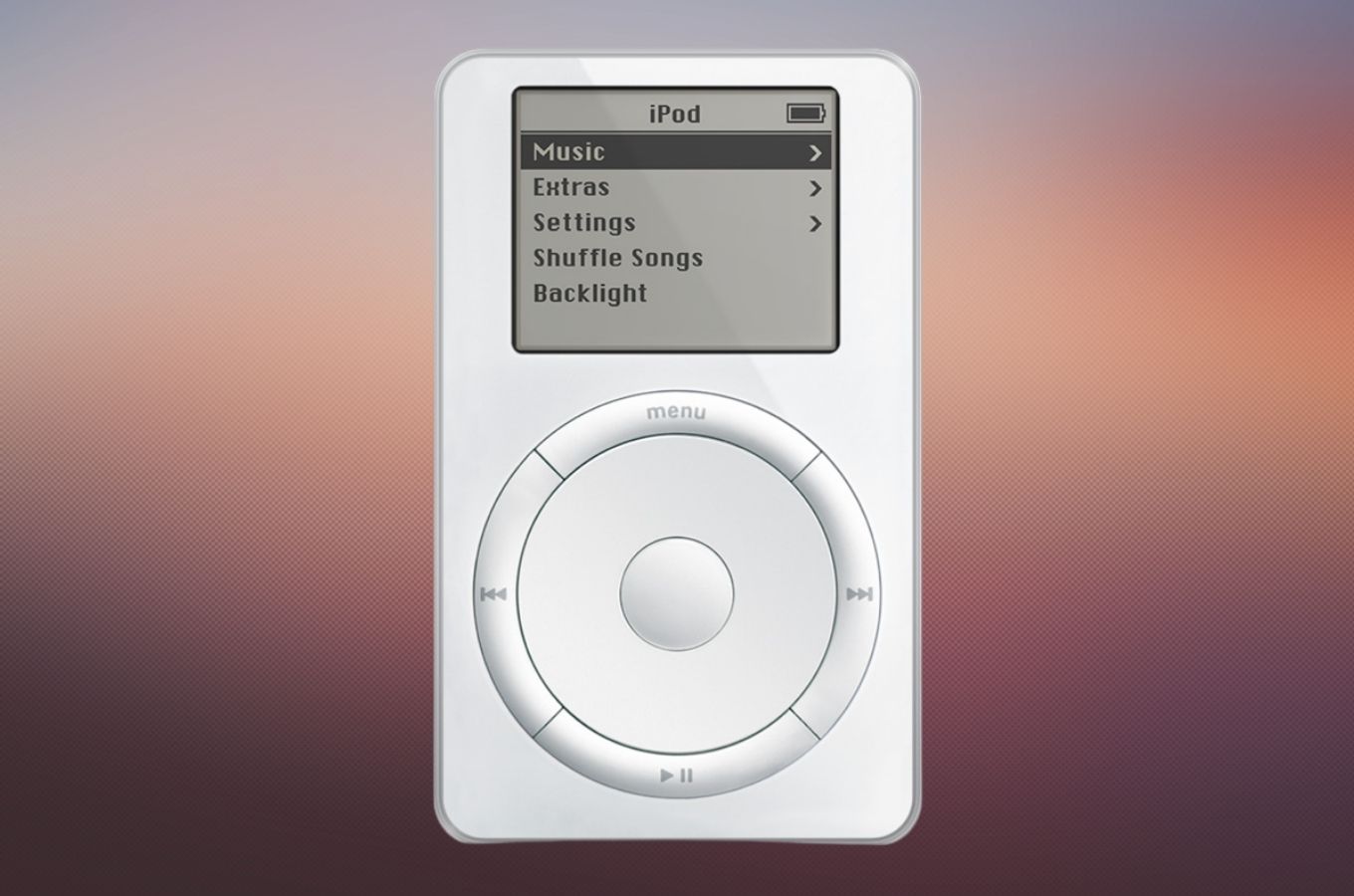 A first-generation iPod, which debuted in October 2001. (Photo via Apple)
Somewhere in your home there's probably a junk drawer housing your onetime constant companion, your iPod. The first iPod, in 2001, promised "1,000 songs in your pocket," which absolutely blew our minds. Over the next two decades, Apple would sell 450 million iPods, according to an estimate in The New York Times. But this week Apple announced it was discontinuing iPods. The iPod Touch models currently in stores are the last ones they will sell; when they're gone, they're gone. Read the NYT piece for a history of this remarkable gadget, and take a trip down memory lane in this announcement from Apple that includes a photo slideshow of the iPod through the years, from 1st gen to Mini to Nano to Touch. Then maybe rummage through that junk drawer, dust that clickwheel off, and tell your old buddy thanks.
I was surprised to learn that the White House once had its very own record collection — a pretty sweet one, too. It started in the 1970s, when the Recording Industry of America set out to create a curated music library similar to one that had been created in the White House for books. It was a bit heavy on the easy listening at first, but in 1981, producer John Hammond was asked to contribute to it, and he added titles from Elvis Presley, The Sex Pistols, Gil Scott-Heron, and others. Unfortunately, President Ronald Reagan (unlike his predecessor Jimmy Carter) wasn't much of a music guy, it seems, and the collection was moved into storage. John Chuldenko, a grandson of Carter's, is hoping to spread the word about the collection and possibly even resume contributions to it. Read more in this story from The Washingtonian.
To celebrate Mother's Day last weekend, the Rock & Roll Hall of Fame published an essay by singer-songwriter Michaela Anne about learning Carole King's "Child of Mine" for the child she was expecting last year — and then finding solace and connection in it after her mother had a stroke and she sang it at her mom's hospital bedside. Read the powerful essay here, and we can look forward to many more reflections on motherhood and other challenges on Anne's upcoming album Oh to Be That Free, coming in June.
On the heels of Elizabeth Cotten being announced as one of this year's "early influence" inductees into the Rock & Roll Hall of Fame, Rhiannon Giddens spoke to Rolling Stone about Cotten's legacy and how loudly it still resonates today. "Her music sits at a crossroads of a lot," Giddens says. "She is a woman, she is Black, she is playing a music that doesn't really have an immediate fit." Read the article here, and if you want to read more about Cotten's life and music, check out our Fall 2017 journal, which explored the theme of "Foremothers" and featured textile artwork of Cotten by Whiskeytown and Tres Chicas alum Caitlin Cary on the cover.
WHAT WE'RE LISTENING TO
Here's a sampling of the songs, albums, bands, and sounds No Depression staffers have been into this week:
Joy Oladokun – "Purple Haze"
Neal Casal and Johnny Irion – "No Hard Feelings," a previously unreleased song written in 2011. Proceeds from the song will go to Sounds of Saving
Dawes – "Someone Else's Café / Doomscroller Tries to Relax," from their new album, Misadventures of Doomscroller, coming in July
Irma Thomas ­– Down at Muscle Shoals
Black Keys – "Wild Child"
Julia Jacklin – "Just to Be a Part" (Bill Fay cover)
Li'l Andy – The Complete Recordings of Hezekiah Procter (1925–1930)
Bartees Strange – "Hold the Line"
Amythyst Kiah ­– "Sugar" (Tori Amos cover)
May Erlewine – "Lion Heart"
Elia y Elizabeth – Elia y Elizabeth
Dorothy Ashby – Soft Winds: The Swinging Harp of Dorothy Ashby
Valerie June – "Fade Into You" (Mazzy Star cover)
---