BONUS TRACKS: The Banjo Toss Goes Virtual, Musicians Talk Voting, and Songs to Save Venues
Posted On October 16, 2020
---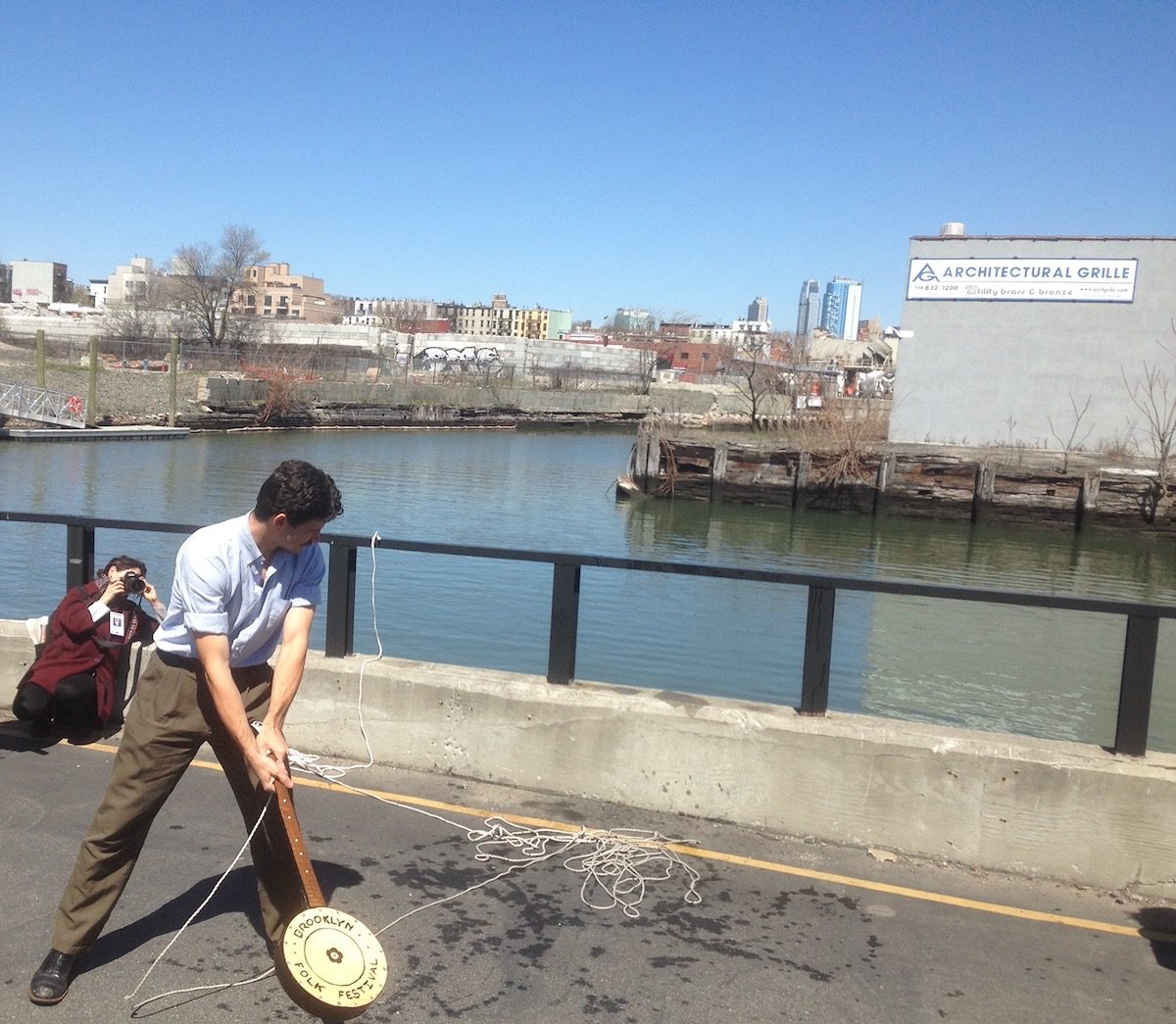 Musician Frank Fairfield tries his hand at the in-person Banjo Toss in a previous year of the Brooklyn Folk Festival. (Photo courtesy of the Brooklyn Folk Festival)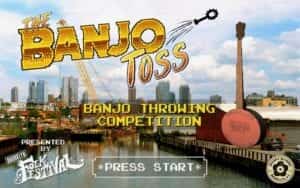 No matter how well your favorite festival pulls off a virtual version, it's never quite the same without those special touches that only come from being there. But the Brooklyn Folk Festival, taking place online Oct. 23-25, has found an innovative way to preserve a beloved tradition. The Banjo Toss, which usually has contestants heaving a banjo on a rope into the Gowanus Canal (a superfund site), is now an online video game. Just like in real life, whomever throws the banjo farthest (provable via screenshot posted to social media with a #banjotossvideogame tag) wins a prize: a nice, new banjo! Check it out here or download it to your phone via your usual app store. And if you'd rather hear banjos than toss them, you can check out the fine Brooklyn Folk Festival lineup here.
Early voting has begun in many states, and the election looms heavily on the horizon. Pitchfork checked in with a wide range of musicians to find out what moves them to vote and what they feel is at stake this time around. "I'm voting because I want to do what I can to save the American experiment. It's that dire," writes Rhiannon Giddens. We also find thoughts from Margo Price, Alynda Segarra (Hurray for the Riff Raff), Chuck D, Lucy Dacus, and David Byrne. Even if you're already registered to vote (if not, here's how to get it done) and know who you'll check off on your ballot, you'll find this a moving read.
Like a lot of musicians who can't tour right now, The Steel Wheels turned to commissions as a way to connect with fans during the pandemic and make a little dough in the process. Requests came in to celebrate anniversaries and commemorate loved ones, and sometimes just to convey a feeling. After a while, the bluegrassy rockers realized they'd created songs remotely that they're truly proud of, and they decided to share the songs — and the personal stories behind them — with an album titled Everyone a Song, Vol. 1, out next month. NPR and Virginia public radio station WMRA launched a podcast this week titled We Made You a Song in which Steel Wheels frontman Trent Wagler interviews his bandmates and the fan who commissioned each song about the creative process and the story that fueled it. You can listen to the podcast here. Learn more about the project and hear the song "The Healer," inspired by the retirement of a longtime physical therapist named Meta, over at The Boot.
Lucinda Williams is launching a series of themed livestreams with a Tom Petty tribute on Oct. 29, a little more than a week after what would have been his 70th birthday. Each "Lu's Jukebox" performance is ticketed and viewable through online platform Mandolin, with proceeds raising funds for participating venues around the world.
Also benefitting struggling venues is the Save Our Stages Fest, which starts today at 5 p.m. ET and runs through the weekend on the YouTube channel of NIVA (National Independent Venue Association). Thirty-five artists, including Nathaniel Rateliff, Brittany Howard, and Leon Bridges, were recorded in new performances from 25 venues across the country. Donations will be accepted for NIVA's Emergency Relief Fund for venues.
WHAT WE'RE LISTENING TO
Here's a sampling of the songs, albums, bands, and sounds No Depression staffers have been into this week:
Fleetwood Mac – Rumours (#influenced)
Etta James Sings Funk
As soon as we possibly can, Sturgill Simpson's new bluegrass album, Cuttin' Grass Vol. 1: The Butcher Shoppe Sessions, which features Sierra Hull, Stuart Duncan, Mike Bub, Tim O'Brien, and more
"All You Fascists Bound to Lose" by The Resistance Revival Chorus featuring Rhiannon Giddens, from their new album out today, This Joy
---