BONUS TRACKS: Some Visions of Live Music's Future and 'No Drama' CMAs
Posted On November 13, 2020
---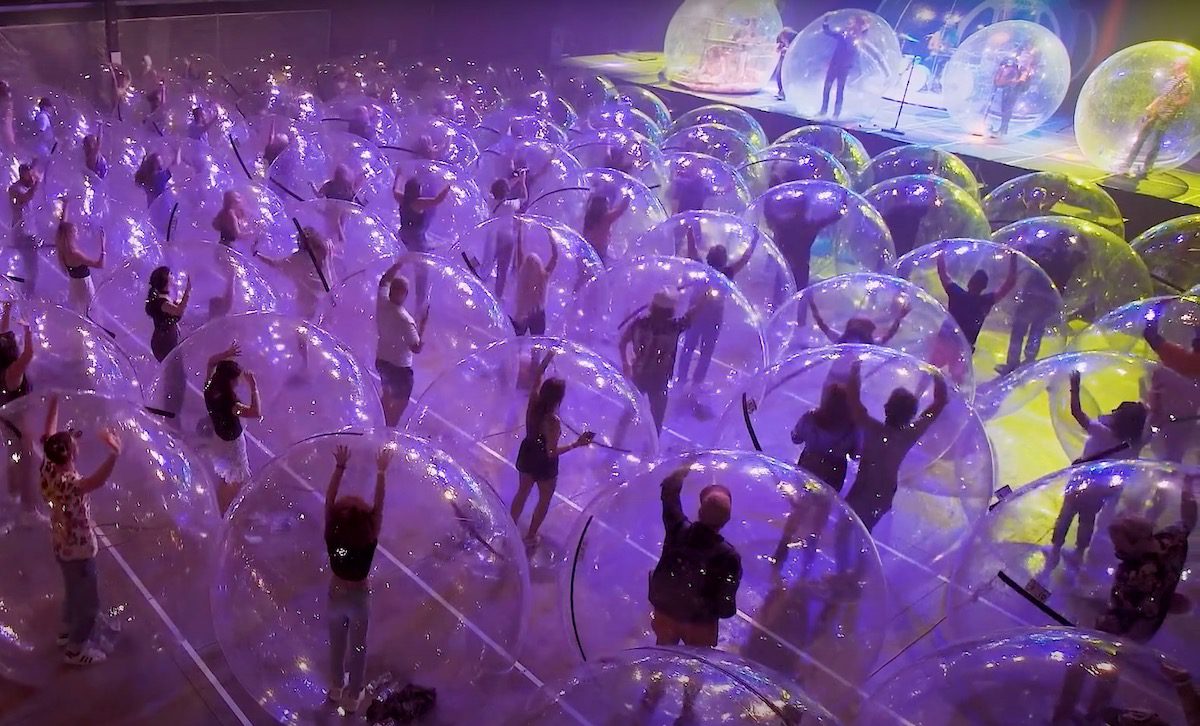 We all really, really, really want to get back to attending live shows someday, but what will that look like? A few potential blueprints have started to emerge. This week Ticketmaster talked to Billboard about a plan it's developing to use smartphones to verify concertgoers' vaccination and testing status as part of the ticketing process. No word, ahem, how much their per-ticket COVID screening fee might be. A decidedly lower-tech approach is coming from The Flaming Lips, who on Dec. 11 will present the "World First Space Bubble" concert in Oklahoma City. The audience will be contained in giant plastic bubbles that can fit up to three people, and the band will be bubbled up, too. Here's video of a test run of the idea at the same venue in October:
For an organization that wanted to steer away from drama, the Country Music Association sure had its share of it surrounding its awards show this week. Here's your cheat sheet:
— LOTTA folks had to pull out of performing or presenting or attending at the last minute due to COVID-19 exposure, including one-half of Florida Georgia Line, Lee Brice, Rascal Flatts, the band formerly known as Lady Antebellum (because someone's family member was exposed), and fiddle player Jenee Fleenor.
— The show got a lot of flak before it started and as it unfolded for gathering a large number of people indoors amid a national and local to Nashville spike in COVID-19 cases.
— The show also got a lot of flak for not acknowledging the death of John Prine earlier this year. (The best flack by far came from Sturgill Simpson in this Instagram post.) Nothing for Jerry Jeff Walker or Billy Joe Shaver either. Because of that, Jason Isbell and Amanda Shires announced Thursday they were returning their CMA membership cards (which are apparently an actual, physical thing, who knew?). "I doubt anybody will care," Isbell said in a tweet. "But we cared a whole lot about our heroes."
— The Associated Press canceled plans to cover the CMA Awards after organizers refused to allow the wire service to photograph the event directly or to circulate photos of screenshots from the broadcast that would show the faces of people seated in the audience. Screenshots have been a standard practice for the AP as it covered the Emmy Awards, the MTV Video Music Awards, and other events.
— On the bright side ("drama" can be good things too, you know), Charley Pride was there to perform and receive the CMA's Willie Nelson Lifetime Achievement Award. (Though it made a lot of people — me included — rather nervous to see an 86-year-old icon at an indoor event with a lot of people he doesn't live with amid, gotta say it again, a spike in a virus that affects the elderly with special viciousness.)
— And after winning her third award of the night, Maren Morris told Black women pioneers in country music "I want you to know that we see you," naming several who have inspired her personally, including Yola and Rhiannon Giddens.
A promo for the upcoming Masters golf tournament sets lush views of Augusta greenery and vintage tournament footage to the opening verses of John Prine's "I Remember Everything." Whether you love golf or couldn't care less about it (raises hand), it's hard not to get misty hearing that song and seeing people enjoying something together. Check it out here.
WHAT WE'RE LISTENING TO
Here's a sampling of the songs, albums, bands, and sounds No Depression staffers have been into this week:
Sam Cooke – "Ain't That Good News"
Kris Delmhorst – Long Day in the Milky Way
Amanda Shires – "The Problem" (in an intense new video featuring her and Jason Isbell)
North Americans – Roped In
Chris Stapleton ­– "Starting Over"
Alice Coltrane – Journey in Satchidananda (the album's 50th anniversary was this week!)
Sturgill Simpson and friends playing "Breakers Roar" on The Late Show with Stephen Colbert:
---