BONUS TRACKS: A Pete Seeger Postage Stamp and Other Roots Music News and Notes
---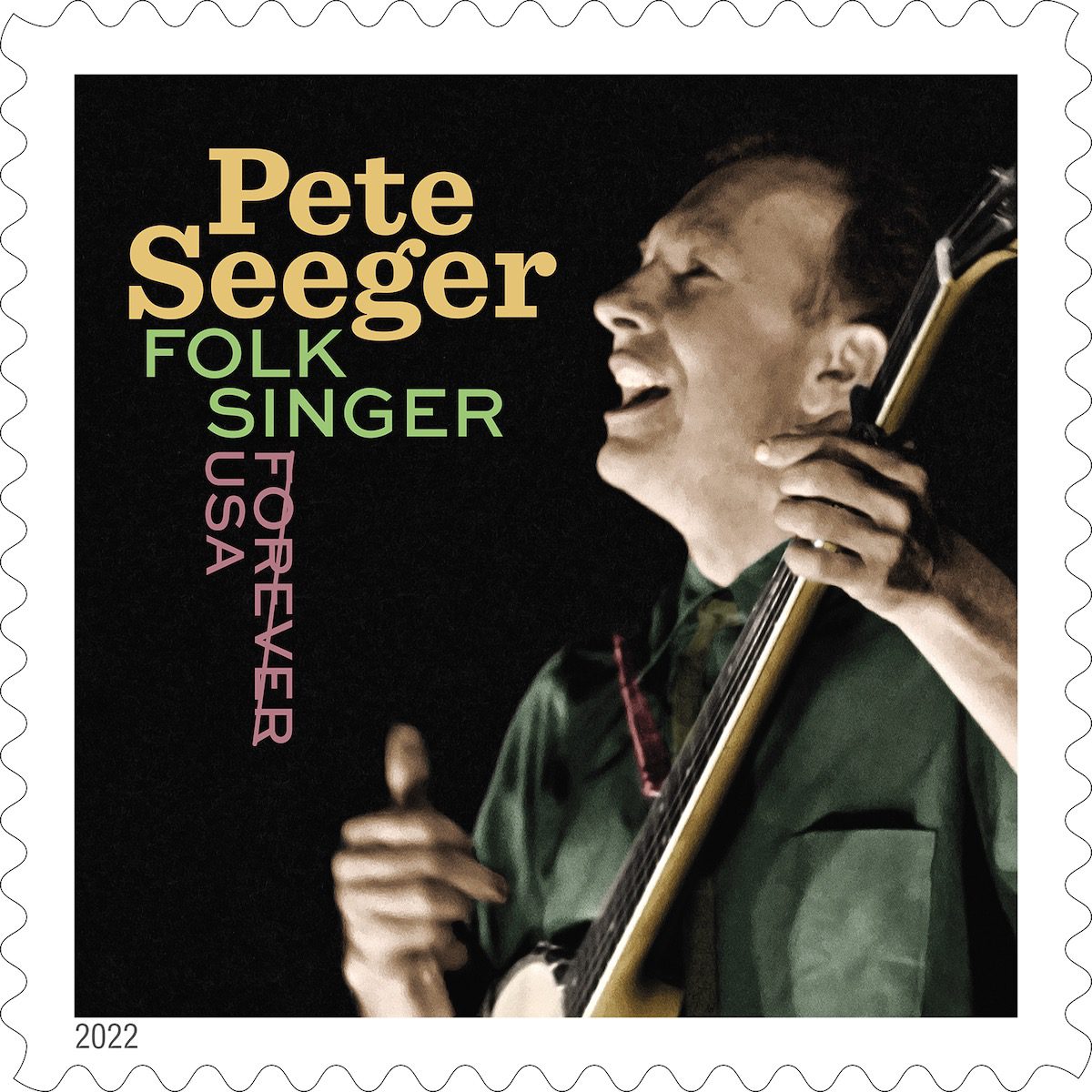 A new US Postal Service forever stamp honors Pete Seeger. (Image via USPS)
If you've been sleeping on stamp collecting, you might want to wake up now. Next Thursday the U.S. Postal Service will release a stamp honoring Pete Seeger. The "Forever" stamp, part of the USPS's Music Icons series, currently is worth 60 cents but will always cover the cost of a one-ounce First Class letter. It features a colorized photo (taken by Seeger's son, Dan, in the early 1960s) of Seeger joyously singing while strumming his banjo. It's perfect for sending letters supporting social justice to your lawmakers, don't you think? As it does for many of its stamp offerings, the USPS also sells artwork and other collectibles related to this stamp, including a really gorgeous poster. That and the stamps themselves are available for preorder now at store.USPS.com.
In Russia, as everywhere, musicians often speak about — and sing about — current events. And of course the Ukraine invasion is the main headline. Musicians who oppose the war are finding themselves bullied on social media, blacklisted by venues and radio, and, in some cases, detained in a country that has made anti-war statements illegal. Those sympathetic to Ukraine are donating to aid groups there, and some are leaving their homeland, NPR's All Things Considered reports. "It is a time of dread, confusion and despair," one Russian music critic has said. "Those who could create something have left the country. And whoever didn't leave simply cannot find the spiritual strength to create." Read more about some of these musicians and how they're finding a way forward in a turbulent time at NPR.
When Wilco headlines the Roots N Blues Festival in Columbia, Missouri, this fall, frontman Jeff Tweedy will be honored as this year's Missouri Roots Songbook inductee. The Songbook was created by Roots N Blues co-founder Tracy Lane in 2018 to honor Missourians who have made their mark in the music world. Previous honorees have been Chuck Berry, John "Blind" Boone, and Sheryl Crow. Yes, Tweedy is from Belleville, Illinois, but he has often mentioned spending time in record stores and music venues in nearby St. Louis growing up, and his first band, Uncle Tupelo, played Columbia, St. Louis, and other Missouri towns frequently early in their career and then ended their time as a band with some last shows there. Read more about the honor on the Roots N Blues Festival website.
WHAT WE'RE LISTENING TO
Here's a sampling of the songs, albums, bands, and sounds No Depression staffers have been into this week:
Charley Crockett – "I'm Just a Clown," from his new album, The Man From Waco, coming in September
Courtney Marie Andrews – "Loose Future"
Kaina – "It Was a Home"
Lauren Balthrop – "What of the Days"
Watkins Family Hour featuring Fiona Apple – "(Remember Me) I'm the One Who Loves You," a Stuart Hamblen cover from Watkins Family Hour's new album, Vol. II, coming in August
Robert Earl Keen – "Cowboys Don't Cry" (Oliver Tree cover)
Esther Rose – "Levee Song"
Caleb Caudle – "Crazy Wayne," from his new album, Forsythia, coming in October
Rhett Miller – "Follow You Home," from his new album, The Misfit, coming in September
Pharis and Jason Romero – Tell 'Em You Were Gold
Soccer Mommy – Sometimes, Forever
Vandoliers – Forever
Bhi Bhiman ­– I'll Sleep When I'm Famous
Damn Tall Buildings – "Cold Rain," from their new album, Sleeping Dogs, coming in September
Archers of Loaf – "In the Surface Noise," from their new album, Reason in Decline — their first in 24 years — coming in October
---