BONUS TRACKS: MerleFest Memories and Must-See Music TV on 'SNL'
Posted On September 24, 2021
---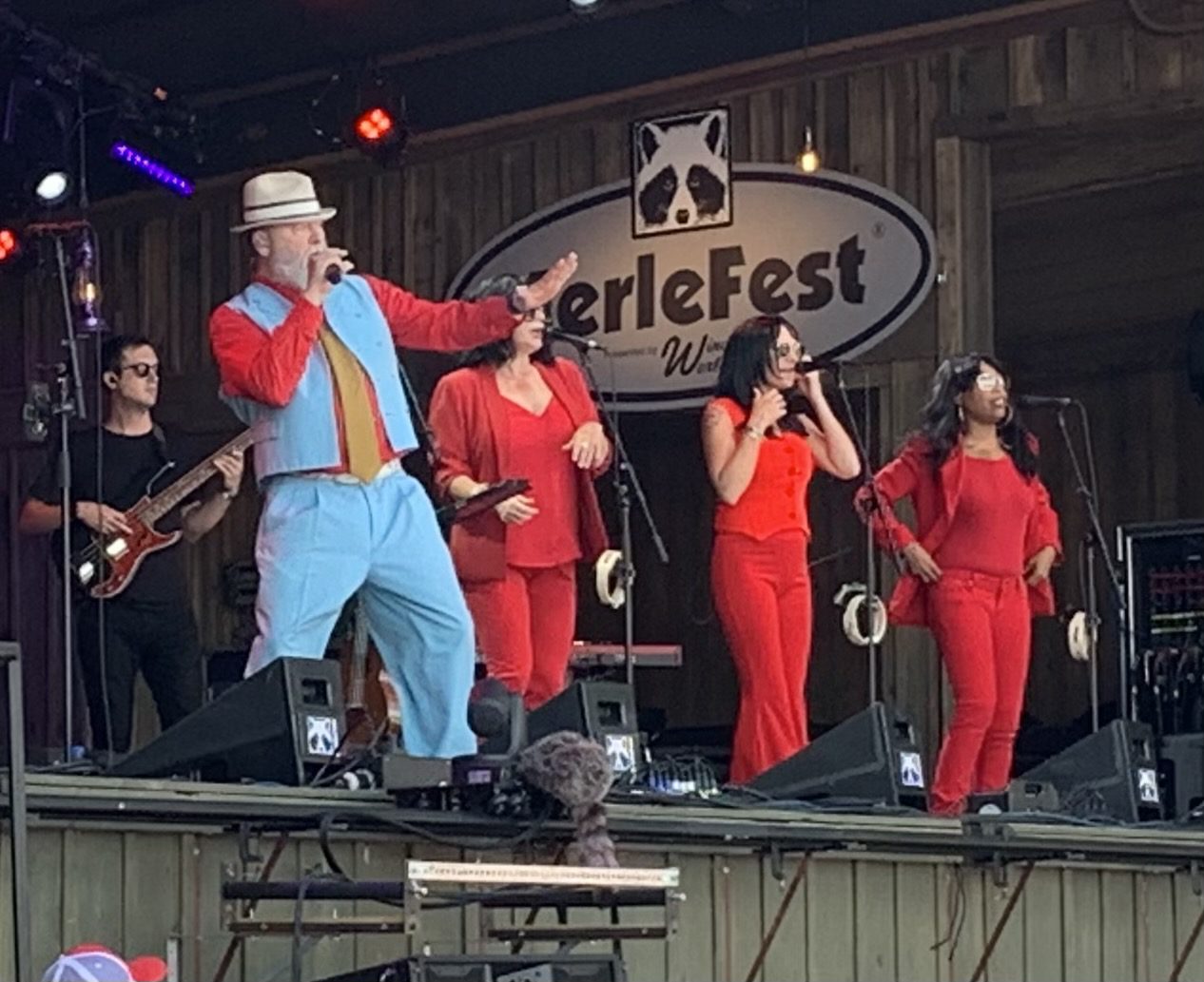 Shinyribs gets the MerleFest crowd to its feet Sunday afternoon. (Photo by Stacy Chandler)
I've been attending MerleFest for more than 20 years now — but never quite like I did last weekend. Like clockwork (or, if you live in the South, like pollen) it has always arrived to Wilkesboro, North Carolina, in spring, promising warm days, at least a little rain, and the need to pack some warm layers to get through the late-night sets. But this year's incarnation of MerleFest took place in September, making for a whole new experience, even for veterans like me. The leaves on the trees were darker green and a bit haggard, the grass was tougher and drier, and pollen was swapped for mosquitos. Attendees and artists alike sported some prominent new accessories this year: masks to be worn indoors, and a new wristband indicating full vaccination against COVID-19. But even with all those shifts to navigate, the spirit of the festival remained the same as always. It was a celebration of music so great it makes you turn to your neighbor to talk about it, sometimes laying the groundwork for lasting friendships. So much was different, but it still felt like a homecoming. Here's hoping we can do it again next spring, with masks and COVID in the rearview mirror and the focus fully on the music.
Saturday Night Live is back for its 47th season on Oct. 2, and roots music fans may have reason to tune in to a few of the episodes. Kacey Musgraves will perform during the season's first episode, hosted by Owen Wilson. And Brandi Carlile will be the musical guest alongside host Jason Sudeikis, a former SNL player and now Ted Lasso star, on Oct. 23.
Cajun singer and fiddle player Courtney Granger died last weekend at the age of 39 due to complications from diabetes. He grew up in Eunice, Louisiana in a family steeped in music, and as an adult toured with Cajun bands Balfa Toujours and The Pine Leaf Boys. Read more about his life and music in this loving tribute at Folk Alley.
WHAT WE'RE LISTENING TO
Here's a sampling of the songs, albums, bands, and sounds No Depression staffers have been into this week:
The Whitmore Sisters – "Learn to Fly," from their new album, Ghost Stories, coming in January
The Lowest Pair – "Wild Animals"
Dori Freeman – Ten Thousand Roses
Birdy – "Evergreen"
Margo Cilker – "Tehachapi"
The sweet sounds of the FreshGrass Festival in North Adams, Massachusetts, hosted by ND's parent nonprofit, The FreshGrass Foundation: Bonny Light Horseman, Trombone Shorty, Béla Fleck, Steep Canyon Rangers, Amythyst Kiah, Dom Flemons, and more
Cy Winstanley – "She Had the Dumplings"
---