BONUS TRACKS: Give Me All the Doggy Parton + The Week's Roots Music News
Posted On September 2, 2022
---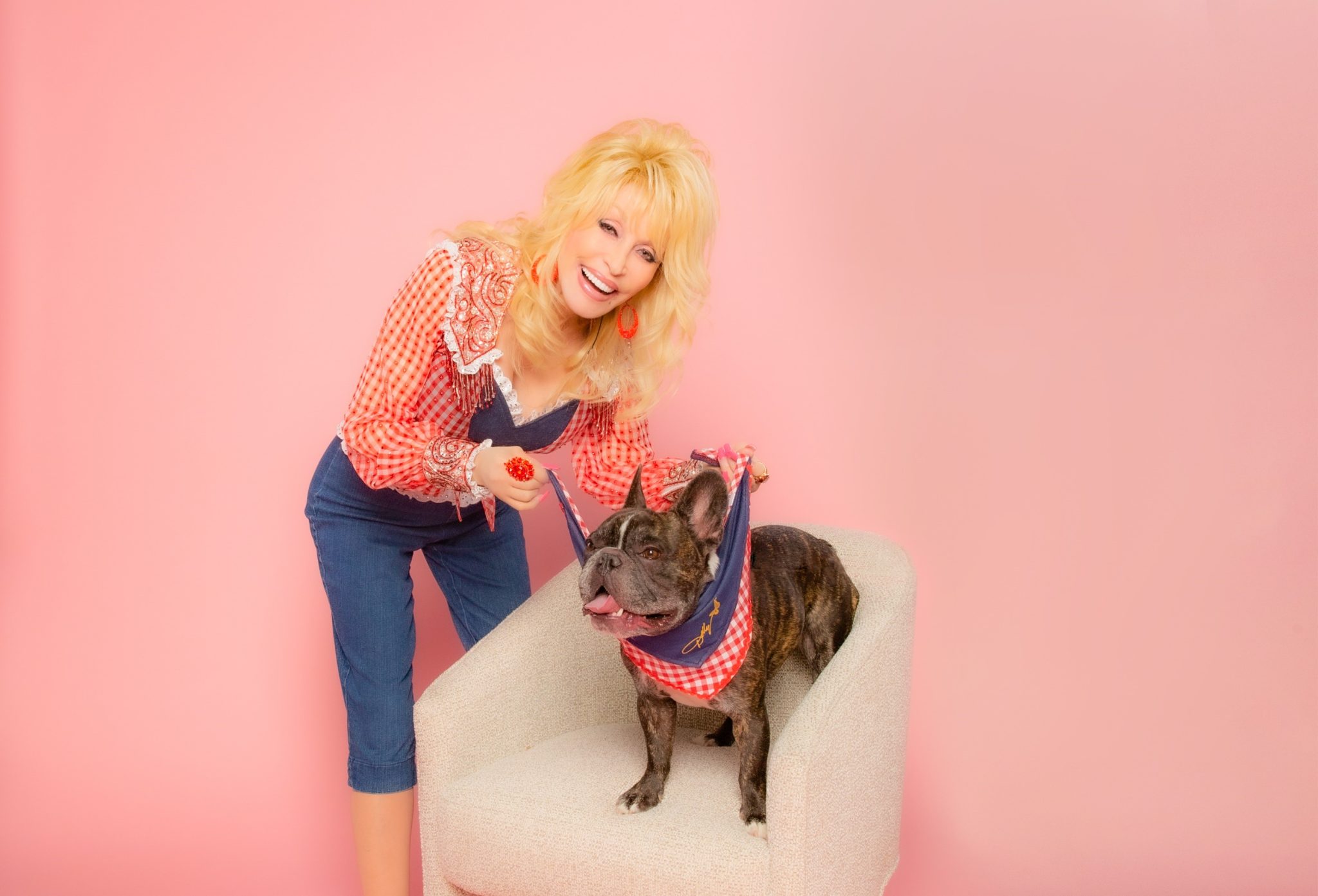 Dolly Parton with Billy the Kid, whose modeling a piece from Doggy Parton. (Photo by Sebastian Smith / Courtesy of Dolly Parton)
My family adopted a puppy a few weeks ago, and once again Dolly Parton appears right when and where we need her with a new line of pet clothing and toys. Doggy Parton, in collaboration with SportPet Designs, offers vintage concert T-shirts, a red gingham western shirt, a jean jacket, a blonde wig, and plenty of squeaky toys, including a high-heeled shoe, a guitar, and a butterfly. You really just have to see it. Part of the proceeds go to Willa B. Farms, a Tennessee rescue organization that provides a home to displaced animals. The collection is currently available on Amazon.com. (FUN FACT: The French bulldog modeling the goods is Parton's "goddog" Billy the Kid, owned by her longtime manager Danny Nozell.)
If you feel like getting worked up this weekend, Rolling Stone has dropped a list titled "The 100 Greatest Country Albums of All Time." The list intentionally focuses on "Nashville system" country, which means you won't find a lot of Americana or country-rock, though Lucinda Williams, Gillian Welch, The Flatlanders, and Jason Isbell make the list. The idea is that these are albums that are strong all the way through, not just known for a key single or two. Take a deep breath and see what you think.
Bandcamp Fridays are back, starting today and scheduled for the first Friday of the month for the rest of the year. First launched in March 2020 as a way to support artists when they couldn't tour, the full amount of sales from the platform on Bandcamp Fridays goes to the artists. To steer around any time zone issues, you can always check isitbandcampfriday.com to make sure you're in the right place at the right time. But really it's always a good time to buy stuff from the musicians you love!
Many roots musicians are mourning the death of their friend Luke Bell, who was found dead this week after going missing in Tucson, Arizona, on Aug. 20. Bell, 32, was diagnosed with bipolar disorder and a friend expressed concern that a change in medication may have thrown him off track. An official cause of death has not been reported. After dropping out of college in Wyoming to pursue music, Bell worked in Austin, New Orleans, and Nashville and released a self-titled album in 2016. He played opening slots for Willie Nelson, Dwight Yoakam, and Hayes Carll and earned comparisons to Waylon Jennings. Read more about his life and music at The Boot.
Songster Dom Flemons has partnered with Jamaica-based luthier Jeff Menzies to design a gourd banjo that will raise money to build a community center in Kingston that will teach children to make and play banjos. There are 10 "American Songster" banjos, each selling for $2,595 plus shipping. Take a look at the instrument and learn more here.
WHAT WE'RE LISTENING TO
Here's a sampling of the songs, albums, bands, and sounds No Depression staffers have been into this week:
Gabe Lee – "Rusty," from his new album, The Hometown Kid, coming in October
Drew Holcomb and the Neighbors + The National Parks – "Dance With Everybody"
Stephen Sanchez – "Until I Found You"
Andrew Bird – "Rare Birds" for Volume IV of For the Birds: The Birdsong Project
Shannen Moser – "Ben"
Alexi Murdoch – "All My Days"
Kyle Hamlett Duo – Tape Diamonds
Tré Burt – "Dixie Red"
Jaime Wyatt – "Neon Cross"
Eli Winter – Eli Winter
The War and Treaty – "That's How Love Is Made"
---