BONUS TRACKS: Dolly Parton Joins Rock Hall of Fame
Posted On November 11, 2022
---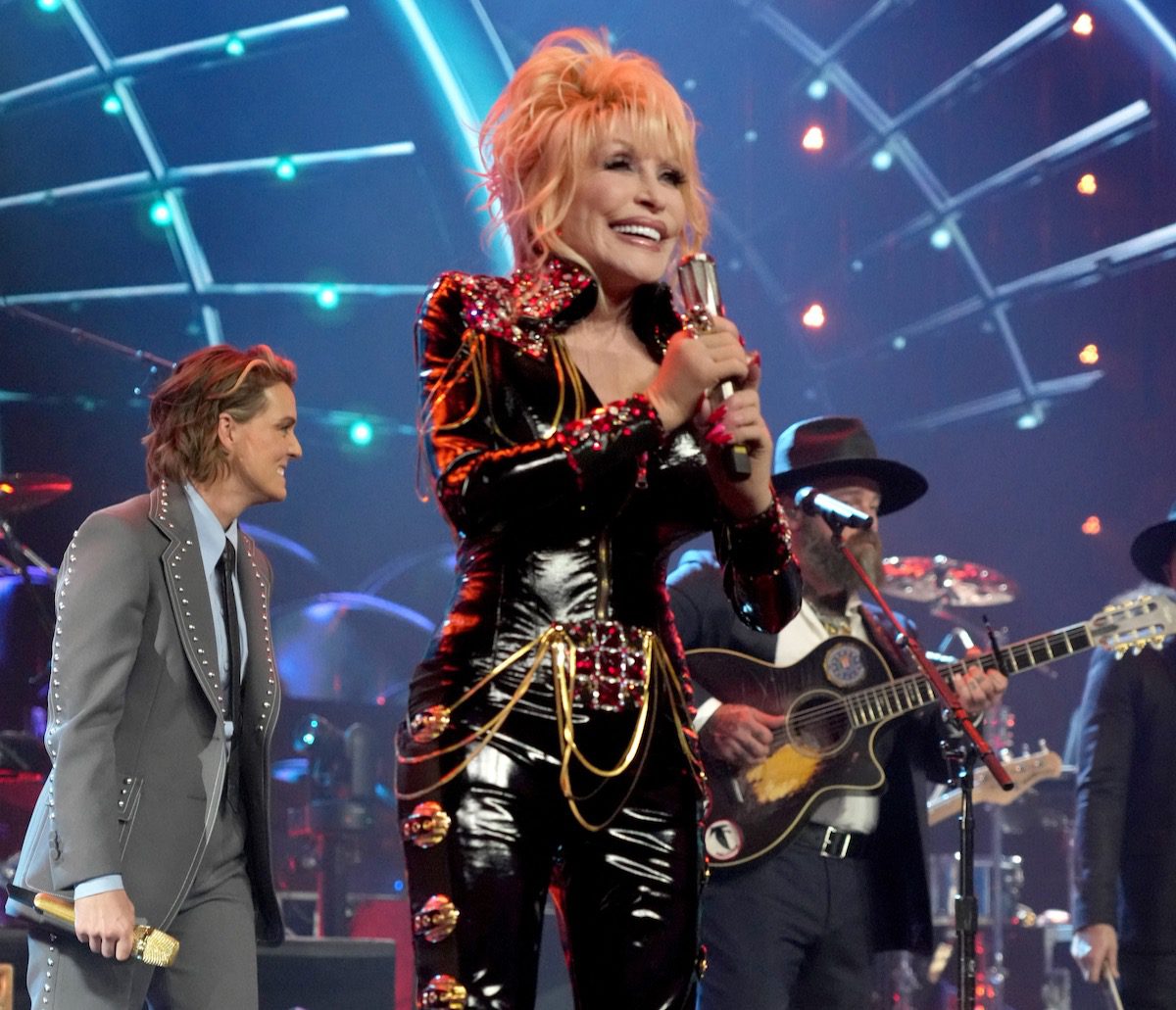 Dolly Parton performs during the 2022 Rock & Roll Hall of Fame induction ceremony Nov. 5 in Los Angeles. (Photo by Kevin Mazur/Getty Images for The Rock and Roll Hall of Fame)
The Rock & Roll Hall of Fame inducted its class of 2022 this week, including Dolly Parton, despite her initial objections. Ever the good sport, Parton not only attended the ceremony but gave a speech and performed decked out in rock-worthy black leather with metal accents. According to this report in Variety, the Parton tribute portion of the ceremony stole the show, featuring pop star Pink and Brandi Carlile in a duet of "Coat of Many Colors," Sheryl Crow and the Zac Brown Band on "9 to 5," and then Parton herself with a new song she wrote for the occasion titled "Rockin'" and an all-star sing-along of "Jolene" that prominently featured fellow inductee Rob Halford of Judas Priest. (Check out a video of that and photos of several other great moments in the Variety piece.) Also inducted in the performer category last weekend were Pat Benetar and Neil Giraldo, Duran Duran, Eminem, The Eurythmics, Lionel Richie, and Carly Simon. The legacies of Elizabeth Cotten and Harry Belafonte were honored with the Early Influence Award.
A few weeks ago I told you about the upcoming George & Tammy miniseries starring Michael Shannon as George Jones and Jessica Chastain as Tammy Wynette. But in case those stars aren't big enough for you, Americana standouts Chatham County Line landed a role, too. They play session players collectively known as the Nashville A-Team: mandolin and fiddle player John Teer as Harold Bradley and guitarist and lead singer Dave Wilson as Pig Robbins. Bass and pedal steel player Greg Readling and touring drummer Dan Hall portray backing musicians as well. Learn more about their parts and how they prepared in this interview from Indy Week. George & Tammy starts Dec. 4 on Showtime.
Mandolin player Darren Nicholson announced his departure from award-winning bluegrass band Balsam Range this week, citing a desire to focus on his solo career. Read a statement from the band here honoring Nicholson's contributions and friendship, and a similarly positive statement from Nicholson here. Nicholson will play a few more shows with his old bandmates in the coming weeks, including Dec. 1-3 at the Balsam Range Art of Music Festival in their Haywood County, North Carolina, stomping grounds.
Mimi Parker, drummer and singer of the rock band Low, died last weekend at the age of 55. She'd been diagnosed with ovarian cancer in 2020. With band co-founder and her husband Alan Sparhawk, Parker forged a sound some call slowcore, marked by vocal harmonies nestled within droning, layered instrumentals. Read more about Parker, including her upbringing with country music, in this remembrance from NPR.
WHAT WE'RE LISTENING TO
Here's a sampling of the songs, albums, bands, and sounds No Depression staffers have been into this week:
Low – Things We Lost in the Fire
Basic Folk podcast featuring an interview with Patrick Haggerty of Lavender Country (recorded before his death Oct. 31)
The War and Treaty – "Blank Page"
Madi Diaz, Joy Oladokun, and S.G. Goodman – "Be Careful" (Patty Griffin cover); proceeds benefit Abortion Within Reach Coalition
Southern Avenue – "That's All" (Genesis cover)
Melissa Carper – "Ramblin' Soul"
Runnner – "bike again"
Bowen * Young – "Skeletons"
Danny Burns – "Some Might Say" (Oasis cover)
Chris Stapleton and Patty Loveless – "You'll Never Leave Harlan Alive" at this week's CMA Awards
---