BONUS TRACKS: Dave Alvin's Private Cancer Struggle, The Return of Turnpike Troubadours, and More
---
Photo by Boom Baker
Just as the COVID-19 pandemic was settling in, Dave Alvin was dealing with a much more personal health crisis. In January 2020, the singer-songwriter and Blasters co-founder was hospitalized for more than a week with a sepsis infection. Then just a few months later, he was diagnosed with prostate cancer, to be followed by two more separate cancer diagnoses and months of chemotherapy and radiation. "I should have died," Alvin tells Rolling Stone — but we're so glad he didn't, and that he reports being cancer-free for now. Read this remarkable interview for more on his condition, his reluctance to make it public, and the "major mental change" it brought about.
Some of our favorite roots music women got the glam treatment — plus an insightful story — from Vanity Fair this week. Writer Tressie McMillan Cottom tells the stories of Allison Russell, Amythyst Kiah, Adia Victoria, Joy Oladokun, and Brittany Spencer individually, as well as their collective contributions to the current country music canon and conversation. "What you want, they got it: love songs, girl-power anthems, grooves, protest music," Cottom writes. "And they do not just serve bops. They also serve looks. They are sexy, cool, and irreverent. Grounded in multiple musical traditions, each has a unique sound, but all of them pay homage to the Black music dynasty." Read the article here (or in Vanity Fair's May 2022 issue), and take a moment for the gorgeous fashion photos. Yes, the clothes, makeup, and hair are beautiful, but these artists' true beauty beams right through.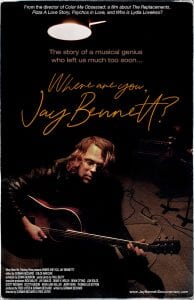 After a series of successful Kickstarter campaigns and a theater premiere in Chicago last November, the documentary celebrating the late Wilco multi-instrumentalist and songwriter Jay Bennett is coming to DVD, BluRay, and pay-per-view next Tuesday. Where Are You, Jay Bennett?, from directors Gorman Bechard and Fred Uhter, traces Bennett's life, career (including co-writing much of Wilco's Summerteeth and Yankee Hotel Foxtrot with Jeff Tweedy before being dismissed from the band), and untimely death in 2009 at age 45. In conjunction with the wider release of Where Are You, Jay Bennett?,  Bennett's last two solo albums — Kicking at the Perfumed Air and Whatever Happened I Apologize — will get their first vinyl release on April 23 for Record Store Day. Learn more about the documentary, and the directors' interest in Bennett, in this No Depression feature from 2017, when the film was in its early stages.
After a three-year hiatus, the Turnpike Troubadours are finally back at the wheel, making a triumphant return to the stage last weekend at Cain's Ballroom in Tulsa, Oklahoma. Read a review and see photos of the evening via Rolling Stone. (Rolling Stone also had the exclusive interview with frontman Evan Felker last November explaining the reasons behind the break and the return.) Around 1,700 fans crammed into Cain's for the show, but the venue's general manager said around 70,000 tried to get tickets. If you were shut out, not to worry — the Troubadours have plenty of tour dates ahead on their calendar.
Like many people, I first found out about Aimee Mann's artistic ability in a visual medium when she posted on social media a hand-drawn comic sharing that Steely Dan had reneged on plans to have her open some of their tour dates. Her confessional comics (others have addressed a nervous system disorder and a long-ago friendly encounter with actor Bruce Willis) are just part of her portfolio, it turns out. She also has painted canvases of first ladies and "the 10 worst presidents," which she shares online and also is displaying at a four-night stand this week at New York's City Winery. Read more about her artwork, and how it's helped her cope with her nervous system disorder and other stresses, in this feature from The Washington Post.
WHAT WE'RE LISTENING TO
Here's a sampling of the songs, albums, bands, and sounds No Depression staffers have been into this week:
Ray LaMontagne featuring Sierra Ferrell – "I Was Born to Love You"
Phoebe Bridgers – "Sidelines"
The Traveling McCourys – "I Like Beer" (Tom T. Hall cover)
Mary Gauthier – "Fall Apart World," from her new album, Dark Enough to See the Stars, coming in June
The Honey Dewdrops – Light Behind Light
The Morning Yells – "Oh My My"
Banditos – "Waves" from their new album, Right On, coming in May
The Sea The Sea – "Stumbling Home"
Jon Batiste – We Are
Jeremy James Meyer – "Cat on a Chain"
Violet Bell – "Meet Me in the Garden," from their new album, Shapeshifter, coming this fall
Tami Neilson and Willie Nelson – "Beyond the Stars," from Neilson's new album, Kingmaker, coming in July
---