BONUS TRACKS: Chris Stapleton Slays at the Super Bowl and Wilco Cleans House
Posted On February 17, 2023
---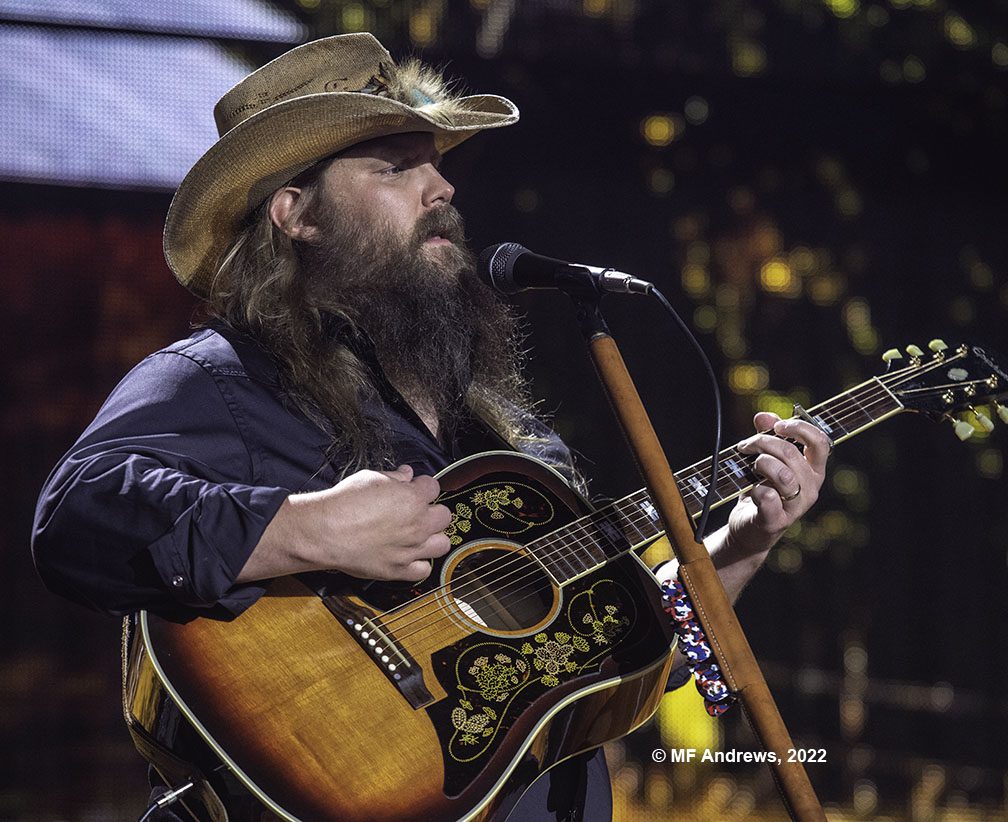 Chris Stapleton at Farm Aid 2022 (photo by Mary Andrews)
If you like to start off the Super Bowl with a good cry (and who doesn't?), Chris Stapleton's soulful, stripped-down rendition of the National Anthem delivered. It elicited tears from Eagles coach Nick Sirianni as well as lineman Jason Kelce, as shown on close-up on national television, but probably from more than a few folks in the stands and watching from home, too. If you missed the performance, you can watch the video here and read this recap from Variety, which also has flowers for Babyface's "America the Beautiful" and Sheryl Lee Ralph's "Lift Every Voice and Sing."
A lot of us music fans have instruments lying around that we maybe don't use much anymore, and Wilco's just the same — except they have a lot more and a lot nicer than most of us, probably. The band is selling off a stockpile of almost 100 instruments and pieces of gear via Reverb starting next Wednesday. Why? You know the answer: to make room for more instruments and gear. Get a preview of some of the items available (for a set price, not auction) in this story from Rolling Stone.
In case your swiping finger isn't already getting enough of a workout, Spotify has announced plans to reconfigure its homepage to allow users to swipe up or down on content suggested by the app, whether that's videos or repeating GIFs with music playing over them. It's an attempt to lure younger users to the platform, because apparently the current carousel configuration is for olds? Learn more about the "TikTokification" of Spotify in this piece from Bloomberg.
Roots music fans have known about Billy Strings and Tyler Childers, and bluegrass and old-time music in general, for a long time, but based on the crowds those two names are attracting, the rest of the world is finally starting to catch up. This story from Inside Hook examines why Strings and Childers are attracting throngs of fans to their shows now, with many people interviewed pegging it to authenticity in a world where it's increasingly hard to find what's real. Welcome aboard, I say, and don't forget them that brung you!
WHAT WE'RE LISTENING TO
Here's a sampling of the songs, albums, bands, and sounds No Depression staffers have been into this week:
Robbie Fulks – "One Glass of Whiskey," from his new album, Bluegrass Vacation, coming in April
Devon Gilfillian – "All I Really Wanna Do," from his new album, Love You Anyway, coming in April
Danny Burns featuring Tim O'Brien – "Fields of Gold" (Sting cover)
Parker Millsap – "Running on Time," from his new album, Wilderness Within You, coming in May
On the Floor – "Keep for Cheap"
Garrison Starr – "Oh My Soul"
Kendall Lugan – "Forget Me Knots"
Trapper Schoepp – "Devil's Kettle," from his new album, Siren Songs, coming in April
The Sons of Rainier – "Orion"
Nickel Creek – "Holding Pattern," from their new album, Celebrants, coming in March
Bill Evans – "Things Are Simple" (with a video featuring some musical couples you might recognize)
---