BONUS TRACKS: Buffy Sainte-Marie Retires From Live Shows
---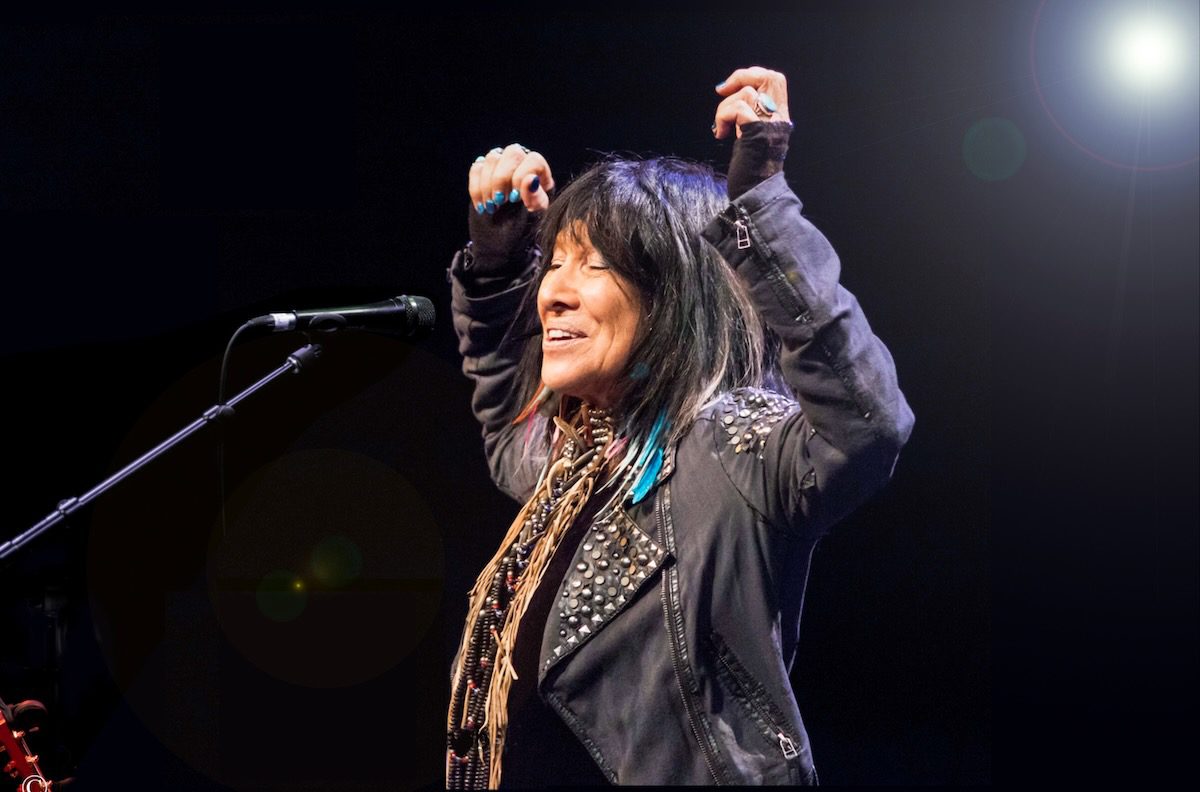 Buffy Sainte-Marie (photo by D. Brian Campbell)
Singer-songwriter and activist Buffy Sainte-Marie announced Thursday evening that she is retiring from live performances due to physical challenges. "I have made the difficult decision to pull out of all scheduled performances in the foreseeable future," Sainte-Marie said in a statement. "Arthritic hands and a recent shoulder injury have made it no longer possible to perform to my standards. Sincere regrets to all my fans and family, my band, and the support teams that make it all possible." No Depression interviewed Sainte-Marie in 2018 about her most recent album, Medicine Songs, Indigenous identity and music, and the power of songs. And a piece in our Fall-Winter 2018 journal spoke to her and the author of her authorized biography about her musical innovation, legacy, and more.
Recently I went to a Nickel Creek show with my family and a friend. The scorching summer day had mellowed into an only somewhat sweltering evening, and despite the sold-out crowd at the outdoor amphitheater, the vibes were peaceful during the long process to park, enter the gates, get food and drinks, and find seats. But once the music started, something magical happened, as it almost always does. The sea of strangers in which I was seated shifted into a community, one group united by a love for the music and performers in front of us. The performers, of course, were part of the group too, all of us having a conversation of sorts between the stage and the seats. In a segment labeled "Weekly Dose of Wonder," NPR took a deeper look into that kind of magical musical experience, and the science (real science!) behind it. Read or listen to that here.
Like with most things, the magic of music starts to dissipate as soon as you get business involved. In a deep analysis of ticket prices for the biggest names in the biz — including Taylor Swift, Bruce Springsteen, Beyoncé, even Phish — Pitchfork finds that attending an arena concert is quickly climbing out of reach for all but the wealthiest music fans. Luckily, we roots music fans know that some of the best music and best venues can be experienced at a much more modest cost, more like $20-$50, no shady resale sites needed. Read the Pitchfork article, chock full of interesting infographics, here.
The Pickathon festival is underway this weekend outside of Portland, Oregon, with artists including Watchhouse, Madison Cunningham, Po' Ramblin' Boys, Logan Ledger, and Courtney Marie Andrews taking the stages. In keeping with the festival's "nature is the best vibe" philosophy, Pickathon is using hydrogen fuel cell generators to power its stages, becoming the first music festival to put the technology, developed by Toyota Racing Development, to the test. The generators pull hydrogen and oxygen from the air and emit no smoke, exhaust, or harmful chemicals as they work, and they aren't noisy like their diesel counterparts. Since 2010, Pickathon has set its sights on becoming a zero waste and zero emissions event, eliminating most plastic and single-use utensils and dishware and incentivizing taking bikes or mass transit to the festival.
WHAT WE'RE LISTENING TO
Here's a sampling of the songs, albums, bands, and sounds No Depression staffers have been into this week:
The Champs – "Tequila" (for Pee-wee)
Cake – "It's Coming Down"
Alice Gerrard – "Remember Us," from her new album, Sun to Sun, coming in October
Hello June – "Interstate," from their new album, Artifacts, coming in October
Cidny Bullens and Beth Nielsen Chapman – "Not With You," from Bullens' new album, Little Pieces, coming in October
Bill & The Belles – "Shotgun Willie," from their upcoming Willie Nelson tribute album, To Willie From Billy, coming in September
Beth Bombara – "Everything I Wanted"
Dean Johnson and Esther Rose – "Acting School"
Anna Tivel – "Invisible Man," from Outsiders (Live in a Living Room), coming Aug. 18
Sonny Rollins – Freedom Suite
Yusef Lateef – The Three Faces of Yusef Lateef
Orchestra Baobab – Baobab
Jaime Wyatt – "World Worth Keeping," from her new album, Feel Good, coming in November
---