Bob Dylan, "Tell Me, Momma," Live at the Royal Albert Hall
Posted On October 4, 2016
---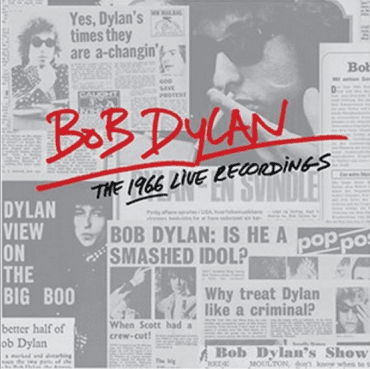 In 1966, Bob Dylan's career had skyrocketed over the earth. Mary Campbell summed up what had happened in a lede that contains multitudes: "1965 was the big folk-rock year in pop music and slightly built, shy-spoken, gritty-voiced Bob Dylan was the big man of the year."
Who had thought of folk, rock, and pop in the same basket, from the same gritty voice, on the same disc? Bob Dylan. Even — and especially — as a young man, Dylan never felt what Harold Bloom would call the anxiety of influence. He reveled in his influences, all of them, and had made that clear in 1965 with three wild records recorded that year: Bringing It All Back Home (spring), Highway 61 Revisited (summer), and Blonde On Blonde (spring 1966). From February through May, 1966, Dylan, heading a road show now legendary on record, film and in print, rolled around the world spinning out something entirely new.
Since 1965, Dylan had been playing with, some would say, the best group of musicians ever assembled live on a stage or under one of their own roofs in Woodstock, New York. Levon and the Hawks, known soon as The Band, composed of Levon Helm, Robbie Robertson, Rick Danko, Richard Manuel and Garth Hudson. Helm left Dylan's touring band, as did keyboards wizard Al Kooper, before the '66 tour. On the road in Europe, Mickey Jones played drums, and took his own films of the traveling circus around Dylan.
Other acts in Europe benefited from the sensation of Dylan's electric tour. There was "the French Bob Dylan," Antoine, whose "Les Élucubrations" was a hit in 1966. There was "the Caledonian Dylan," Donovan, already popular in Scotland, England and Ireland, who met Bob in 1965 and was famously filmed with him at the Savoy Hotel by D.A. Pennebaker. Their scene together is a standout moment in Dont Look Back (1967).
"The Royal Albert Hall" concert quickly became the stuff of legend, and, like legend, the stories around it were not alqays fact. First off, "The Royal Albert Hall" concert, bootlegged in bits to the delight of Dylan and The Band fans, actually occurred at the Manchester Free Trade Hall. The epic moment of someone in the crowd calling "Judas!" and Dylan replying "I don't believe you. You're a liar," and then instructing the band to "play [unclear, but oft taken to be "fuckin'"] loud" as they swing into "Like A Rolling Stone," has been listened to and written about and parsed six ways to Sunday. In 1998, Columbia Records released as Volume 4 of the official Bob Dylan Bootleg series Bob Dylan Live 1966: The "Royal Albert Hall" Concert.
Now, a glorious 36-disc box set is being released on November 11th. Bob Dylan: The 1966 Live Recordings is straight from soundboard and CBS Records Mobile Recordings, supplemented by audience tapes. Chill out with a live show from the 1966 tour every night for just under $150, the price for a front-section ticket to even a mediocre show in New York these days.
"Tell Me, Momma" comes from the first of the two actual Royal Albert Hall shows of May 26 and 27th, 1966. The drums are turned up loud, just as the drums have been for years at Dylan shows (until recently, when George Recile's touch, and amp, have happily lightened, and his jazzy strolls can be heard better without the overwhelming bassy fuzz). Dylan's voice and Robbie Robertson's gorgeous guitar shine, complementing each other, striving against each other, happy together. I'm not apologizing for writing this week about a live show I didn't — couldn't — attend. I'm just enjoying the great sound after all these decades of iffy clips from 1966. Here's an excellent one with which to conclude, though: Sydney, off the soundboard, in circulation long enough to make me immensely excited for the whole 1966 Live Recordings in a month and a bit.
Bob Dylan, Robbie Robertson, Garth Hudson, Rick Danko, Richard Manuel, and Mickey Jones, "Tell Me, Momma," London, May 1966
via Bob Dylan Vevo
* Read my full story about Bob Dylan: The 1966 Live Recordings here, and thank you.
---