Black Prairie's Portland Roots
---
In honor of the all-star indie-roots festival Pickathon, which takes place August 6-8, we're going deep into the repertoire of Black Prairie, the indie-stringband formed by Decemberists' Chris Funk and Jenny Conlee (plus a number of ace Portland roots musicians). We're tracing each track of the album to show the roots of Black Prairie's strange and eclectic music in Portland, Oregon's red-hot music scene.
Note: This article originally appeared in the August issue of the Victory Music Review. Check them out for more links, more reviews and lots of great content.
Black Prairie's Portland Roots
For most reviewers, DJs, and music-heads, Black Prairie's debut album, Feast of the Hunter's Moon, which dropped this April, seemed to come completely out of the blue. There was an evident connection to the indie-maritime band The Decemberists, in which two members of Black Prairie perform, but where was this music coming from? The national and hipster media loved the band, not quite realizing just how intensely "folky" their album was, and it's a testament to the breadth and creativity of Black Prairie that the album has been so embraced by the mainstream, indie, and folk music press. But their music didn't come out of nowhere. It came out of the rich, bubbling stew of Portland, Oregon's acoustic music scene. This scene is the best in the nation and, thanks to Portland's low-housing prices, low cost-of-living, awesome green initiatives, solid public transport, DIY culture, and bohemian mindset, more and more top-flight artists are either migrating there or forming bands in the streets.
To highlight some of Portland's music communities, I thought it would be fun to run through Black Prairie's album and list a PDX-based band or artist making music in a similar vein for each track. Since every track of Black Prairie's album is completely different from the other, this means that connecting the tracks with Portland's musical communities can show a pretty wide cross-section of the city's scene. I'm not necessarily making the case that these bands are actual influences for Black Prairie, only that I feel that Black Prairie's music is similar in feel to that specific band and/or their particular community.
Black Prairie: "Feast of the Hunter's Moon"
Track by Track
Track 1. Across the Black Prairie
The Builders and The Butchers


Perhaps no band embodies the dark, organic sounds of Portland music better than The Builders and The Butchers. Their music seems to come straight out of the rain-dripping forests of the Northwest, and when they sing about the "bottom of the lake", you feel the claustrophobia of the Northwest's natural environment. After weeks of rain and overcast skies, Portland can seem a lonely place and people can get pretty squirrely. That's what you're hearing here in the first track on Black Prairie's album, a creepy instrumental tune that seesaws back and forth between fiddle and guitar. Both bands are able to use acoustic folk music to unsettle and disturb their audience.
Track 2. Red Rocking Chair
Laura Veirs
Laura Veirs was a revelation to me when I first heard her three or four years ago. She was able to completely deconstruct a folk song from Mississippi John Hurt and remold it into an entirely fresh and new sound (try her song "John Henry Lives" as an example of this). That's what Black Prairie's doing here with the song "Red Rocking Chair": molding it to an entirely new world. This is also a track in which you can hear the acoustic dreaminess that is Tucker Martine's signature. He produced Laura Veirs' latest albums and the Black Prairie album.
Track 3. Back Alley
Jackstraw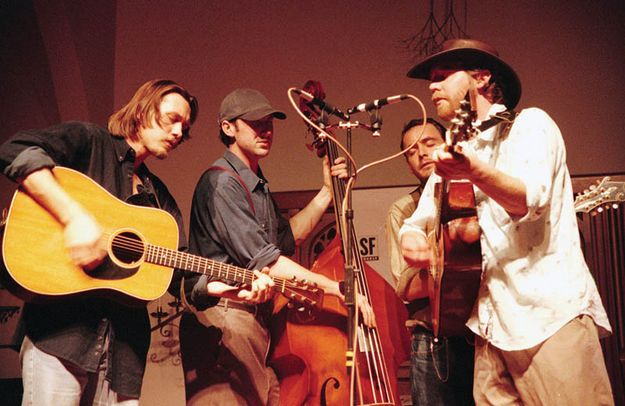 Before Foghorn Stringband, there was Jackstraw, a rip-roaring PDX bluegrass band that re-invigorated the music for a new generation. Of course, it makes sense for Jackstraw's blend of traditional and original bluegrass songs and instrumentals to rub off on Black Prairie: their guitarist, Jon Neufeld, is a founding member of Jackstraw. You can hear Neufeld's rock-solid bluegrass guitar picking on this Black Prairie track, as each of the musicians takes a solo. Jackstraw helped define Portland's acoustic music aesthetic early on, tapping into the working class roots of Portland's culture and bringing rough-and-tumble acoustic bluegrass to the historic bars and dancehalls of the city.
Track 4. Ostinato Del Caminito & Track 5. A Prairie Musette
3 Leg Torso
Probably the best way to describe the eclectic and intricate music of 3 Leg Torso would be "avant-folk". Led by composer and accordionist Courtney Von Drehle, and violinist Bela Balogh, the group taps into klezmer, Balkan, French musette, tango, and classical music traditions, but manages to meld these disparate sounds into a distinctly European ensemble sound. There are plenty of bands today mixing an Old World Europe sound with a cabaret sentimentality (blame the films of Jean-Pierre Jeunet), but 3 Leg Torso is the only band with the chops both as musicians and composers to sound wholly original.
Track 6. Crooked Little Heart
Vagabond Opera
Speaking of Old World cabaret bands, Portland and the Northwest in general is a haven to "hobohemians" of all sorts. Seattle's burlesque scene is world-famous, and Portland's not far behind on that front. In fact, one of the best bands to come out of the neo-burlesque community is Vagabond Opera, from Portland. Though they draw influences from Balkan rhythms to circus marches, the force that ties them to the Black Prairie track, "Crooked Little Heart", is the drama of the song. This is the kind of song you'd hear in a darkened cabaret, with bitter words sung by an even more bitter chanteuse. Over a glass of absinthe.
Track 7. Annie McGuire
Foghorn Stringband
I first grew interested in Portland's music scene through the work of pioneering old-time band Foghorn Stringband. Gathered around a single mic and playing the most traditional music, they somehow managed to convey the attitude and energy of rock stars. I wasn't the only one who was inspired; Foghorn has arguably been one of the most influential bands in the new old-time revival. You can hear some of Foghorn's influence on this track in the droning fiddle of Annalisa Tornfelt, the violinist for Black Prairie. It's not old-time music by any stretch of the imagination, but at this point, you can find old-time fiddle tunes and square dances all over Portland, and the sound of Southern old-time music is starting to filter into the city's more mainstream scene.
Track 8. Atrocity at Celilo Falls
Caleb Klauder Country Band
OK, I admit it. This Black Prairie track totally reminds me of the music on Firefly, the short-lived space-cowboy cult classic TV series. But really what I'm thinking of is the laidback twang of Western music. I guess it stands to reason that you'd find great Western music on the West coast, but it's still a surprise that there are so many great, new country bands forming over here. And leading this pack is the Caleb Klauder Country Band. Founding member of Foghorn Stringband, Caleb has always had a passion for early country and honky-tonk. He writes songs that sound as if they could be coming out of a dusty juke box in a Great Depression honky-tonk. Caleb and Black Prairie accordionist Jenny Conlee have long played together, first in the popular folk-rock band Calobo, then in Caleb's country band.
Track 9. Tango Oscuro
Pink Martini
Inspired by the more classical side of world music, Portland über-ensemble Pink Martini has made quite the name for themselves by tapping into the orchestral folk music of the world. With a penchant for tangos and Latin horns, the group has also branched out to film music and their new album, Splendor in the Grass, even features an avant-garde composition from homeless New York composer Moondog. As composers, arrangers and interpreters, all the world's musical traditions are fair game to this band, and all are handled with love and respect for their origins.
Track 10. Single Mistake
Huck Notari

The rain and overcast skies in Portland encourage a certain amount of introspection. It sure seems that there are an inordinate amount of good singer-songwriters in this city and I attribute this to the weather. This track brings to mind the subtle, introspective songwriting and singing of Huck Notari. A former member of The Kitchen Syncopators, a key Portland/Eugene band that gave rise to Gill Landry (Old Crow Medicine Show) and Woody Pines, Huck writes songs that roll along at their own pace with a gentle, folky rhythm. His songs, like this song by Black Prairie, are self-assured hymns that he's almost singing to himself.

Track 11. Full Moon in June
Hanz Araki


Portland's Irish music scene has blossomed over the past five years, as players moved from Seattle and elsewhere. Hanz Araki, a sixth-generation shakuhachi master and brilliant Irish flutist/vocalist, has always been a leading light in this scene, and his latest album, Little Fires, showcases his talent. This track from Black Prairie, treats the melody as sacredly as any Irish musician; the other instruments serve mainly to lay down the bedding for the fiddle and accordion. Hanz and Jenny Conlee of Black Prairie play in the all-star Pogues tribute band K.M.R.I.A., and Hanz and Chris Funk of Black Prairie have both played in Portland songwriter Casey Neill's band.
Track 12. Home Made Lemonade
The Dickel Brothers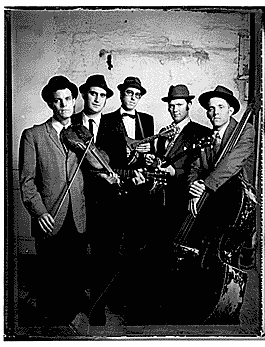 The folk music of Portland is street music. It's music born from the urban streets and bars of the city. So it has a rattle-and-clang to it that you just don't find in rural music. A kind of wanton abandon and rowdy aggression. And just as there are dead-serious folk bands like Foghorn Stringband, there are also raucous, cacophonous and just plain-fun bands like The Dickel Brothers. Mining the same vein as Foghorn, old-time Southern music, the Dickels play as hard and as fast as they can, roaring through square dance tunes and ballads alike. Their music, like this track by Black Prairie, is a joy to listen to, or in the true Portland fashion, to clog along to.

Track 13. The Blackest Crow
a minority of one
Hmmm, this one is a bit trickier. It brings to mind an interesting community of folk musicians in Portland who have gotten very little attention from the press: the neo-folk or folk-metal community. Like this Black Prairie track, they've so completely deconstructed the folk music they're playing, that they've actually had to reconstruct it almost from scratch. Sharing a reverence for acoustic instruments, the heathen neo-folk band a minority of one constructs soundscapes based on traditional folk myths, fractured folk melodies, and organic sounds and materials. They're basically creating their own form of folk music, and the same thing can be said for Black Prairie on this track and any other track.
Blog post by Hearth Music. www.hearthmusic.com
---