Andrea Nixon smoulders on new single "Fire In Lace"
Posted On January 22, 2019
---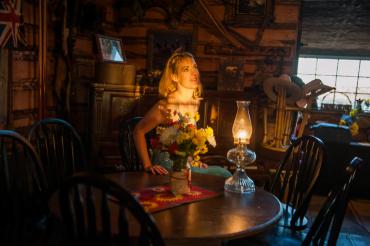 Edmonton, Alberta singer/songwriter Andrea Nixon continues to ride the wave of acclaim for her latest album Diary Of A Housewife with the release of a new single, "Fire In Lace." The jaunty number is built on classic country sounds and themes, and follows Diary Of A Housewife's other successful singles, "Million Miles Away," "You Didn't Make Me," "Innerglow" and "Home Front." They add up to a reflectiont of Andrea's universally relatable storytelling abilities that leave no stone unturned when it comes to heartache, angst, joy and humour.
In some respects, Nixon is following in the footsteps of trailblazing female artists like Loretta Lynn and Dolly Parton by bravely revealing herself through her music. In other respects, Diary Of A Housewife is strikingly modern, seamlessly combining traditional country elements with, at key moments, rough-edged pop and rock. Tying it all together is Nixon's irresistible, unaffected voice, capable of raging at an ex-lover, expressing deep sorrow, or exuding pure charm.
A rare artist who believes that one's life and one's music are inseparable, Andrea Nixon has proven that with Diary Of A Housewife, and with her commitment to affect positive change in the world. It's more than a lot of people could handle, but for Nixon it's all part of her ultimate goal to spend her life connecting to others in that magical space found only under the cover of a song.
---