Amplified Voices: How the Internet Has Broadened the Social Power of Music
Posted On February 15, 2019
---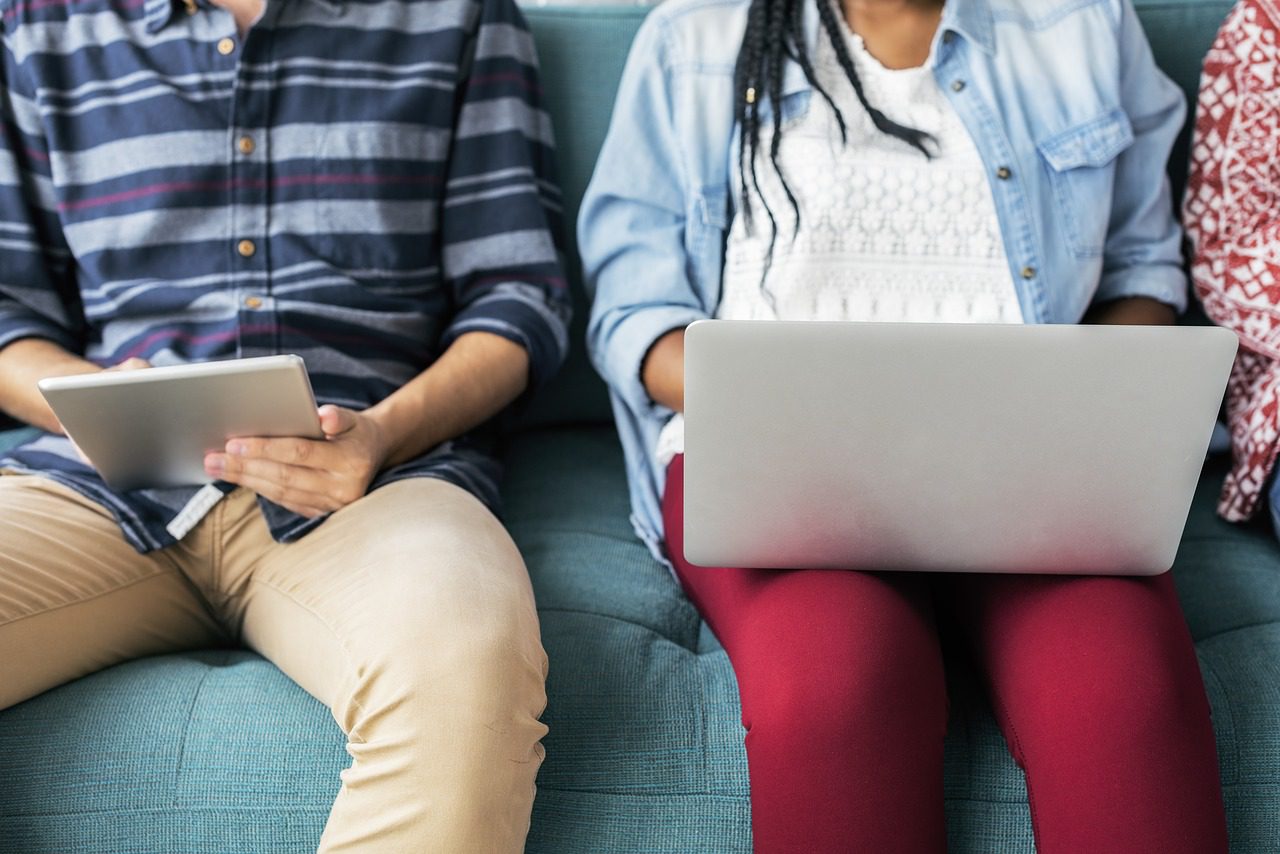 EDITOR'S NOTE: This story is an extension of the exploration in our Fall-Winter journal of innovation in the way people make, share, and use music. For more stories on the Innovation theme, check out the Fall-Winter journal here.
The Sheriffs are a family of six. There are the two parents — Abby and Greg Sheriff — and the four kids, whose ages range from preschoolers to teenagers. On top of the all-encompassing work of parenting, Abby and Greg have full-time careers and play in four local Durham, North Carolina, bands between the two of them. Abby is also an experienced organizer who co-founded the thriving Girls Rock NC chapter. Physically and per their busy schedules, they can only be in so many places in a given day. In a digital frame of reference, however, the Sheriffs can be virtually everywhere.
Shortly after the mass shooting at a Las Vegas country music festival on Oct. 7, 2017, and Tom Petty's death the following day, Abby found herself on her couch, shaken and disturbed. In any other era, this would have been a reaction borne in isolation, but when Abby had the idea to organize a benefit show for the victims of the Vegas massacre, she was able to float it on Facebook immediately.
"Within a day, we had four venues ready to sign on and a gazillion musicians, to where we had to turn people away, and that's from just knowing people in the community, from having been involved in Girls Rock, from playing in a million bands," says Abby. Instant access to her network meant organizing could happen at the speed of thought. All a local venue owner or musician had to do to participate was type, "I want in."
Fifteen years ago, Abby continues, this would have taken more phone calls than she has time for anymore. In the age of social media, though, she was able to turn grief into action without leaving her couch. On Dec. 15, 2017, the Cat's Cradle in Carrboro, North Carolina, hosted "Heartbroken: A Tom Petty Tribute." Local musicians including members of Mount Moriah and the now-defunct Lost in the Trees took the Cradle stage to cover Petty songs. In the end, they raised close to $5,000, which was donated to the Las Vegas Victims Fund and North Carolinians Against Gun Violence (NCGV). Thanks to modern connectivity, the Sheriff family was able to take action against gun violence that they wouldn't have had time to organize and promote even a few years ago.
"To be an activist doesn't mean what it used to. It's not limited to 'I have to devote all of this time and energy and all of these resources into my activism and I have to choose this narrow thing to focus on,'" says Greg. "I think is the best outcome is that average people can be activists and it can be part of their average life."
"Activism is not something that's only available to the privileged now. You can work a full-time job and you can be a social justice worker. You don't have to sacrifice. You can squeeze it in around the edges," Abby says. "You don't have to be privileged or crusty to devote hours and hours to a cause. You can make a difference in ten minutes, five minutes."
Making Connections
Activism and music have a long entwined history; activism and modern connectivity have a shorter one, but social media and similar phenomena have altered the activist's landscape dramatically. In terms of organizing work and amplifying activists' voices, social media has allowed agents of social change to respond nimbly and quickly. In a recent example, the teenaged survivors of the shooting at Marjory Stoneman Douglas High School in Parkland, Florida, took to social media almost immediately after the tragedy in February 2018 to work toward changing national gun laws. Since the sexual assault allegations against former film producer Harvey Weinstein's went public in 2017, actress Alyssa Milano popularized social activist Tarana Burke's phrase "Me Too," thereby spawning a viral digital community bonded by #MeToo. After Trayvon Martin's killer, George Zimmerman, was acquitted in 2013, community organizer Alicia Garza helped turn the phrase "black lives matter" into the name and the hashtag of a  movement, #BlackLivesMatter. Even before that, in the Occupy Wall Street movement in 2011, social media helped guide protesters to New York's Zuccotti Park (and eventually, as the movement spread, to parks and public spaces nationwide) to protest wealth inequality and corporate corruption in America.
For musicians, such connectivity outside of their art has offered agency and quick actions when they are driven to activism. It's certainly not a new trend, though. "I remember when Crosby, Stills, Nash and Young put out that 'Ohio' song within a few days of the Kent State shooting," observes guitarist Bill Frisell. "It's possible. I don't think it's so much about the technology. People just want to get the word out."
Modern connectivity did, however, allow Frisell to assemble the benefit album Hurricane Harvey Relief: A Compilation from His Live Download Series and post it for sale relatively quickly, just weeks after the powerful storm hit the south Texas coast (it has since been renamed Hurricane Harvey/Southern Poverty Law Center Relief, and its proceeds now go to the Southern Poverty Law Center). Between CNN and others news streams, Frisell is as susceptible as anyone to feeling overwhelmed by barrages of bad news. When he chose to do something about it by releasing a hurricane relief compilation, deciding to help others was as simple as identifying a genuine relief fund. Technology may have been the mechanism, but his true focus was on increasing the good in the world.
Still, Frisell doesn't believe that rapid musical responses to disasters or tragedies are exclusively phenomena of the information age. "I've been really inspired by some of the things our elders have said," he explains. "It was not too long ago I saw this interview with Pete Seeger, toward the end of his life. Someone was talking to him and they were trying to get him to say something negative. He brought it back to talking about how we've got to just stick together. We can't let our attention go really far out there or you become overwhelmed. He talked about doing something good in the moment where you are, which might seem like a small thing, but just be nice to somebody next to you. Help somebody get across the street."
Spreading the Word
Each musician navigates the digital-to-physical continuum their own way, pursuing positive change in the world through their art. They don't feel that the virtual world should or will supplant the physical one: Digitally, one can identify what's happening in the world, identify valid fundraising channels, collaborate with other musical activists, and share music at the speed of Twitter. Yet, especially as the Sheriff family realized, physical concerts and real-life protests help make real change.
On the digital end of that spectrum, some artists' activism takes the form of engaging fans — even when the fans are expressing outwardly sexist, homophobic, racist, or otherwise offensive opinions. After neo-Nazis and other white power group members, at least one of whom appeared in a video wearing a Cash shirt, marched in Charlottesville, Virginia, in August 2017, Rosanne Cash released a statement on Facebook: "[Johnny Cash] would be horrified at even a casual use of his name or image for an idea or a cause founded in persecution and hatred. The white supremacists and neo-Nazis who marched in Charlottesville are poison in our society. … We ask that the Cash name be kept far away from destructive and hateful ideology." (A month later, Johnny Cash's family and record label threatened legal action unless Stormfront Radio stopped using The Man in Black's music.)
Country artists like Jason Isbell and Sarah Shook follow a similar digital philosophy: Rather than "shut up and sing," they speak out on via Facebook or Twitter, using these platforms — and their visibility — to call out troubling language or assumptions. Directly engaging fans who make offensive remarks isn't preachiness or a high-horse mentality, Shook says, but is about genuinely wanting to help another person grow. "I've come a long, long way and a lot of that growth is due to someone taking the time to do the very same for me when I needed it," Shook said in an email.
"Turns out you don't have to be an asshole to stick up for yourself. If someone is saying things that I don't like on my page, I'll be like, 'Yo, that ain't cool,' and offer an explanation," she said. "At one time, I just deleted comments that were gross. Now I tend to leave them there and reply instead because these are conversations we need to be having. Dudes don't get to get away with being overbearingly suggestive just because something turns them on. Obviously they're free to think whatever thoughts they want and getting turned on is perfectly natural … but keep it to yourself, dawg. The rest of don't wanna know."
Most comments that outwardly seem offensive, Shook says, come from a place of ignorance and aren't intended maliciously. So she doesn't get offended; rather, she aims to educate. "Most people are pretty reasonable and I rarely have to block or ban anyone," Shook says. "It's amazing what a simple, open conversation can do. Communication is everything. Respect boundaries. Respect yourself.
"Being kind to and caring about other humans ain't hard, truly."
A lot of those digital conversations are reflective of those that need to happen IRL, believes Enongo Lumumba-Kasongo, an emcee and producer who performs under the moniker Sammus. "They are often theorizations of very complex topics," she says. And for musicians in particular, another way to communicate social activism in addition to social media is through the music itself.
From the Studio to the Streets
Music has always been an agent of social change. Melody and rhyme make the information contained in a song stick in your head in a way it might not if presented in a lecture or in literature. Examples trace as far back as liturgy, although such music burst into the mainstream during the folk revival of the 1960s. It quickly trickled into popular music, such as The Temptations' (and then Edwin Starr's) "War" and Stephen Stills' "For What It's Worth (Stop, Hey What's That Sound)." Neil Young penned the anthemic "Ohio" and, two decades later, the George W. Bush-skewering "Rockin' in the Free World" (a thematic cousin to Bruce Springsteen's "Born in the USA," both of which are often ironically confused for jingoism).
In the late-'80s and early-'90s, hip-hop picked up the mantle of social change. N.W.A.'s "Fuck tha Police" elucidated issues of racial profiling and policing as a social engineering tool, all with a chorus that remains visceral, shocking, and relevant three decades after its release. OutKast, Lauryn Hill, Wu-Tang Clan, Rage Against the Machine — all these highly visible acts made social change central to their output. Activism in music, from folk to rock to hip-hop, is nothing new.
Yet for Lumumba-Kasongo, the title of "activist" didn't always feel right in her work or her music. Sure, she had friends who she considered activists, but she figured that what made them activists was working with a nonprofit or a PAC or playing a major role in a direct action organization. Yet these very people began inviting Lumumba-Kasongo to speak or to march with them. She had been making music to help herself stay grounded as she finished grad school (today she's pursuing a doctorate in Cornell University's Science and Technology Studies program), yet she discovered that her songs resonated with others' struggles.
As Sammus, she raps about being black in academia, about the realities of sex for women, about being a nerd of color (something she mentions in songs like "Perfect, Dark") and feeling underrepresented in comics and cartoons, and about police violence against African Americans in the stark, powerful "Three-Fifths." She follows a long tradition of social consciousness in hip-hop, but didn't initially consider it activism.
Nowadays Lumumba-Kasongo accepts that label of "activist," but mainly in terms of recognizing the influence she can potentially have through her music. It's a two-way street: Social media means she can seek out closer connections to fans in marginalized groups. In her song "Comments Disabled," for instance, Lumumba-Kasongo puts herself in the shoes of women, people of color, and queer folks who have been subjected to online harassment.
They leave rape threats in your mentions
They get bit ups from they henchmen
When you kick them out, they make new accounts
That are fake like some extensions
I'm thinking you should invest in
Collecting a best friend
Who won't let you press send
To someone you just met through Twitter or Sirius XM
"I wrote that song in response to the conversations I was having with friends, conversations I couldn't have had without going online, chatting it up with supporters," Lumumba-Kasongo says. "I think increasingly I'm going to have more of that dynamic as well, where the conversations I have with supporters seep back into the music I'm making."
Her music, as she sees it, can help people who are doing activist work to come to grips with internal questions about their identities and personal struggles. Lumumba-Kasongo has some anxiety about not having her feet on the ground as often as she'd like, though. Social media can catalyze movements, but she feels it's too abstract.
"There is a necessity for folks who are doing concentrated work and taking up space in front of police stations, who are putting together bail funds to bail out folks, who are meeting people in their communities," Lumumba-Kasongo says. "I think that that work is undervalued at this moment and I can see why, because we can see the power of social media."
The next step, of course, is to turn music into action. When Pierce Freelon, for example, ran for mayor of Durham, North Carolina, in 2017, he was the youngest candidate, at age 33, to do so that year. He was also the only of the three leading candidates whose Twitter or Instagram usage predated the campaign. As Freelon pointed out during a 2017 interview, the median age in his city skews young (it was 33.3 in 2016, per the City of Durham's demographics data). Although he didn't win the election, he felt he represented the city's young energy, particularly by navigating the spheres of digital fluency, physical activism, and musical literacy and performance.
In early September of that year, Freelon and his rivals appeared at Durham bar and music venue The Pinhook for a debate. North Carolina civil rights leader Rev. Curtis Gatewood asked a question about preventing white supremacists from infiltrating the local police departments and causing terror, which Freelon answered by rapping.
After emancipation they expanded experiments
Replicated the plantation under new management
They locked us in a cell, the propaganda was scandalous
Overseers, the officers, they branded us terrorists
The private prison industry, they lobbied the candidates
Gave mandatory sentences for handling cannabis
Captain America, look what we saved Americans
Billions in cheap labor, it's a slave's inheritance
This is what it is to be black in America
It feels like any minute I'll be capped in America.
That song, "Captain America," appears on the album Woke, which was released during the campaign by local hip-hop band The Beast, a group that Freelon fronts. "Music and storytelling go hand-in-hand," he says, citing the West African griot's multi-tiered role as musician, storyteller, historian, and genealogist. "Hip-hop just happens to be the voice of the youth, from 1979-80 to the present.
"It's not so different from putting … any genre underneath a really powerful story. It just happens to be our genre."
Like Willie Nelson playing a Beto O'Rourke rally or avant-garde guitarist Marc Ribot canvassing ahead of the 2018 midterms, Freelon was turning the digital physical. He was pulling for social change both in the ether and in the world.
Real-World Good
If Freelon has seen technology increase connectivity and connectivity drive change, so have the Sheriffs. The younger generation — that is, their kids and their peers — navigate ever-mutating digital spheres with incredible nimbleness. It's reassuring to the Sheriffs to see them inhabit a sort of augmented reality in which they can contribute to social change with or without a real-world rock show.
There's potential in the physical world yet: The junction of music and digital activism enabled the Sheriffs to donate a little more than $2,000 apiece to the Las Vegas Victims Fund and NCGV after their Tom Petty-themed benefit show. There's something irreplaceable about playing songs they love with their friends, and it felt right to donate the proceeds to organizations on the front lines of helping shooting victims and changing gun laws. It was a positive outlet for the music this couple would be making anyway.
Or, as Bill Frisell puts it, "I believe that listening to music is a good thing or playing music is a good thing, but actually getting some money for somebody to help fix their house or something, that's pretty good too."
---