Americana Boogie new releases for the week of Jan. 15th… Whitehorse, Erin McKeown, Jeff Black, J.J. Cale…
Posted On January 15, 2013
---
ERIN McKEOWN
Manifestra (TVP)
Long held separate, McKeown's personal and political passions merge in the instrumentation that defines the album. Saxophones double guitars. Vintage synths merge with strings as keyboards mirror vocal lines. Loops and live drums unite to push songs forward. Special guests include Anais Mitchell, Sean Hayes, David Wax Museum, Ryan Montbleau. The album closes with "Baghdad to the Bayou" a song written by text with friend Rachel Maddow. This is her 7th abum, 2nd on her own label. The CD includes a bonus disc of Erin performing the entire album solo acoustic.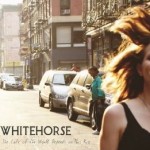 WHITEHORSE
The Fate of the World Depends on This Kiss (Six Shooter)
The classic tale of musical romance continues for Luke Doucet and Melissa McClelland, the husband and wife duo behind Whitehorse. As a whole, the album reveals the range of creative possibility that only expands as Whitehorse develops and focuses their sound. Song by song, the record takes surprising turns; while each track confidently bears Whitehorse's signature blistering guitar work and love-knotted vocals, their willingness to take risks and ability to pull them off makes for captivating listening. With savage talent and tender hearts, Whitehorse expertly plays both lion and lamb on The Fate of This World Depends on This Kiss.
Below is the link to a video interview with Whitehorse done in Nashville last September at the Americana Conference.
Also new this week…
JEFF BLACK – B-Sides And Confessions Vol. 2 (Lotus Nile)
J.J. CALE – In Session at Paradise Studio 9 (INgrooves Fontana)
THE DELTA SAINTS – Death Letter Jubilee (self release)
JULIET AND THE LONESOME ROMEOS – No Regrets (Tree O)
Coming out soon… CARRIE RODRIGUEZ, TED RUSSELL KAMP, DOLLY VARDEN, OVERMOUNTAIN MEN, KRIS KRISTOFFERSON, GURF MORLIX, RICHARD THOMPSON, BRUCE ROBISON & KELLY WILLIS, EMMYLOU HARRIS & RODNEY CROWELL … more new releases
Here's the best Americana and roots-type music releases for the week of January 15th, 2012, the first real week of new music for the year. Click the artist or album links to find out more. The artist's names link to their websites and the CD title links go either " target="_blank">Amazon or CD Baby for easy ordering. Also check out the Freight Train Boogie podcasts featuring mostly songs from new Americana releases. Playlists with players and iTunes links are posted at FTBpodcasts.com.
Here's a link to this week's Americana Music Association Americana Airplay Chart
Bill Frater
Freight Train Boogie
---