Americana Boogie new releases for the week of August 13th…
Posted On August 13, 2013
---
GLEN CAMPBELL
See You There (Surfdog)
Glen Campbell offers stunning takes of his career-defining hits on quite possibly his final album See You There. "This record is a more intimate and unique take on many of Glen's most popular songs as well as some other gems. The producers took the magic of his voice and showcased it in a whole new way for Glen." The album's title, See You There, an expression that's been a trademark of Glen's for years, takes on an added poignancy at this stage of his life as do the songs that take us back to the early days of his career.
VALERIE JUNE
Pushin' Against A Stone (Concord)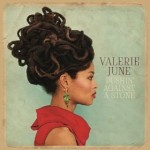 "I'm just doing Memphis music my own way," declares Valerie, a Tennessee native whose Pushin' Against A Stone epitomizes the legendary music city's mix of southern soul, roots rock, Appalachian country twang and blistering blues. June may be blessed with Lauryn Hill looks, but her Stone is a rock hard, rough n' tumble collection of vintage-sounding tracks that trade any slick details for a loose, remarkably fresh feel. The Black Keys' Dan Auerbach is in the studio producer's seat for a few of the album's best offerings like the perfectly disheveled "You Can't Be Told", a showcase for Auerbach's dark, rumbling guitar lines and June's unvarnished Dolly-meets-Billie vocals.
Also new this week…
COLIN GILMORE – The Wild and Hollow (Woobietown)
SAM PHILLIPS – Push Any Button (Littlebox)
Coming out soon… VA- The Big E: A Salute to Steel Guitarist Buddy Emmons, TEDESKI TRUCKS BAND, MANDOLIN ORANGE, KIM LENZ & THE JAGUARS, TIM EASTON, ROBBIE FULKS, BIG SANDY & HIS FLY-RITE BOYS, NICKI BLUHM & THE GRAMBLERS, SAM BAKER, MISSY RAINES & THE NEW HIP, PETER COOPER … more new releases
  Here's a link to this week's Americana Music Association Americana Airplay Chart
Bill Frater
Freight Train Boogie
---