Americana Boogie new releases for the week of April 23rd – Steve Martin & Edie Brickell, Jerry Miller, Eric Brace & Peter Cooper, Tejas Brothers and more…
---
STEVE MARTIN & EDIE BRICKELL
Love Has Come For You (Rounder)
Steve Martin is currently in the fifth decade of a varied and accomplished career as a comedian, actor, author, playwright, banjoist and songwriter. His fellow Texas native Edie Brickell has carved out an iconoclastic solo career that's solidified her reputation as compelling singer and a songwriter of rare insight. Although these new musical partners have already built widely-respected individual bodies of work, their inaugural duo effort is a substantial departure, as a well as a creative milestone, for both artists. Love Has Come for You offers 13 eloquently rootsy Martin/Brickell compositions that combine the former's inventive, expressive five-string banjo work with the latter's heart-tugging vocals and vivid, detail-rich lyrics. Produced by Peter Asher, and featuring guests Esperanza Spalding, Waddy Wachtel, Sara and Sean Watkins, as well as the Steep Canyon Rangers, Love Has Come For You is playful, spacious, and irresistibly accessible.
JERRY MILLER
New Road Under My Wheels (Signature Sounds)
"For many years Jerry's fans the world over…have been eagerly anticipating a solo record — one that might show off his incredible rockabilly chops, his western swing sensibilities, his twangy surf-rock sounds, and everything that goes into Jerry's inimitable style. Now at last that record is here and it truly exceeds my loftiest of expectations. The band is superb and Jerry receives some stellar vocal support from long-time collaborators Eilen Jewell, Eric Royer, Roy Sludge, and Miss Tess, but it is Jerry's original instrumentals, his slick pedal steel playing, and blistering guitar solos that shine on this record…." (Nate Gibson, Musician & Author, The Starday Story: The House That Country Music Built)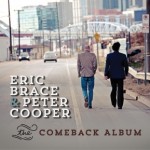 ERIC BRACE & PETER COOPER
The Comeback Album (Red Beet)
"Hey, I never went away," is what a lot of artists say when accused of making a "comeback album." Not Eric Brace & Peter Cooper. After releasing two duo albums that drew praise from a bevy of critics and colleagues, Brace and Cooper went away. They wandered across the U.S. and Europe to headline shows and to tour with luminaries including John Prine, Nanci Griffith, and Todd Snider. Now, three years after their last release, Brace & Cooper return with The Comeback Album, a sparkling set that marries nine self-penned compositions with gems from Tom T. Hall, Karl Straub, and David Halley. Duane Eddy and Bluegrass legend Mac Wiseman join Brace, Cooper, and country music torchbearer Marty Stuart for a revival of Hall's "Mad," and a band of players including Richard Bennett, Jen Gunderman, Paul Griffith, David Jacques, Fats Kaplin, Thomm Jutz and legendary steel guitarist Lloyd Green provide the bed for Brace & Cooper's splendid harmonies and deft storytelling.
Also new this week…
MIKE AIKEN – Captains & Cowboys (Northwind)
THE BILLS – Yes Please (Red House)
COASTWEST UNREST – High Times on Lowly Streets (Reclaim)
XENIA DUNFORD – His & Hers (Route 242)
TOM JONES – Spirit in the Room (Rounder)
MASSY FERGUSON – Victory & Ruins (Spark and Shine)
LORI McKENNA – Massachusetts (1-2-3-4-GO!)
THE TEJAS BROTHERS – Live a Little More (No No)
LUKE WINSLOW-KING – The Coming Tide (Bloodshot)
Coming out soon… PETER ROWAN, CARLA OLSON, THE CHAPIN SISTERS, THE GIDDENS SISTERS, ANDREW DUHON, FRANK SOLIVAN & DIRTY KITCHEN, THE WILL CALLERS, PATTY GRIFFIN, SHE & HIM, DAILEY & VINCENT, RUTH MOODY, THE PISTOL ANNIES, CHIP TAYLOR, DAN HICKS & THE HOT LICKS… more new releases
Here's the best Americana and roots-type music releases for the week of April 23rd, 2013 from Americana Boogie. Click the artist or album links to find out more. The artist's names link to their websites and the CD title links go either " target="_blank">Amazon or CD Baby for easy ordering.
Here's a link to this week's Americana Music Association Americana Airplay Chart
Bill Frater
Freight Train Boogie
---