Americana Boogie music releases for the week of Sept. 25th – Jim Lauderdale, Waylon Jennings, Mumford & Sons, Lucy Kaplansky, John Hiatt, Ben Sollee & more…
Posted On September 25, 2012
---
Here's the best Americana and roots-type music releases for the week of September 25th, 2012. Click the artist or album links to find out more. The artist's names link to their websites and the CD title links go either " target="_blank">Amazon or CD Baby for easy ordering. Also check out the Freight Train Boogie podcasts featuring mostly songs from new Americana releases. Playlists with players and iTunes links are posted at FTBpodcasts.com
WAYLON JENNINGS
Goin Down Rockin: The Last Recordings  (Saguaro Road)
The basic tracks here were recorded by Waylon shortly before his 2002 death. Some were more finished than others, but his parts were complete. Producer Robby Turner assembled members from Waylon's band, and Tony Joe White to help flesh out the tracks to this finished recording. Still singing strong and writing some great songs right up to the end. A fitting coda on an incredible career. Eleven originals and an aching cover of Willie Nelson's "Sad Songs And Waltzes."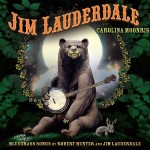 JIM LAUDERDALE
Carolina Moonrise: Bluegrass Songs by Robert Hunter and Jim Lauderdale (Compass)
Jim Lauderdale and Grateful Dead lyricist Robert Hunter have been longstanding, songwriting compadres, each award-winning writer acclaimed across multiple genres. This is their 4th collaboration, offering a fresh, contemporary take on traditional bluegrass. Produced by Dobro player Randy Kohrs, this collection features Tim Crouch on fiddle, Josh Williams on guitar, Aaron Ramsey on mandolin, Scott Vestal on banjo and Jay Weaver on bass.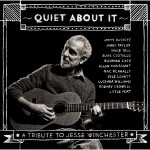 Various Artists
Quiet About It: A Tribute to Jesse Winchester (Mailboat)
When Jesse was diagnosed with esophageal cancer last year, Jimmy Buffett and Elvis Costello immediately agreed it would be a good idea to put together a tribute album as a show of support. As taken from the album liner notes, written by Bill Flanagan, "I don't know anyone who dislikes Jesse Winchester's music." The album features Allen Toussaint, Rodney Crowell, Little Feat, James Taylor, Rosanne Cash and others. The good news is Winchester has beaten the odds after treatment and surgery the doctors had told him he was cancer free. A happy ending all around.
Also new this week…
JOE BONAMASSA – Beacon Theatre: Live From New York  (J&R Adventures)
SERA CAHOONE – Deer Creek Canyon   (Sub Pop)
THE COAL PORTERS – Find the One  (Prima)
JOHN HIATT – Mystic Pinball   (New West)
LUCY KAPLANSKY – Reunion  (Red House)
MUMFORD & SONS – Babel  (Glass Note)
PETE SEEGER – Pete Remembers Woody  (Appleseed)
RICKY SKAGGS – Music To My Ears  (Xenon)
BEN SOLLEE – Half Made Man  (Tin Ear)
HANS THEESSINK & TERRY EVANS – Delta Time  (Blue Groove)
Coming out soon… THE MAVERICKS, TIFT MERRITT, VAN MORRISON, IRIS DeMENT, TIM O'BRIEN & DARRELL SCOTT, WANDA JACKSON … more new releases
Here's a link to this week's Americana Music Association Americana Airplay Chart
---