Americana Boogie music releases for the week of Oct. 9th… Wanda Jackson, Tim O'Brien & Darrell Scott, The Wallflowers, Don Felder…
Posted On October 10, 2012
---
Here's the best Americana and roots-type music releases for the week of October 9th, 2012 from Americana Boogie. Click the artist or album links to find out more. The artist's names link to their websites and the CD title links go either " target="_blank">Amazon or CD Baby for easy ordering. Also check out the Freight Train Boogie podcasts featuring mostly songs from new Americana releases. Playlists with players and iTunes links are posted at FTBpodcasts.com.
WANDA JACKSON
Unfinished Business  (Sugarhill)
Jackson's 31st studio album and marks the producing debut of fellow renowned musician and songwriter Justin Townes Earle. . Jack White declared "Wanda is influential to every modern female singer, whether they know about her or not. She broke down those walls in the beginning, when it was the hardest to do." Widely known and respected as "The Queen of Rockabilly," Jackson is credited with being the first woman to ever record a rock and roll song,("Let's Have a Party" in 1958).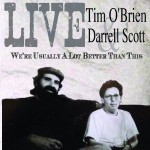 TIM O'BRIEN & DARRELL SCOTT
We're Usually A Lot Better Than This  (Full Light)
This recording is from two different years (2005, 2006) at the Grey Eagle in Asheville, NC when Tim & Darrell did two benefit concerts for the Arthur Morgan Schoolwhere they each had a child attending. They had not been touring together for a number of years when they did the shows. The idea was to raise some funds for this amazing junior high school with the student body & teachers also in attendance. The result is a glimpse into the friendship and collaborative spirit of two of the most celebrated songwriters and Americana artists.
Also new this week…
RONNIE FAUSS – I Am the Man You Know I'm Not (12th Street)
DON FELDER – Road to Forever (Rocket Science)
JEFF LYNNE – Long Wave (Frontiers)
A.C. NEWMAN – Shut Down the Streets (Matador)
THE WALLFLOWERS – Glad All Over(Columbia)
Coming out soon… ROSIE FLORES, HOLLY GOLIGHTLY, JAMEY JOHNSON, SHELBY LYNNE, MARTHA WAINWRIGHT, OMAR AND THE HOWLERS, KASEY CHAMBERS & SHANE NICHOLSON, GARY CLARK JR. … more new releases
Here's a link to this week's Americana Music Association Americana Airplay Chart
Bill Frater
Freight Train Boogie.
---