Americana Boogie Music Releases for the week of May 15th include Willie Nelson, Lisa Marie Pressley, NRBQ and more…
---
Here are a few new Americana and roots-type music releases for the week of May 15th, 2012 from
 Americana Boogie. Click the artist or album links to find out more. The artist's names link to their websites and the CD title links go either 
" target="_blank">Amazon or
 CD Baby for easy ordering. The Freight Train Boogie podcasts feature mostly songs from new releases. Playlists with players and iTunes links are posted at
 FTBpodcasts.com.
 
JP HARRIS AND THE TOUGH CHOICES


I'll Keep Calling
(Cow Island)
In July of 2011, JP went into Joel Savoy's Studio Savoire Faire in Eunice, Louisiana with the rhythm section from the Red Stick Ramblers (Eric Fey on bass and Glenn Fields on drums) along with Asa Brosius on steel guitar and Chris Hartway (the Dixons and the Defibulators) on guitar and recorded what will likely be, one of the best real country albums of the year. Only 29 years old, JP wrote all twelve songs on the album and sings them in a voice that seems beyond his years.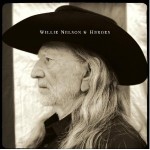 WILLIE NELSON


Heroes
(Sony Legacy)
Scheduled for release on May 15th, just in time for Willie's 79th birthday, the songs take on a reflective, emotional tone and move from heartfelt (a stunning rendition of Pearl Jam's "Just Breathe") to humor (on "Roll Me Up" with guest vocalist Snoop Dogg). Other guest vocalists on the album include Kris Kristofferson, Merle Haggard, Jamey Johnston, Billy Joe Shaver and Sheryl Crow. Sons Lukas and Micah Nelson also feature prominently, making this a real family affair.
LISA MARIE PRESLEY


Storm & Grace
(Universal Republic)
The Memphis-born Presley reclaims those roots on her new album, an Americana-inspired showcase for her songwriting talent and smoldering alto voice. Produced with elegant restraint by T Bone Burnett. "When Lisa Marie's songs arrived, I was curious," Burnett says. "I wondered what the daughter of an American revolutionary music artist had to say. What I heard was honest, raw, unaffected, and soulful. I thought her father would be proud of her. The more I listened to the songs, the deeper an artist I found her to be. Listening beyond the media static, Lisa Marie Presley is a Southern American folk music artist of great value."
Also new this week…


BILL EVANS -
In Good Company  (Native and Fine)


MATT HARLAN -
Bow and Be Simple  (Berkalin)


THE HOBART BROTHERS WITH LIL' SIS HOBART -
At Least We Have Each Other  (Freedom)


NRBQ -
We Travel The Spaceways ( Clang!)

ANDRE WILLIAMS & THE SADIES -
Night & Day
(Yep Roc)
Coming out soon… SONNY LANDRETH, LEFTOVER SALMON, TEDESKI TRUCKS BAND, CORY BRANAN, THE BROTHERS COMATOSE, LAKE STREET DIVE, NEIL YOUNG & CRAZY HORSE, SHAWN COLVIN …
more new releases

Here's a link to this week's Americana Music Association
Americana Airplay Chart
 
Bill Frater
Freight Train Boogie
---