Albums I Fell in Love With in 2018
Posted On December 26, 2018
---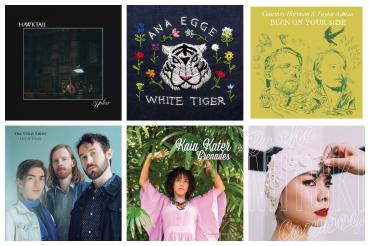 This isn't a "best of 2018" list in the traditional sense. That's because a) I know you're being inundated with year-end lists, so I thought I'd switch mine up a bit, and b) this year I listened to a lot of music that didn't come out in 2018. In fact, my year as a music listener was marked by a lot of deep dives into artists that had been around for a while, but whose music I wasn't intimately familiar with. I had a lot of "How did I miss this?!" moments. So when I was going back through my year, it felt wrong to limit my list to music from this year, because that would exclude a great deal of what I actually listened to. I guess I could have just dispensed with the "best of 2018" project altogether, but what fun is it to write a column about music if you don't get to indulge in the great vanity project that is the year-end list?!
As I mentioned in my 2017 roundup, I tend to listen obsessively, like many devoted music fans. When I find a song or album that I love, I listen repeatedly to the point of near-mania. This is how we develop those strong emotional associations that tie songs and albums to times and places in our lives. I love that feeling of revisiting a song or album and suddenly being flooded with distinct, visceral memories. With that in mind, I've organized this list by month – here's what I was obsessing over during every month this year.
January: Darrin Hacquard, Signs & Wonders
At the tail end of 2017, my band spent a month touring Germany with our friends The Lonely Heartstring Band and The Lonesome Ace Stringband. Every night, Lonesome Ace played a song called "Never Again" that repeatedly tore my heart to shreds. They told me the song was written by their friend Darrin Hacquard, and then sang me another of his songs ("You Were a Friend") backstage. I was hooked. I listened to Signs & Wonders for the first time as the tour bus wound across the snowy German countryside, and it became my soundtrack as I spent January 2018 trudging through the snow in Boston. It's gloriously messy and classic-sounding country-rock, with endless psychedelic guitar solos alongside straight-ahead old-time fiddle and lyrics that are at once funny, bleak, and heart-wrenching. This record really affected me, and it made me feel excited about songwriting during a bleak creative drought. I want more people to know about it.
February: Phoebe Bridgers, Stranger in the Alps
This album came out on my birthday in September 2017, but I didn't get the memo until February 2018, when my bandmate Ellie told me I had to listen to this song "Motion Sickness." The rest was history – according to Spotify, I listened to that song more than any other this year. It's a breakup anthem whose second chorus contains one of the sickest burns I've ever heard in a sad indie song (or any song). The back half of Stranger in the Alps is a bit inconsistent, but its best songs sank deep into my heart and wouldn't let go. After about two weeks I had to try to stop myself from listening to it because it made me too sad, and sometimes I still couldn't resist. The production, by Ethan Gruska and Tony Berg, is also impeccable. (That's Gabe Witcher of Punch Brothers playing fiddle on the third track!)
March: The Weather Station, Loyalty
The Weather Station's self-titled record was my favorite of 2017, and in March I decided to dig further back into her catalog. Her 2015 record Loyalty is quieter, more acoustic, more intimate. It's also equally luminous, with a keen eye for impressionistic detail, flight-like melody, and amorphous structure. This summer Tamara (the frontwoman and creative voice of The Weather Station) and I shared a stage at Newport Folk Festival while sitting in with Patrick Haggerty, and afterward I demanded that her bass player introduce us so that I could tell her "I'm a huge f*cking dork for your songs." I hand-wrote an entire verse of album opener "Way It Is, Way It Could Be" into my journal because I couldn't stop thinking about it.
April: Joanna Newsom, Have One On Me
I somehow didn't really listen to Joanna Newsom until this year. I don't understand it either. The turning point was Aoife O'Donovan, Julian Lage, and Chris Eldridge's cover of Newsom's song "Good Intentions Paving Company," which I stumbled across on YouTube one day. Floored, I immediately hunted down the original version, which sent me hurtling down a rabbit hole that I haven't fully left. Throughout April (the month that I spent writing a song every day), I devoured and loved all of Newsom's records. Have One On Me remains my favorite – it's her earthiest, her brassiest, yet still otherworldly and visionary. If you also have not yet managed to "get into" Joanna Newsom, "Good Intentions Paving Company" could be the song that does it for you.
May: Hawktail, Unless
A 2018 album, at last! Hawktail are my compatriots in the post-fiddle-camp music world, and their tunes contain a lot of the things I love about traditional fiddle tunes combined with a lot of the things I love about songwriting. I am frankly bored by a lot of the virtuosic playing in today's acoustic scene, but Hawktail shreds tastefully. Their chops are astounding, but the shredding never gets in the way of the spirited, creative tunes, or the band's cohesion as a unit. And Brittany Haas is my fiddle hero, forever.
June: Judee Sill, Heart Food
I decided to check out this record (released in 1973) for the first time on the train to Maine to visit my family, having never listened to Judee Sill before. I was stunned by its Bach-like elegance and intricacy, its multilayered harmonies that rival Joni at her finest, its marriage of pop and twang and mysticism and baroque grandeur. Judee Sill didn't receive her due in life or career, but I'm grateful to have found my way to her music this year.
(I don't have a July record, but I'll make up for it in September!)
August: Ana Egge, White Tiger
August found me bathing in the late-summer glow of Ana Egge's new record White Tiger, released this year. Produced by Alec Spiegelman (whose production and bass clarinet playing I consistently dig), the album is sparse and grooving, showcasing Ana's warm and affecting vocals. The songs are lighthearted but in no way trivial, and the overall result is nothing less than a balm for the soul.
September, Part 1: Courtney Hartman & Taylor Ashton, Been On Your Side
Courtney Hartman and Taylor Ashton's duo demands that I employ the phrase "more than the sum of its parts." Their vocals are warm and evocative, whether achingly harmonized in "Nature of Us" or trading snarky jabs in "Dead to Me." Their instrumental prowess propels, but never overpowers, the songs – their inseparably interlocked clawhammer banjo and archtop guitar have become my new favorite sonic combo of instruments. This record (released on the last day of August, played obsessively in the Lula Wiles tour van throughout September) contains some of my favorite songs written in recent memory, played and sung and recorded expertly by musicians I very much respect.
September, Part 2: The Stray Birds, Let it Pass
Shortly before the release of Let it Pass, The Stray Birds announced that they had broken up. I don't know where my band would be if not for The Stray Birds, who've long been inspirations (and later, dear friends) to us. So it's difficult to figure out what to say about Let it Pass. But I'll cast that all aside to say that this is just a damn good record. It completed the band's evolution from acoustic folk to expansive, roadworn roots-rock, and its songs truly capture the way it feels to be human. No one did three-part harmony like The Stray Birds. No one broke and mended hearts like The Stray Birds.
October: Lucinda Williams, World Without Tears
Yeah, another "what the hell was I doing" moment. I knew and loved individual songs from World Without Tears ("Fruits of my Labor," "Ventura," "Those Three Days"), but it took me until this year to really dig in to the full record, and I listened to nothing else for weeks. You all probably knew about this record already. It's so good. Ever since Lucinda rhymed "fruits of my labor" with "truth is my savior," the rest of us songwriters have been competing for second place. And those guitar tones! So unsubtle! So gnarly!
November: Kaia Kater, Grenades
Let me just state for the record that it's a privilege to be label-mates with Kaia Kater. There exists a group text thread consisting of Kaia and the members of Lula Wiles called "the kaia kater fan club." Okay, now that I've got that out of the way: Grenades might be my favorite record of the year. I didn't know it was possible to simultaneously draw so deeply from soul, rap, Appalachian folk, and country, and so effortlessly blend them. Kaia's vision creates a truly singular sonic experience that delivers her voice and its poetry (no other word suffices) to explore weighty ideas: identity, lineage, displacement, memory.
December: Mitski, Be the Cowboy
Last week, after seeing Be the Cowboy top one year-end list after another, I figured I should give indie-rock composer Mitski a second chance. This is her fifth record, but it's the only one I've listened to (and I now have no idea what I first heard and disliked). Right under the wire, it became one of my 2018 favorites, too. It's a remarkably self-assured record, full of stark juxtapositions like the bright disco beat and heartrending vocal on "Nobody." It's artful and deliberate, and with most of its songs clocking in under 2.5 minutes, it's best listened to in its entirety.
Honorable mentions: Sam Moss "Neon," Foxwarren (self-titled), Kate Bush "Hounds of Love"
* * * * * * * * * * * *
Your subscription helps keep independent roots music coverage alive! Subscribe to No Depression now and join a community of roots music fans from around the world.
---