Vicky Emerson's Fourth Album
Posted On January 21, 2019
---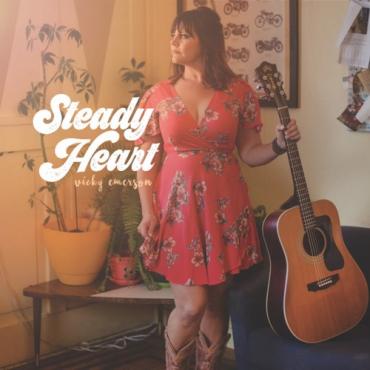 Wisconsin native Vicky Emerson's previous three albums has established her as one of the pre-eminent independent singer/songwriters working in an Americana vein but her latest, Steady Heart, finds the talented writer and performer consolidating her talents in a meaningful way and manning the production chair for her fourth effort. The nine songs included with Steady Heart stand among her finest work to date and shows her already fine songwriting gaining added maturity. A familiar talented cast supports her during this song cycle, including such luminaries as Aaron Fabbrini, but she is likewise joined by talented musicians such as drummer Zach Miller, guitarist Steve Bosmans, and longtime collaborator Sarah Morris.
The title of the album opener "In the Pines" is as Americana as it gets, recalling Leadbelly's classic folk blues of the same name. The resemblance ends there. The song has a steady folk music feel but begins in a rather spartan fashion with acoustic guitar and Emerson's voice carrying the song. Her lyrical acumen is readily apparent for any listener, those unfamiliar with her work and longtime fans alike, but the lean economy of her poetic musings separates her work from performers who might otherwise overdo their desired effect on the audience. The violin work and near-shuffle quality of the song's tempo ideally complements the song.
The muted mood beginning "Bird's Eye View" heralds one of the album's most sensitive outings and the light fiddle coloring the arrangement brings a meditative, even melancholy, feel to the performance enhancing its impact for listeners. Emerson embraces familiar turns of phrase as a lyricist, but they are recast in her hands in such a way they earn new reams of meaning and studiously avoid any hint of cliché. The electric guitar laced with light reverb gives "The Reckoning" the bite it deserves without ever over-exaggerating its intended effects and the ghostly backing vocals ably support Emerson's efforts without ever obscuring her. Bosman's contributions on guitar are key to bringing this song off, but Emerson's songwriting talents ultimately provide the foundation for everything to come off so well.
Her cover of the country classic "Don't It Make My Brown Eyes Blue" never treats the original like some beautiful butterfly pinned under glass but, instead, claims it as Emerson's own, yet remains respectful enough we can feel the gentleness and depth of the original burning through every second. It's a testament to her powers as an interpreter and, frankly, if you never knew of its illustrious predecessor, you'd assume this is an original composition from the outset. She gives the song a slow, smoky crawl we would have never heard from the legendary Crystal Gayle.
The album's title track "Steady Heart" kicks off on a slightly grander scale than the aforementioned songs attempt and Emerson sounds just as comfortable working in this vein. She has surefooted skill when it comes to getting beneath the skin of a lyric and does so without any histrionics or unnecessary theatrics. The song isn't a particularly upbeat number, it's a song about many things including the miles we put on our emotions pursuing connections and community with others, but it has a redemptive and hopeful air despite the obvious price incurred for its creation. It's the finest moment on the album and shows Emerson deepening as both a singer and writer in deeply meaningful ways with her fourth release.
---