Veteran Songwriter Jack Tempchin Surveys His Legacy
Posted On November 8, 2017
---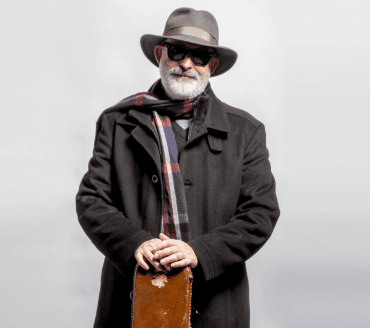 With the release of Peaceful Easy Feeling: The Songs of Jack Tempchin, the soulfully seasoned singer-songwriter is experiencing a career renaissance that defies the conventional musical biography story. You know the one.  It tells how the songwriter rides into the musical sunset of obscurity. But if Tempchin has been anything, he's been tenacious. There's been no sunset or obscurity here. Case in point: Tempchin has turned out a new album that is inspired, energized as it honors his good friend and collaborator, Eagle co-founder, the late Glenn Frey. The album's dedication is to Frey and it could just as easily been a tribute to him as it displays Tempchin's considerable contributions to music since his arrival on the music scene nearly five decades past. Peaceful Easy Feeling is a reminder of how diverse and versatile a songwriter can be. The test of any one known for this craft is how well their songs hold up being covered by other artists from different genres.  This has been one of his trademark skills, the ability to hear and create the song as it then becomes a vehicle for the interpreter.  Here, Tempchin digs deep into his treasury. He comes up with a collection of his hits and best known songs. The album reveals that Tempchin has traveled in the shadows of the music industry bringing light with an eye (and ear) for what makes for a timeless and enduring song.
As the writer of The Eagles 1972 hit song,"Peaceful, Easy Feeling," he walks the talk of a great songwriter who has honed his craft over the years. The term 'great' is not used casually here. It has happened over time and with help from friends. Since the late 1960s, when he first met Glenn Frey, a unique friendship began to take hold. It was a friendship that would help shape the future of American rock music. But it happened over a period of years in mostly unassuming ways. The musical chemistry became a bond that kept them working together until Frey's untimely death in 2016.
Tempchin, in 1969, was the quintessential counter-culture hippie complete with a van, a huge old house that included a candle factory, which he described as his 'beloved hippie crash pad.'  When Frey's band with J.D. Souther folded, Tempchin made his way from San Diego to Los Angeles. In 1971, Linda Ronstadt was beginning her solo-career. She was looking for a tour band when she met J.D. Souther and Glen Frey.  She hired Frey for his guitar skill along with Bernie Leadon and a Texas singer-songwriter drummer named Don Henley. She had her band. Soon, The Eagles were formed and began their own flight as a band from Los Angeles to be reckoned with.
One day when Tempchin and Frey were in Jackson Browne's house in the L.A. district, Echo Park, Jack played him a song he had written at a San Diego Weinerschnitzel. The song was meant to woo and win over a waitress. It was "Peaceful, Easy Feeling."  It was the third hit song from The Eagles' eponymous debut album.  According to Tempchin, he had written it with just guitar and vocal. Tempchin recorded it on a small cassette player for Frey. When he returned with the finished version by The Eagles, Jack was nearly speechless. He said the vocal harmonies and the arrangement lifted the song to a new level.
1972 began Tempchin's professional career as a songwriter. Since that time his songs have been recorded by Glen Campbell, Emmylou Harris, George Jones, Linda Ronstadt, Johnny Rivers, Tanya Tucker, and Tom Waits among many others.
During the Eagles' 14-year hiatus-from 1980 to 1994-Tempchin and Frey seamlessly continued their songwriting team. They wrote songs like "Soul Searching" "Smuggler's Blues," "You Belong to the City, and "Everybody's Gonna Love Somebody." These songs sent Frey into a successful solo career and solidified Tempchin's status as a songwriter.
Now into his 45th year as a songwriter Tempchin has embarked on a new chapter in an already storied career. In 2014, Jack was signed to a new dream deal with the upcoming Los Angeles based, Blue Elan Records. The label has focused on Americana, alt country and a new generation of singer-songwriters.
The move resulted in a new breath of life for Tempchin's creativity and energy.  He is still at the top of the songwriting game. Since 2014, he has released four albums of mostly new material with a contemporary feel to them.
However, Peaceful Easy Feeling: The Songs of Jack Tempchin consists of re-recordings of classic songs some of which may come as a suprise to the casual listener. The selections include collaborations with Chris Hillman, Herb Pedersen on an acoustically-based rousing version of "Already Gone."  Rita Coolidge sounds as soulful than ever as she duets with Tempchin on the Johnny Rivers hit, "Slow Dancing."  Tempchin recreates the gospel-R&B feel of "Soul Searching," with vocalist, Janiva Magness.
The album has its share of rockers including blues-rocker, "Everybody's Gonne Love Somebody Tonight," "Party Town," and "Privacy."  The ballads go as mellow as "Slow Dancing," and "Your World Now." The country songs are beautifully driven with mandolins and finely honed acoustic guitar and a fine undertow of a pedal steel playing throughout.
Although he's now a veteran of the Laurel Canyon Sound and the San Diego music scene, this new release has shown that it's never too late to start again. Especially when the road behind and, I'd wager, the one ahead is strewn with songs that carry the depth and breadth of this unique songwriter.  With the spirit of Glenn Frey echoing in his voice, Jack Tempchin is on a path that will inevitably lead him to the Great American Songbook.
This article originally appeared in Turnstyled Junkpiled
---