Uncharted Waters
Posted On October 4, 2018
---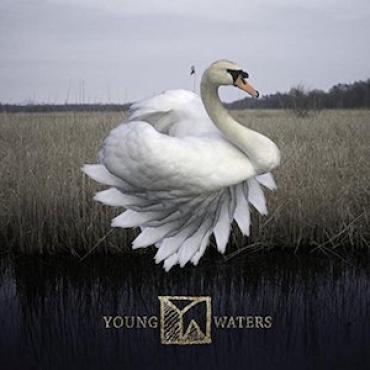 The eponymously titled debut album from Young Waters is a highly original collection of songs whose inspiration draws on a variety of roots; 1970s British folk, classical and much older traditional music. Young Waters are a five piece band based in Bristol, UK who weave a mystical web of rhythms and melodies with beautiful, and at times rousing, harmonies. Their instruments are acoustic and their playing ranges from the sparest notes to powerful crescendos. The effect is simultaneously quite startling and deeply emotional.
Young Waters bring to mind the Incredible String Band, Fairport Convention and more recently, Fleet Foxes. They also go back to traditional Celtic music and their classical strands owe much to Philip Glass and John Taverner. Young Waters won the 'New Shoots' competition at the Bath Folk Festival in 2016. Their prize was a recording session at Peter Gabriel's Real World Studios where, in just one day, they made six of the album's eight tracks. They recorded the remaining two, very aptly given their almost hymnal feel, in a nearby church.
The band led by vocalist and guitarist, Theo Passingham, are a mix of self taught and classically trained. Though Passingham wrote most of the material it is very much a team effort as the constant swirl of instruments and voices testify.
Opener "Dust' is a gentle introduction to 'Young Waters'. A peaceful, almost classical violin gives way to a lonely double bass. After what feels like an age of silence, two delicate voices begin to ponder in deep introspection, "just another day, in the paradise circus….but we are dust/we are dust". This becomes a mantra finishing with a repetition of "We begin to rust/return to dust/ just another day in the paradise circus".
Young Waters work Jesca Hoop's 'Enemy' into their own style very cleverly. Kerry Ann Jangle's voice soars as the song itself takes flight. The band took its name from June Tabor's song of the same name. There is certainly more than a hint of Tabor here.
'Don't Stare at the Sun' is very other-worldly. "Why did you fly so close to the sun/ feathers burnt to cinder/can it all be undone?" conveys a depth and darkness that seems to be a feature of Passingham's writing.
This almost funereal paces gives way to the more lively step of 'Bleary Eyed' where violin and percussion combine to give the song an almost celebratory feel. 'Weary Soul' brings together most of the band's hallmarks of haunting vocals, harmonies, delicate plucking and rich choruses.
Young Waters prove their traditional credentials on 'Polly Vaughn'. Jangle's opening lines, "Come all ye young fellows that can handle a gun" transport the listener straight back to the 1970s folk scene. It is purely vocals, no instruments, and the effect is mesmerising. You can just imagine this song being passed down the generations and is now in very safe hands with Young Waters. Whether intentional or not, the best comes last. 'Swimming Pool' mixes everything that has gone before into a majestic maelstrom of emotion, music, singing, harmonies all driven by age-old rhythms.
For a debut Young Waters display an originality in both their own compositions and their adaptation of traditional music. This album rewards close attention with an impact more akin to that of a live performance.
https://www.young-waters.com
---