Two Worlds Collide, Not Always Successfully, on 'Look Now'
Posted On October 11, 2018
---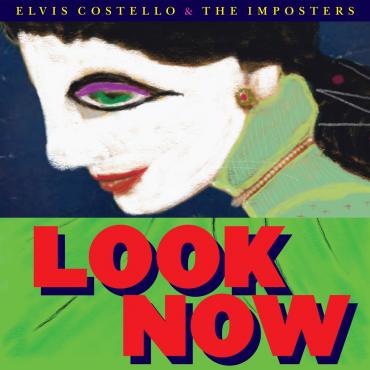 The old verse about serving two masters readily applies to Elvis Costello's latest, Look Now, which struggles to reconcile competing tones that prove as compatible as thorn and thistle.
Costello has long established himself as a fine collaborative foil on albums with Allen Toussaint (2006's The River In Reverse), the Roots (2013's Wise up Ghost), Paul McCartney (1991's Spike), T-Bone Burnett (1986's King of America), and Burt Bacharach (1998's Painted from Memory), among others. His work with his own Imposters, and before that the Attractions, also has a vacillating idiosyncratic spirit all its own.
These two worlds collide on Look Now. While each may have its moments – depending on taste – they clash in a way that robs the album of pace and flow. This has the downstream effect of stealing some of the sumptuous arrangements' attendant power and simultaneously sandbagging the punchier tunes.
It isn't a mistake so much as a shotgun wedding that never quite consummates, born of Costello's revisiting (arguably) the finest Attractions album on tour: "I knew if we could make an album with the scope of Imperial Bedroomand some of the beauty and emotion of Painted from Memory, we would really have something," he posits in a press statement.
One man's beauty is another man's costume jewelry.
The baroque, overweening Bacharach-inspired piano pop – including two songs that Bacharach plays on and a third he contributed to – is a lumbering waltz stepping on the tail of the rambunctious cha-cha the Imposters still lay down. It'd be much less punishing if the styles were consigned to their respective corners (or sides) instead of arrayed in a track-for-track point/counterpoint.
Things start promisingly with Costello's piquant perspective on the #MeToo moment, "Under Lime." Deeply reminiscent of the aforementioned Attractions album, it shares a thematic thread with "Angels Wanna Wear My Red Shoes," as the fallen alcoholic star on his comeback publicity tour fights back old instincts: "She uncrossed her legs, he shuttered his eyes discreetly / and he thought of a drummer and considered a snare."
Meanwhile the refrain returns continually to the ticking clock, which suggests both the purgatory of running out the clock after a previously successful career and the slow seep of sand. How does one come back from a great mistake? Perhaps you bury it, as Costello intones, "under lime, under lime, under lime," evoking both the odor-killing chemical and pickled post-shame penance.
It's followed by the putative title track "Don't Look Now," a Bacharach-featured number that couldn't be more of a drawing room composition if it was set in a Noel Coward play. The formality of the track cuts against the intimacy of the scene, as a women dresses and bids her lover not to look until she's ready. Costello uses this to subtly meditate upon our "looks" – from curious glances to those moments when we're mirrors, or sometimes in the darkened room behind the mirror, staring at our subject unaware. While the lyrical conceit's clever, the melody's somewhat leaden and the pace glacial.
Costello teamed with Carole King to write the next track, "Burnt Sugar is so Bitter," a clever little tune fueled by a funky break complete with Superfly female backing vocals. It's a biting double-standard story about the leftover gossip, fear, shame, and kids a divorced mom must negotiate, with the reminder: "If you overhear voices, maybe you shouldn't be listening at all." It's well-written if somewhat pat, but the tense horn pulse demands attention as the peals circle the song's neck.
The only other notable track is "Unwanted Number." It's powered by a driving bassline and spooky noir-ish tone that recalls "Watching the Detectives." It's about a man who discovers his homosexuality while married and wonders: "How can I tell them? How can I explain? All the love that I never had I found in him."
As the song soars to its climax amidst a swell of backing vocals, Costello repeats that he'll give his love to another "Unwanted Number," driving home a vision of castoffs seeking fellow castaways, a lonely nation lost on the same island.
None of the rest of the album is poorly written, but it doesn't strike much of a spark either. Costello might have thought that going back to sixties/seventies baroque piano-pop would grant a stately elegance to his tales of relational dysfunction, but instead all those instruments and sound makes the emotional content seem smaller and less intimate, making Costello's already dense lyrical content that much harder to negotiate.
If anything, the album is a reminder of the Attractions' sonic economy in delivering the richness of Imperial Bedroom; it may not have seemed terse next to the somewhat glib Armed Forces, but it makes Look Now feel unnecessarily fussy, like theater-size movements in a milieu calling for filmic-level understatement. The lack of a consistent pace or tone forces the songs to stand on their own where they feel cluttered, overly mannered, and far too stiff for the living emotions they want to convey.
---