Two Projects Celebrate John Hartford's Enduring Legacy
---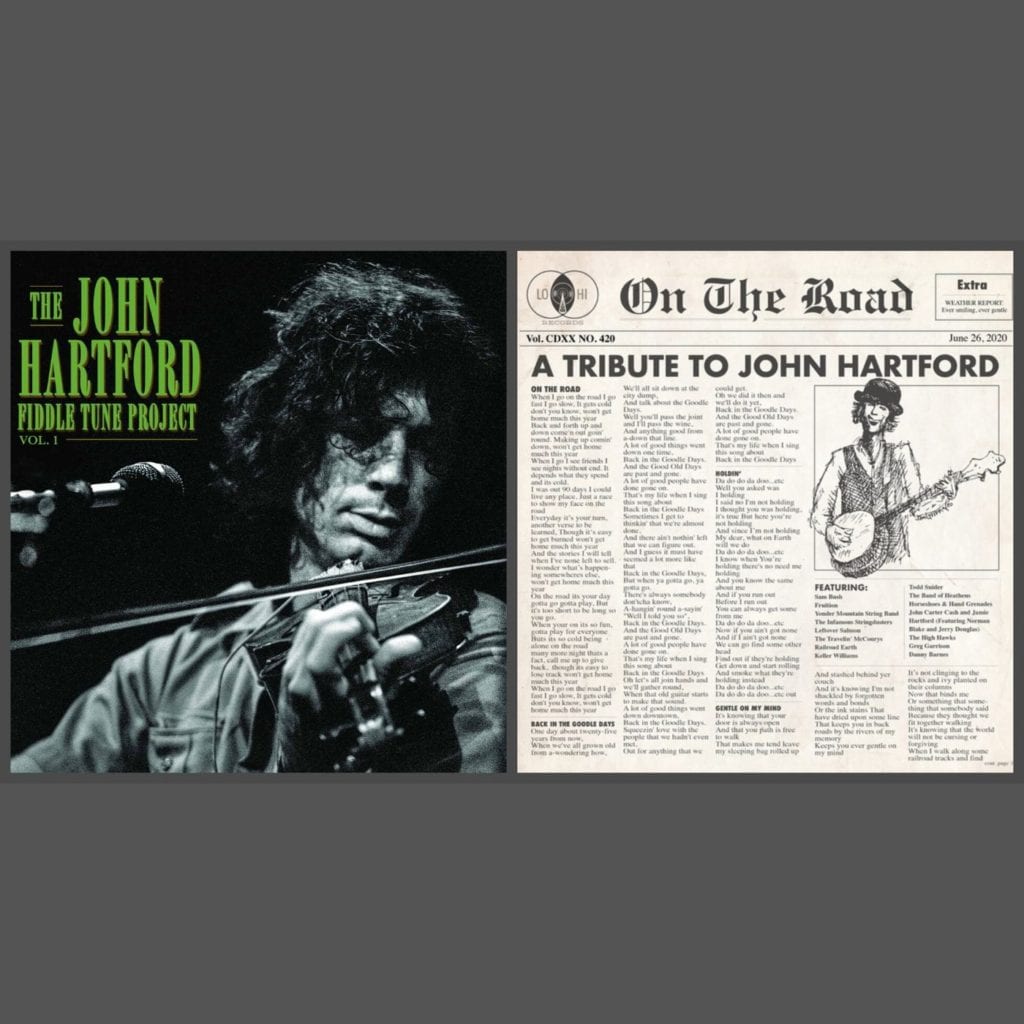 Various Artists
The John Hartford Fiddle Tune Project, Vol. 1
When John Hartford died in 2001, we lost a musical voice and first-rate humorist whose songwriting carried us down the Mississippi on riverboats and whose musical genius is with us still, in his songs and in the modern-day musicians he's inspired. It's our good fortune that he left behind a treasure trove of over 2,000 hand-written fiddle tune charts. In the summer of 2018, his daughter, Katie Harford Hogue, Nashville-based fiddler Matt Combs, and musicologist and musician Greg Reish compiled and published the first project that grew out of these discoveries, John Hartford's Mammoth Collection of Fiddle Tunes, an anthology of 176 of Hartford's original compositions.
Now, Combs has scoured these charts and produced a second project, The John Hartford Fiddle Tune Project, Vol. 1, a collection of 17 of these tunes played with affection and reverence by an array of artists including Sierra Hull, Ronnie McCoury, Noam Pikelny, Chris Eldridge, Forrest and Kate Lee O'Connor, Alison Brown, and Rachel Combs. Four tracks feature Hartford's former bandmates Mike Compton on mandolin, Mark Howard on banjo, and Chris Sharp on guitar.
McCoury, Pikelny, Eldridge, and Dennis Crouch join Combs on "Tennessee Politics," a jaunty tune that mimics in a tongue-in-cheek fashion the drawling performances of candidates stumping the countryside during election time. The fiddle holds the tune's final note and releases it, evoking the sound of someone taking a deep breath with relief when a political speech is over.
The scampering reel "Calhoun County" rides along Combs' sprightly, sawing fiddle as it weaves around Compton's crystalline mandolin runs, all of which float above the lush instrumental bed laid down by Chris Sharp's guitar. Hull's mandolin arpeggios shimmer with crystalline beauty as they celebrate the glimmering facets of an "Old Beveled Mirror," while Megan Lynch Chowning's lustrous fiddle dances around Tristan Scroggins' lilting mandolin on "Running Board Waltz." Brittany Haas' scampering fiddle leads Dominick Leslie's mandolin, Jordan Tice's guitar, and Paul Kowert's bass down the "Long White Road," while Rachel Combs' lush guitar wraps around Haas' plaintive fiddle in "How Do We Love." Alison Brown's spry banjo and Scroggins' mandolin float under Chowning's fiddle on "Just Enough to Turn Around." The album closes with a gorgeous chamber piece, "Evening Farewell," with Tim O'Brien on guitar, Shad Cobb on fiddle, and Combs on fiddle and bass cello.
The John Hartford Fiddle Tune Project, Vol. 1 honors Hartford's genius and allows us to hear these tunes for the first time. We can be happy that this is only volume one and look forward to future recordings of more of Hartford's tunes.
Various Artists
On the Road: A Tribute to John Hartford
Another group of artists honors Hartford's legacy by delivering their own re-workings of songs from Hartford's albums, illustrating Hartford's humor and his songwriting genius. This collection of 15 songs features musicians including Sam Bush, Todd Snider, Leftover Salmon, Railroad Earth, The Infamous Stringdusters, The Band of Heathens, and The Travelin' McCourys.
On the Road opens with Sam Bush's jamming version of the title track, which Bush played live with Hartford as far back as 1977. The song appears on Hartford's album Morning Bugle; in Bush's version, driven by Scott Vestal's propulsive banjo, the song launches us down the road, energizing us for the journey, a paean to the life of a traveling musician.
Fruition delivers a laconic version of "Back in the Goodle Days," Jay Cobb Anderson's vocals floating over a snaking slide guitar and Kellen Asebroek's dreamy organ strains. Yonder Mountain String Band's scatting folk jazz version of "Holding" scampers along with slithering fiddles and the doo-doo-doos of an early '70s pop songs like "Brandy." The Infamous Stringdusters deliver a soulful version of "Gentle on My Mind," laying down a bed of lush fiddles for the poignant lyrics.
You can see the river and hear the riverboat trawling its way down the Mississippi in Railroad Earth's slow-as-the-tides "Delta Queen Waltz," while Todd Snider's spare version of "I Wish We Had Our Time Again" strips the song down to its somber nostalgia. Keller Williams, with The Travelin' McCourys, captures the nod-and-a-wink humor of "Granny Woncha Smoke Some Marijuana" in their straight-ahead bluegrass-meets-Brewer-and-Shipley version of the song. Matt Combs' plaintive fiddle weaves around Jerry Douglas' dobro John Carter Cash's vocals on the mournful and affecting "Tall Buildings," about leaving behind the idyllic life of home to go to work in the city. The album closes with Danny Barnes' acoustic version of the title track; the spare rendition — Barnes' vocals ride over his rambunctious banjo — illustrates the enduring power of the song.
On the Road gives new life to familiar Hartford songs, allowing us to hear them fresh and to consider the ways that the songs themselves allow such diverse interpretations.
In their own ways, each album honors and celebrates John Hartford's contributions to the American songbook.
---