Time Traveler's Delight
Posted On November 20, 2017
---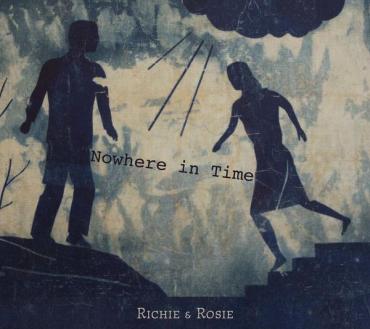 There are plenty of musicians who play impressive renditions of old, old songs. There are plenty of people, too, who can tell you exactly why these tunes continue to resonate. In Richie and Rosie, the folk duo of accomplished banjoist Richie Stearns and fiddler Rosie Newton, we have an act that manages to do both things simultaneously.
Take a listen to "Nowhere in Time," the title track (and de facto overture) to their second full-length. "2114, I'll be in my brain / where I will be the oldest man that Jesus never saved / unless there is something, something I don't know," Stearns sings. Then, like a sci-fi character unglued in time, he jumps back a century. "1914, a hundred years ago / people asking questions nobody knows the answers to / like, where do we go? / Where do we come from? Does anybody know?"
Existential questions haven't changed in a hundred years and won't change in a hundred more, Stearns establishes. Then the duo practices what it preaches, launching immediately into traditional fiddle tune "Glory in the Meeting House." Newton takes a passionate and fierce lead, while Stearns' accompaniment occasionally sounds like he's playing three banjos at once. Indeed, there's a strong internal logic to what these two are doing. On Nowhere in Time, songs of the past and the present bolster each other to create a coherent whole.
It doesn't hurt, either, that Stearns and Newton are phenomenal musicians, both on their frankly scorching instrumentals and on their vocal tunes, which fall under the umbrella of latter-day male-female duos exemplified by David Rawlings and Gillian Welch and furthered by acts like Mandolin Orange. "Cold Mountain" and "Notches over the Hill" are fine examples of songs arranged to serve the instruments, while the plaintive "It's Me Again Lord" is beautiful for its straightforwardness and restraint. And there's plenty of nontraditional fusion, too, as some of the breaks in the nervy "Golden Bear" could be dropped straight into an art-rock or prog song without sounding out of place.
Old instrumentals like "Fairwell to Trion" and "Brushy Fork of John's Creek" are reproduced with exciting immediacy, yet Stearns and Newton aren't viewing history through a soft-focus lens. "Malcolm X was a hero / Crazy Horse was a hero too / tell me how the west was won / in the language of the Sioux," Stearns sings on the somber, almost desolate "Get Around Behind Me." He can use his mind to travel centuries forward and back in time, as he claims on Nowhere in Time's opening cut, and he and Newton use this mental time machine to craft and select a balanced offering of heartbreak and hope.
---