Taj Mahal's Unplugged Love
Posted On November 18, 2016
---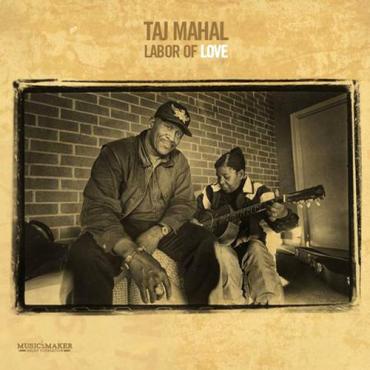 A stripped-down Taj Mahal is an oxymoron. The gravel-throated songster has made a career of sticking to the basics, embellishing his rootsy proclamations with minimal accoutremonts: a bit of brass backing here and there, some funky piano scattered throughout, and plenty of plucking from a plethora of strung-up devices, both acoustic and electric.
But Music Maker Foundation founder Tim Duffy has managed to capture Mahal at his most skeletal on this vinyl-only release, culled mostly from Duffy's archives of off-the-cuff performances recorded in 1998 on a 42-city Music Makers tour with Mahal headlining. Some of the cuts were recorded after the shows, late at night in hotel room jams, and some were taped at Duffy's Pinnacle, North Carolina, Music Makers studio/residence when Mahal came and slept on a pallet on the floor, hanging out with Duffy's stable of roots residents. Its just Mahal and his acoustic guitar on most of the stuff here, pickin' and growlin' his way through a treasure trove of gnarly roots material.
"Stag-O–Lee" has long been a concert staple for Mahal. He usually presents it in a syncopated, Caribbean style, reworking the song Mississippi John Hurt recorded in 1928 and which Lloyd Price remade as the R&B classic "Stagger Lee" in'59. Dr. John, the Clash, and the Black Keys have all taken a whack at it over the years as well. But Mahal's version here, renamed "Stagger Lee," takes away all the trimmings. It's just him and a guitar, and that's enough — his vocal alone will pin you to the wall while his guitar creates an orchestra leaking through his fingers.
Mahal always stirs in some Caribbean flavoring into "Creole Belle" in concert, but usually says in his introduction to the song that he also wants to pay homage to Mississippi John Hurt's syncopated fingerpicking style. The unadorned version here would be just as at-home on a back porch in the Delta as in a hammock gently rocking from tropical tradewinds.
He teams up with Music Maker and National Folk Heritage Award winner Alga Mae Hinton for "I Ain't the One You Love." The two put out a relatively low-key performance, compared to most of Hinton's work. She's known for her lively buck dancing on her own compositions like "Cook Cornbread for Your Husband and Biscuits for Your Outside Man."
"Fishin' Blues" is another Mahal fixture, adapted from Henry Thomas' version by Mahal on '69's Giant Step/De Old Folks At Home, '88's Shake Sugaree, and '90's Big Blues: Live At Ronnie Scott's. But due to his total commitment to it every time, it never gets old. Mahal delivers a new reading of it once again here that has him talking to himself about the simple, laid-back joy of dangling a line in the water.
Piedmont blues legend John Dee Holeman shines on a couple of duets with Mahal on this record. "Mistreated Blues" has Mahal banging out a rattly, raucous piano accompaniment as Holeman roars out his despair more forcefully than anything he's done since his more laid-back Piedmont blues performances. Holeman delivers a thigh-smacking, syncopated recitation of "Hambone" that makes even untutored amateurs want to get up and strut their stuff with some buck dancing.
Music Maker Foundation releases are always special, but this one should be on your Christmas list and receive your attention to all year long. It's a gift that keeps on giving.
---