Steve Earle's Homage to Waylon
---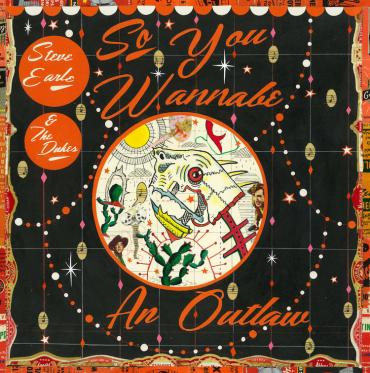 "You start messing with my music, I get mean." That's Waylon Jennings talking, but it might as well be Steve Earle's motto as well. For his latest, So You Wanna Be An Outlaw, Earle channels Jennings in full outlaw mode, even using a '66 Fender Telecaster to replicate Jennings signature lonesome, ornery, and mean lope. Jennings' masterpiece, Honky-Tonk Heroes, was Earle's inspiration and guidebook for the new album.
He enlists the aid of the last of the grizzled outlaws, harmonizing with Willie on the title cut. Sounding like two crusty old cowboys squatting around a campfire swapping lies, the tune is seasoned with some savory fiddle grease from Eleanor Whitmore, and plenty of weepy pedal steel from Ricky Ray Jackson, both from his backing band, The Dukes.
Even though Waylon was the inspiration, Earle says T-Bone Burnette actually initiated the process when he requested an Earle original for the first season of the TV series Nashville. "If Mama Coulda Seen Me " is a jangly, shimmery lament in the spirit of Merle Haggard 's "Mama Tried," about a boy who wouldn't listen to his mama and now resides in the graybar hotel.
Buddy Miller provided more impetus with another request for more Nashville fodder, resulting in "Lookin' For A Woman," a twangy lovesick ode that sounds more like Earle in his Copperhead Road days. The TV series didn't use it, but their loss is our gain. This is no outtake, but a full-blown Earle outlaw assault masquerading as a love song.
But for pure hopelessness,it's hard to beat "Fixin' To Die," with the image of the doomed convict shuffling across the prison yard to the death house, chains on his ankles, never comin' back again cause he shot his baby in the head and he's goin' to hell.
You'd swear it was Carl Smith crooning on "You Broke My Heart," Earle at a career mellow on an original that sounds like a hot 100 contender on the country charts in the '50s.
Miranda Lambert helps out with some more mellow on "This Is How It Ends," contributing to the lyrics as well as the family-style harmony that seems too pretty for Waylon or Earle, but sure is nice to have around.
"Goodbye Michaelangelo" is Earle's acoustic tribute to Guy Clark, who, along with wife Susanna "finished raising me" when Earle first came to Nashville.
And if Steve's originals don't give you enough outlaw Waylon, get the deluxe CD or vinyl edition with Earle's resurrection of Waylon's '75 classic "Are You Sure Hank Done It This Way," from Dreamin' My Dreams, and Billy Joe Shaver's "Ain't No God in Mexico," off '73's Honky-Tonk Heroes. Earle's also thrown in two covers Waylon got from Willie's 8 year Nashville run( '64-'72) at RC A (available on '07's 8 -CD set Nashville Was the Roughest with remakes of "Sister's Coming Home" and "The Local Memory."
---