Softly and Tenderly: The Complete Trio – Dolly Parton, Emmylou Harris & Linda Ronstadt
Posted On September 19, 2016
---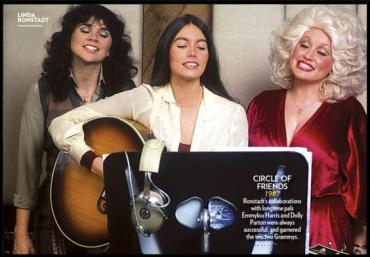 Trio has been a not-much-played album on my shelves for many years, and when I was getting all excited about this release I wondered why the original never solidified a place on my favourites list. Partly, naturally, I blame my lifetime companion, who has a cynical suspicion about collaborative albums, particularly those featuring sweet-throated human nightingales in combination; and who moreover gives few points to albums just for being landmarks in musical history. He would, for instance, much rather clean the bathroom for two hours whilst not listening to Ray Charles' Modern Sounds In Country Music than do anything at all whilst listening to it.
But Emmylou Harris is an object of our joint adoration, and obviously one loves Dolly Parton, and frankly a couple of Linda Ronstadt's 1970s smash hit records are a massive guilty pleasure of mine for doing the washing up to, and there's just no excuse. Which is why I was excited about this new beast. It gave me a second chance to love the album I knew as well as the one I didn't, Trio II, and of course the third disc of unreleased 'gems' from the recordings for both albums.
I wasn't around as an independent listener in 1987, and I wonder how much of a risk this project was for any or all of the three. The notion of the album and its overall feel might have been too country for Linda's broad fan base, too commercial for the always-gently-hip Emmylou, not commercial enough for Dolly; and yet it was a massive success. I feel like they knew it would be, but maybe that's because I'm listening to it now nineteen years on. It's jarring (to me, anyway) to read again and again in the press releases and in the liner notes how this was Americana before Americana existed. In Ronstadt's words, 'the sound we were making wasn't bluegrass' – yeah Linda, no shit – 'and it wasn't honky-tonk.' Yup, I don't think anybody could disagree with that.
I don't mean to sound disrespectful. It's too easy to agree with their own delineation of this stuff as 'parlor music' and to do so a little dismissively, because many if not all of these songs are so easy to listen to. I think of Americana as tending towards the edgy and the edges are all filed away in these interpretations; intrinsically gone because their voices blend the way they do. This is a very particular sound, and at its best it's absolutely beautiful. 'My Blue Tears', on the third disc and previously unreleased, has harmonies that could crush a tear from a stone. A stone with no ears.
It's also a Parton composition, like a number of songs throughout the discs (two great versions of 'Wildflowers' and a brilliant 'Pleasant as May', for instance); a number of the best songs. This of course is one of the most lovable things about Dolly, the songs she cracks out as if it's no big deal to be a massive star who writes her own songs while being thought of as fondly as a barmaid off Coronation Street by men across the world. And it's one of my favourite things about this threesome; how they selected a bunch of songs written by one of their own, and how the other two go on about Dolly's traditional Appalachian singing style when everybody else goes on about her boobs.
You can really hear the three separately, except at the very most harmonic moments. Dolly's unmistakable intonation; Emmylou's tender silver harmonies; Linda's power. She, of course, has the biggest voice, as big and round as her eyes on the front cover: for me, the weakest moments are some of the Linda-led numbers. Not because they're bad, but because they sound like something out of a musical, and undermine – something – for me. But why shouldn't the three of them indulge the listeners with some slush? I don't like 'Blue Train', it sounds to me like pure 1970s soft rock toss, but doubtless a lot of people would absolutely love ripping their throats out singing along to it.
The easiest songs for me to love, to plummet into, are the sacred and old-time tunes; because they sound like Harris' Angel Band, and are so incredibly ready to be sung with dizzyingly beautiful three-part harmony. Both versions of The Carter Family's 'Lover's Return' sound like they're coming straight from a mountainside meadow. Dolly's own have the true feel about them, especially 'Pleasant As May'. 'Farther Along' is enough to bring a lost sheep home.
Some of the other covers; I don't know. How do you feel when you hear a cover version of one of your favourite songs? I enjoy roaring along to Linda Ronstadt's versions of Jackson Browne and even Neil Young songs on her own albums, but as I said earlier, it's a bit of a guilty pleasure. I don't feel precisely the same about the Dolly-led cover on Trio II of 'After The Goldrush' because, surprisingly, it maintains the original's feel, its curiously distant and not quite wordly vocal. And I'm happy to let them have 'Mr Sandman', even though it's ridiculous, because I already know it from the Evangeline album, and because it obscurely reminds me of films featuring 1950s high school dances; Back To The Future, maybe.
Otherwise, 'You'll Never Be The Sun' is like lying in the shade by water on a summer evening; 'He Rode All The Way To Texas' is almost as good as 'Waltz Across Texas'; 'When We're Gone, Long Gone' is proper strong Emmylou, aching, with the other two feather-light around her.
The taste they display in most of their song choices shouldn't be in anyway surprising. Linda Ronstadt was always one to pick out good fun songs that suited her. Emmylou Harris has made a career out of picking winners, both songs and young or obscure artists, and interpreting her material incomparably. And Dolly Parton, so wildly commercial through the 1970s and '80s, so successful a crossover star despite her Tennessee timbre, nevertheless has also again and again displayed a musical acuity; she rode in on a bluegrass charger at precisely the right moment in 1999, just before O Brother Where Art Thou, and whether her own credibility or the fortunes of bluegrass profited more is a moot point.
I should talk about the artwork; it's most unusual. The unbelievably unflattering photos – the only photoshoot where Emmylou Harris ever looked bad, and she looks bad in every single shot – which accompanied the original Trio in 1987 are just as unpleasing as ever. I can scarcely believe that, given the chance to rectify the artwork when Trio II came out in 1999, the three didn't bother; they just shuffled together a couple of kid photos each. It would almost make you believe that something was more important to these women – ladies! in showbiz! – than their appearance! Shocking. However, the plainness is mitigated by the inclusion of paper doll cut-outs (only sadly not perforated) of Dolly, Emmy and Linda, with drawings of their clothes – can't see Emmylou in white flares with tiny black dots, if I'm honest, but the oddity livens up the package considerably. The liner notes are a bit panegyric for my tastes, but they include Ronstadt's own account of the recordings and what led up to them, from her autobiography, and some asides from the other two. A little gloopy, but what do you expect when you ask three women noted, in their different ways, for class and for respecting other artists, about the nice time they had together a couple of decades ago?
In the end, it's about the sound they make. Sometimes I'm not sure. It was Emmylou Harris who first made me realize the restraint of country music singing, or the best of it; that while the voice is beautiful it doesn't need to be gorgeous, it doesn't need to soar or to be ostentatious; it is never fully loosed. I think the same is true of Dolly Parton, even though her singing is so emotional sometimes; but I'm not talking about emotional restraint, I think; I'm talking about aesthetic restraint. You only have to compare Whitney Houston's version of 'I Will Always Love You' with Dolly's to hear that, while nobody may have realized it in 1974, Dolly was holding back. And of course that isn't true with Linda Ronstadt, or to nowhere near the same degree. She isn't a country singer, and her delivery is always about her voice, and its splendid power. Except on these harmonies. Sometimes in the songs she leads, the belly of her voice takes over; more often it doesn't. More often their sound is limpid, well-controlled but effervescent – silver and gold.
Overall I'm glad these songs are in the world, and gladder still that this release includes the unreleased tracks, because many of them really are gems. I don't think it's just that I'm tremendously fond of these singers and love the idea of them getting together just because they liked each other and loved the sound they could make. I'm going to be listening to these albums a lot, probably agonizing over which disc I like the best. Should have figured it out by around Christmas. And by the following Christmas, my lifetime companion will almost certainly have come around.
---