---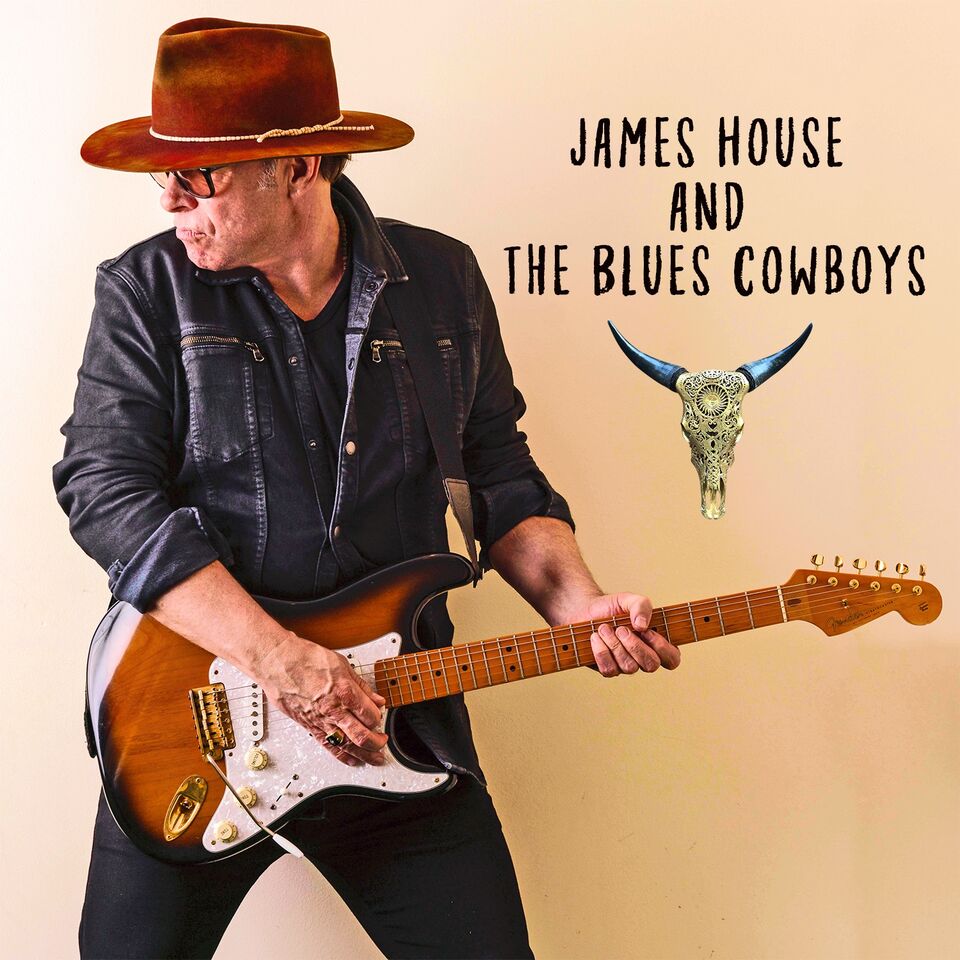 James House deserves to be better known — or, more accurately, known more widely. He's co-written several songs with blues guitarist Joe Bonamassa, including Bonamassa's recent song "Redemption." House is also a Grammy-, CMA-, and ACM-nominated songwriter, but on his new album, James House and The Blues Cowboys, he weaves rock, blues, and roots music into a colorful pattern that reveals many facets. House's powerful, sometimes raw, vocals dominate, and he can moan with the best blues-shouters but can be as tender as the best of the balladeers. The new album serves as a showcase for his songwriting, singing, and guitar work. He gathered a group of world-class musicians — Will Kimbrough, Kenny Greenberg, Lou Toomey, Todd Sharp, Roddie Romero on guitars; Michael Bradford and Mike Brignardello on bass; Eamon McLoughlin on fiddle; Crash Jones and Smoov-Ras on drums — at his studio, Cabin in the Woods, to record the album.
The album opens with a can't-sit-still, shake-us-to-our-core blues rocker "Jail House Blues." The raucous, bone-shaking song lifts us so high, we wonder if it can get any better than this. It does. "Long Way Down" opens with a slow funk with blues moan, but then escalates to a burning rocker in the chorus and the bridge, fueled by guitars reminiscent of Alvin Lee and Ten Years After. "Good Love" features a spacious, atmospheric vibe that allows House's raw vocals to breathe and to call and respond to Kimbrough's lead riffs. "Arkansas Woman" is one of the highlights of the album. There's a place for every note, every chord, and every word, and the song wrings every emotion out of us by its end. Kimbrough's soulful lead guitar brings this song to life in a way such that every note he plays makes a statement. While some of the playing is reminiscent of Eric Clapton's leads, the difference here is that Kimbrough never wastes a note; both he and Clapton play clean and crisp, but while Clapton's crispness is soulless, Kimbrough's inhabits our souls and hearts and touches us with its depth.
The layered riffs that open "Boomerang" mirror the action of the object itself — the riffs always come back, circling around and flying high before returning to start over again. The propulsive tune mimics the halting/forward-moving character of love: "We keep coming back to you and me." The scalding lead riffs on the song's bridge balance the pain of leaving with the tentative joy of returning and the inability to throw love far away; it always returns to you. "Which Side of the River You On" turns in a down-and-dirty, funky twist to that old folk tune by Florence Reece, "Which Side Are You On?" In this tune, which House co-wrote with Roddie Romero and Joshua Martin, and which features Romero and Smoov-Ras, shimmers with a roiling slide guitar, and with an insistent funk beat asks, "which side of the river you on / Ain't saying which is right or wrong / When the flood comes down / It's too late to get to higher ground."
Listen to this album! Words can't always describe how perfect, how moving, how powerful some of the songs on the album are. James House and The Blues Cowboys is an album that's meant to be played and to be played loud, and it won' let you forget James House.
---