Reliable Traditional Sound With Consistently Excellent Mature Songs
---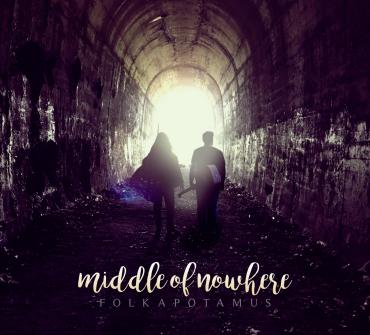 This album comprises the fine vocals of Penni Hart and Tony Trites from Boston. Their music includes warm fiddles and harmonies and this being their sophomore album "Middle of Nowhere," draws on beautiful melodies (and it does) and emotional lyrics (ditto). Highly personal stories rather than just commercial drivel.
I could go about how Penni sounds like this folk singer or that but in the end, she does possess quite an original sound. "Road to Nowheresville," while being a Penni Hart original has a reliable traditional sound that makes this music rich and rewarding. Even with their traditional musical values the duo, performing together since 2011 as Folkapotamus, takes a Foo Fighters' song "Times Like These," and reworks it into a beautiful folk tune. I am not a big Foo Fighters fan but I can understand the quality of their songwriting better now – since I hear it in this realm. It's almost the way Johnny Cash's cover of "Hurt," impressed me. The original was intense by Nine Inch Nails but Cash just turned it into a classic. I'll be listening more closely next time to Foo Fighters — thanks to Folkapotamus.
"Dear Rose," is another Penni Hart original and it's about her partner Tony Trites' mother Rosemary Trites. Written in a letter style which for songwriting is fairly clever. It doesn't always work — but, it does work here. This style is something 60's Native American folk singer-songwriter Norma Tanega ("No Stranger Am I" – covered by Dusty Springfield) would do. Or, Joan Baez' sister Mimi Farina (Richard & Mimi Farina, and later Mimi Farina with Tom Jans — would cover). Mimi had a better voice than Joan – a voice similar to Penni – smooth as velvet and she'd articulate lyrics perfectly.
Up next in this collection is probably the best tune. Excellent lyrics and little story. Penni actually sings in a similar warm mode as New Zealand award-winning country-singer-songwriter Donna Dean. A favorite of mine. This has a Grateful Dead-type acoustic guitar feel (John Sonntag) with Penni also on acoustic guitar — to drive it. Penni sings about "Calmer Waters." It's a very attractive song with its reliable Jerry Garcia voodoo that hovers over it. It has a wonderful upbeat reggae touch on its heartbreaker melody that doesn't beat you over the head. It caresses the ears. Phil Punch provides tight little percussion that is not mixed up front but makes its presence known.
The old Janis Ian hit "Jesse" is rendered wonderfully by Penni and is an ideal cover for her type of vocal. I like it when a good singer-songwriter covers a good song — it shows diversity. Penni's interpretive skills are sharp. Sign of a good performer. Usually, superior singers, especially singer-songwriters, in many genres don't cover other people's songs very well. This is where Elvis excelled, and The Beatles failed.
Jordan Tirrell-Wysocki adds a gentle fiddle to "Jesse" that dresses up the tune more as a Folkapotamus song than a Janis Ian one. This is how covers of well-known songs should be made – rearranged to fit a musician's style and not arranged to be the same song just sung by a different vocalist. This gives the song new life for younger ears. And Janis Ian always writes songs that are enduring. Quite lovely.
Entering a more traditional mode Penni wrote this tune which the old legendary folky the late Dave Van Ronk could've covered. "River Slope Mine," is a song about the Knox Mine disaster (1959) where a dozen miners perished. It is believed to be the disaster that led to the end of the mining industry in Pennsylvania. As well, this is a song that could be updated lyrically to present day Pennsylvania. The town of Centralia – where it is estimated the fires underground will burn for another 250 years. The entire town has been evacuated and sealed off. A haunting place to see since everything still looks normal but no one lives there anymore. The last residents were the former mayor (who passed away) and a young man who grew up there with his family and loved his little town. Folk song anyone about a quiet hero? He was evicted and relocated by Federal Authorities when the air became too toxic. A documentary on YouTube follows this sad young man and his story reeks of a great folk song. He painted the park benches no one sat in anymore. He hung Christmas lights in the town despite the lack of pedestrians. He is in many ways a little hero you have to admire.
With "Red Line Train," Penni writes about the buskers in the subways of Boston (or I guess, any big city with a subway). But this is the charm of Folkapotamus – they are folk singers and use traditional folk instruments but they sing city songs and they don't always pick at the scab of protest, anger, rights of the people but sing about the people. Jordan's fiddle drives the tune along with ample steam and the spare instrumentation does not weaken the song whatsoever. It's not being sympathetic to the homeless, or the hustlers but simply paints a picture that is a true-life situation. Penni's voice, of course, is the focal point as her singing is powerful in a light-hearted way.
This next track is an ancient folk song but Penni's beautiful rendition solidifies her place in folk music. "Wayfaring Stranger," is a perfect cover for a band that displays talent in their original music as well as the traditionalist songbook. Jordan's fiddle, once again, perfectly frames Penni's mournful vocal and along with Tony's fretless bass – the entire arrangement is potent and a wonderful listen. Though this song has been done to death – when it is indeed performed right — it still possesses strength. Excellent vocals and perfect mood. There's no pomposity, no overblown showboating.
It was at this point that my only criticism of this duo became obvious.
I just don't think the name of the group Folkapotamus does them justice. This is not folk music that is large-sounding. It's artistic and it's poignant. It has a gossamer effect on the ears. For a music buyer unfamiliar with the artist the duo name suggests more — music for children. It's not.
This duo performs serious, deep and powerful music. A more durable band name should be considered. One a little more traditional than a play on words. Using the word "folk" as a band title locks them into one genre. This duo is too good and could one day expand their musical sights. I consider them wonderful singers and musicians who are more adept at just being singer-songwriters who can sometimes step out of the box and just perform covers like "Jesse." They could cover something as intense as "Strange Fruit," which is not a folk song. I would just like to see them leave their options open. Penni's voice is too lovely to be tucked away behind a marsupial word (this refers to a word that carries another word within it). OK, back to the music.
Another beautiful Penni Hart original with fiddle is "Cherish This Day," the closing tune about New England summers. Eric Kilburn provides mandolin in a Ricky Skaggs style and it's warmly effective. This song is more in the tradition of a New England approach than an Appalachian style — despite their kindred references. There's a nice bellow to the fiddle playing and Penni's vocal tone is soothing throughout. Tony provides bass and vocals. As a duo, Tony and Penni — are perfectly suited to each other. Their material is actually refreshing from start to finish. It was for me.
The album is nine-tracks at almost 34 minutes of music. The CD is a beautiful 4-color laminated package with no lyric booklet. Designed by Design Studio at Discmakers. The logo was designed by Brenda Hart at Studio Hart. All photography on the CD package was by Tony Trites. The collection was Produced by Eric Kilburn & Folkapotamus in Acton, Massachusetts. Each song credits the respective musicians.
Website: https://folkapotamus.com/about-us
Facebook: https://www.facebook.com/Folkapotamus/
Disclaimer: The opinions expressed in this review/commentary are those of the author and do not necessarily reflect the official position of No Depression. All photography is owned by the respective photographers and is their copyrighted image; credited where photographer's name was known & being used here solely as a reference and will be removed on request. YouTube images are standard YouTube license.
John Apice / No Depression / May 2018
---