Paul Oscher Draws Comfort from the Blues with Cool Cat
Posted On November 25, 2018
---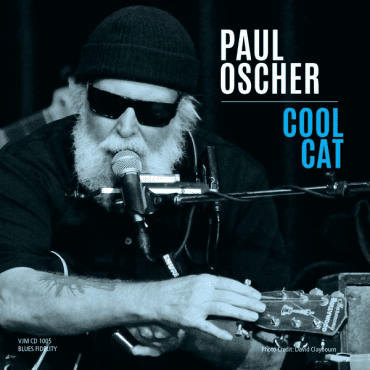 The problem with being a child prodigy is that you age out it. Eventually, doing the exact same things you did as a young person no longer garners any acclaim or reaction. At a certain point precociousness pivots to simply meeting expectations. The weight of expectations is palpable on Paul Oscher's Cool Cat, but what's nice is he's found a way to escape their grip.
Oscher wasn't a child prodigy per se, but played harmonica with Muddy Waters' band as a teen, even living in Waters' house with legendary blues pianist Otis Spann. Oscher had more-than-respectable blues career after that, but a divorce brought him from Los Angeles to Austin, Texas, where he re-connected with fellow harmonica player James Cotton (whom Oscher had replaced in Waters' band). Despite his strong blues connections and pedigree, Oscher wouldn't play out in Austin until, just about a year after settling in, he decided to set up a Tuesday night blues residency in a barbecue joint. That led to his playing with a full band, which brings us to Cool Cat.
Cool Cat is Oscher, a singer, guitarist, pianist, and harmonica player, framing his career to date. It's a blues album that has some jazz moments. And while Oscher is at the center of every song, it's not always as the song's focal point. Rather Oscher is showcasing songs and sounds that mean a lot to him. And his only role is to make sure everything sounds OK.
There are three musical threads throughout the album: Oscher-led blues, Oscher-supported blues, and jazz. The blues tracks, are across the board, fantastic. Just about all are written by Oscher and while the songwriting doesn't break much, or any, new ground, the production and performances are stunning.
The first five tracks are the Oscher-centric tracks, built upon his his vocals. His voice, while not particularly powerful or textured, is quite striking in its naturalness. Oscher sings from a place of honesty. His vocals never seem to be trying to sound like anything other than Oscher expressing himself. "Blues and Trouble" is a great example. Oscher's piano, perfectly rickety, leads the song through a Waters' like groove. His voice is low-key and zen. He's not trying to be anything. He simply he is. The song's tempo is never rushed and it's immediately obvious how much he learned working with Waters.
The Oscher-supported tracks are just as good. Here, he supports artists like Russell Lee, who also plays drums on the album, as well as Miss Lavelle White on "Dirty Dealin Mama." That song features some beautifully authentic Oscher piano and a groove so subtle, it feels like the song might fall apart at any second. And White, almost 90 years old, has a a riveting voice that puts singers one-third her age to shame.
The jazz tracks, all instrumental, are fine, and even catchy, but much less compelling. Especially given the quality of each and every vocal performance on the record. The jazz tracks are interesting because they reflect another side of Oscher, but they might not hold up to repeated listenings.
If there's a prevailing energy to Cool Cat, it's comfort. Oscher has a strong sense of himself as an artist, and it's what allowed him to create an album that detours into different directions without anything sounding confused or convoluted. Oscher grew up in the blues, has made his living from it, and even managed to remake himself through it. Cool Cat is a document of that journey.
---